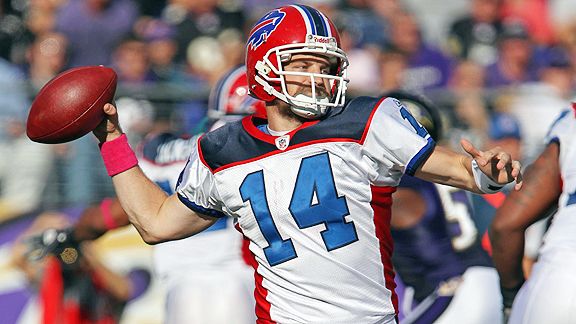 Mitch Stringer/US Presswire
JOHN CLAYTON QB RANKING (27)
: Ryan Fitzpatrick posted career highs in almost every major passing category in 2010. He twice threw four TD passes in a game.
Expert Picks (Consensus: fourth)
The Bills finished fourth in the AFC East last season with a 4-12 record. For more Bills coverage, visit: ESPN.com's AFC East blog … on Twitter | Clubhouse | More predictions
ANALYST
PREDICTION
Matt
Williamson
Scouts Inc.

DIVISION FINISH: 4 The Bills are a distant fourth in the AFC East. Led by Kyle Williams and Marcell Dareus, I do expect the defense to be vastly improved. But I am not 100 percent sold on Ryan Fitzpatrick. And the offensive line is still very problematic.
John
Clayton
ESPN.com

DIVISION FINISH: 4 How do you trade Lee Evans when you say you are trying to build a winner? The Bills are in the Andrew Luck sweepstakes.

Adam
Schefter
ESPN.com

DIVISION FINISH: 4 Buffalo has begun to assemble some key building blocks; it just needs some more.
Jeffri
Chadiha
ESPN.com

DIVISION FINISH: 4 They could be better than expected if they become more explosive on offense, a horrid defense improves against the run and Shawne Merriman regains his mojo. Then again, that's a lot of "ifs."
Ashley
Fox
ESPN.com

DIVISION FINISH: 4 The Bills addressed their defensive deficiencies in the draft. Ryan Fitzpatrick enters the season as the undisputed starting quarterback. An easier schedule, with just four playoff teams from 2010, should help.
Intelligence Report
Five things you need to know about the Bills:
1. Optimism on D: With Marcell Dareus and Kyle Williams, the Bills have an exceptional foundation for their defense. Many thought this would be a 3-4 defense, and Buffalo is sure to employ that scheme plenty this year. But with Dareus, the No. 3 pick in the 2011 draft, and Williams, who is among the very best interior defensive linemen in all of football, Buffalo finds itself in the extremely enviable position of having two exceptional players at defensive tackle for the 4-3. As described in this blog post, Dareus is an extremely versatile defensive lineman who is capable of impacting a game in many different ways. But as high as I was on Dareus a few weeks back, the preseason made me even more of a believer. He is a great addition to this team.
2. Spiller on the spot: The Bills used the ninth overall pick in the 2010 draft to select C.J. Spiller. Spiller was the third first-round running back Buffalo has selected since 2003, when it picked Willis McGahee, with Marshawn Lynch being the other in 2007. First off, that is just bad business. Running back is the easiest position to find in this league. And simply put, if you are using first-round picks to acquire them, then you are neglecting other positions -- and the Bills have done plenty of neglecting over that time frame. But back to Spiller. He did little during his rookie season. The Bills need him to break out. A potentially dynamic playmaker who can excel on the perimeter or as a receiver, he could become a matchup nightmare for defenses and a huge big-play threat. That needs to happen ASAP. Although he still offers little between the tackles, Spiller has looked quite dynamic this preseason.
3. O-line offensive: Buffalo is weak at both tackle positions. The strength of its front five was the interior three. Now the Bills are shuffling bodies on the inside in what looks like an attempt to get bigger. But in the process, they are putting lesser players on the field. Overall, I see Buffalo's offensive line as one of the worst few in the league. Ryan Fitzpatrick came back to earth as the 2010 season progressed. For this offense to be successful with Fitzpatrick behind center, the line will have to be quite strong. I just don't see that being the case in 2011. And the Bills' quarterback of the future is not currently on the roster.
4. Questions at receiver: Steve Johnson was tremendous last season and is clearly the Bills' No. 1 option in the passing game. Although I personally expect Johnson to fall back to earth once he is the focus of every defensive scheme, I cannot discredit what he is capable of. As noted above, Spiller can pick up some of the slack in the receiving department, but the Bills really don't have tight ends who frighten the opponent. There are a few wide receivers here, though, who are intriguing -- and dealing Lee Evans will enable young players such as Roscoe Parrish, Donald Jones, Marcus Easley or David Nelson to get much more live game activity and potentially develop into starting-caliber weapons. Buffalo needs one or two of the aforementioned players to make that next step.
5. A lot rides on Merriman: What version of Shawne Merriman are we going to see for the Bills in 2011? The answer to that question is absolutely crucial for this team, as the Bills are deprived of frightening edge pass-rushers. The past few seasons, Merriman has been a shell of what he was early in his career, but he flashed his former impact ability during the preseason. And he now has a lot to prove. Arthur Moats is another outside linebacker I am quite fond of, but it is Merriman who is the key here.
-- Matt Williamson, Scouts Inc.
Inside The Numbers
The Bills were without an identity on defense in 2010, switching between a base 3-4 and 4-3 throughout the season. They were the only team to use each base defense for at least 100 plays last season. Although the Bills used their 3-4 more, they actually were better in the 4-3. They allowed 13 TDs and 6.1 yards per play in the 3-4 (347 plays), but only 5.0 yards and four TDs in the 4-3 (155 plays).
After drafting DT Marcell Dareus and signing LB Nick Barnett, the Bills' interior rush defense should improve in 2011. That's because it can't get worse. Buffalo was the worst team in the league last season at defending rushes up the middle. In those situations, the Bills allowed a league-high 1,231 yards rushing, 281 attempts and 65 first downs. They were tied for last with the Lions with 11 touchdowns allowed on rushes up the middle.
In addition to taking Dareus, the Bills came away from April's draft with three defensive backs, including Texas' Aaron Williams. They also re-signed cornerback Drayton Florence to bolster a unit that struggled defending passes outside the numbers. Buffalo allowed opposing quarterbacks to register a 95.8 passer rating (30th in NFL), and had a minus-10 TD-interception differential (T-30th) on throws outside the numbers.
-- ESPN Stats & Information
Mel Kiper's Draft Class Watch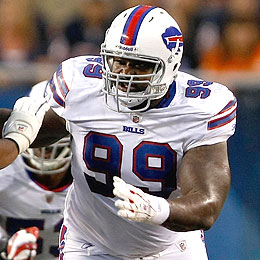 (Photo by Scott Boehm/Getty Images)
Marcell Dareus: Potential dominator.
Marcell Dareus was the No. 3 overall pick, but linebacker Kelvin Sheppard, a third-round pick from LSU, could pile up tackles for a team looking to bounce back after having the worst rush defense in the NFL in 2010. With Paul Posluszny now playing his football in Florida, Sheppard must step up early and be able to make tackles, particularly in the running game, where the Bills simply got gashed last year.
That said, expect Dareus to make the biggest impact; he's looked unblockable early in preseason play, and is particularly difficult to handle for blockers because -- for such a massive human -- he's almost elusive, and can penetrate along the interior. Teamed with Kyle Williams, he can make waves. I wouldn't at all be surprised to see him approach double digits in sack totals.
A final rookie to keep an eye on is Da'Norris Searcy, whom I think has a bright future at safety.
-- Mel Kiper, ESPN NFL Draft Insider