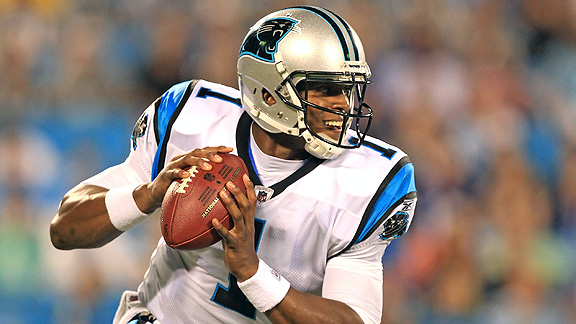 Streeter Lecka/Getty Images
JOHN CLAYTON QB RANKING (32)
: The Panthers think No. 1 overall pick Cam Newton can grow into a superstar, but they're not asking him to be that right away.
Expert Picks (Consensus: fourth)
The Panthers finished fourth in the NFC South last season with a 2-14 record. For more Panthers coverage, visit: Pat Yasinskas' NFC South blog ... on Twitter | Clubhouse | More predictions
ANALYST
PREDICTION
Pat
Yasinskas
ESPN.com

DIVISION FINISH: 4 The Panthers aren't going to go from worst to first. But they will be much improved. Ron Rivera has brought new life to a locker room that has some talent. If the Panthers can develop a passing game, they could be a .500 team.
John
Clayton
ESPN.com

DIVISION FINISH: 4 Owner Jerry Richardson spent more than $100 million in signing bonuses to keep six key starters and add Cam Newton at quarterback. While the moves were great, they may not cash in on a lot of wins.

Adam
Schefter
ESPN.com

DIVISION FINISH: 4 Time for Cam Newton, the No. 1 overall pick, to begin to learn what it will take to lift his franchise in the future.
Jeffri
Chadiha
ESPN.com

DIVISION FINISH: 4 They might as well start Cam Newton at quarterback this season. It's not going to change where they end up in this division.
Ashley
Fox
ESPN.com

DIVISION FINISH: 4 The Panthers wisely locked up several of their key free agents, including Charles Johnson. But they will have to be patient while Cam Newton endures the inevitable growing pains of a rookie starting quarterback.
Intelligence Report
Five things you need to know about the Panthers:
1. This is not the same predictable team you're used to: John Fox is gone and so is his belief that you have to win with ball-control offense and strong defense. New coach Ron Rivera also is a big believer in defense and his background is on that side of the ball. But Rivera realizes this has become a quarterback-driven league and his plan is to open up the passing game. That's why he hired Rob Chudzinski as the offensive coordinator. Chudzinski was previously tight ends coach in San Diego and the offense is going to be pretty similar to what the Chargers run. The Panthers still have DeAngelo Williams and Jonathan Stewart, so they're not going to abandon the running game, but they're not going exclusively with it. You'll see things you never saw with Fox, like passes to the tight ends and deep passes.
2. This is not the roster of a typical 2-14 team: Last year's record had a lot more to do with the bickering between Fox and ownership than it did with the talent level. Fox refused to embrace the youth movement that was ordered by management and was more conservative than ever. It's easy to look at the record and assume the cupboard is bare. But that never was the case. Besides Williams and Stewart, the Panthers had -- and still have -- core players such as Steve Smith, Charles Johnson, Jon Beason, Jordan Gross and Ryan Kalil. Tight end Greg Olsen also looks like he could be a core player. If this team can just get some production out of the quarterback position, the Panthers could take a big step forward.
3. Cam Newton won't be asked to carry the team: He was the No. 1 overall draft pick and that comes with all sorts of expectations. The Panthers think Newton can grow into a superstar, but they're not asking him to be that right away. The plan is to rely on the running game and the defense to help prevent him from getting into difficult spots. Ideally, the Panthers don't want Newton throwing the ball more than 25 times a game, at least until he gets established. But the belief is that Newton can make four or five big plays a game with his arm and legs.
4. There's room for a No. 2 receiver: For the last few years, Smith has been the only real threat in the receiving game. The Panthers want that to change and believe Olsen will help, but they'd like another wide receiver to step forward. They had high hopes for David Gettis, who showed some promise as a rookie last season. But Gettis suffered a major injury in training camp and will miss the season. That suddenly puts the heat on Brandon LaFell, a second-round pick from last year. Carolina doesn't have great history with receivers taken in the second round (Keary Colbert and Dwayne Jarrett were flops), but some of that was because so much of the passing game was geared toward Smith. In the new system, there will be opportunities for LaFell. He just has to take advantage of them.
5. The pressure is on general manager Marty Hurney: Owner Jerry Richardson was somewhat distracted the past few years as he went through a heart transplant and came back to take on the leadership role among owners in the labor negotiations. Hurney outlasted Fox and is very much on Richardson's good side. But the owner spent a ton of money signing the players Hurney wanted coming out of the lockout. Richardson realizes this team is in the middle of a youth movement, but he's not the world's most patient man. He needs to see some progress this year.
-- Pat Yasinskas, ESPN.com
Inside The Numbers
The Panthers' passing offense ranked last in the NFL last season in yards (2,635), yards per attempt (5.4) and first downs (125), and Carolina was the only team to post a single-digit touchdown total (9). First overall pick Cam Newton will compete with Jimmy Clausen for the top spot on the depth chart and attempt to alleviate some of Carolina's passing woes.
Clausen struggled in nearly every aspect of the position last season, specifically throwing the deep ball. Of the 36 quarterbacks who attempted at least 40 passes of 15-plus yards last season, Clausen ranked 32nd or worse in almost every statistical category.
Another area in which Newton may be able to elevate the Panthers' offense is on third-and-5 or longer. Carolina ranked 25th in total conversion percentage in such situations last season (accounting for sacks and passing and rushing attempts) and ranked 18th in sacks allowed. Newton also may be able to help with his legs, as the Panthers converted only three of 20 rushing attempts.
• Carolina signed Jeremy Shockey in hopes of addressing this statistic: The Panthers ranked last in the NFL last season in yards per reception (7.5) by tight ends.
• The addition of Legedu Naanee provides over-the-middle depth to the WR corps. Naanee's 25.4 yards per reception on passes between the hashes last season would have led the Panthers, and his five first downs would have ranked second.
-- ESPN Stats & Information
Mel Kiper's Draft Class Watch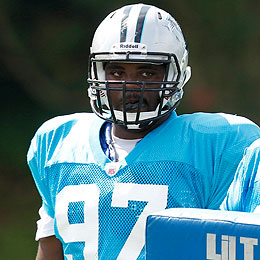 (AP Photo by Chuck Burton)
Terrell McClain: Thrust into major role.
The Panthers needed help at defensive tackle, and third-round pick Terrell McClain was supposed to be a part of the depth solution. But when starter Ron Edwards suffered a major injury in camp, McClain became that much more important.
And he isn't alone. Fellow rookie defensive tackle Sione Fua also will figure prominently in the interior line solution for the Panthers' defense. A rotation of three to four players along the front of the defensive line will feature a pair of rookies, interesting given how aggressive the Panthers were in free agency in adding and retaining players they like.
Obviously, we can't overlook Cam Newton, who looks set to open the season as the starter at quarterback. While Newton may be a mess early on in terms of accuracy, you have to realize this is maybe the best running quarterback we've ever seen join the league, and you have to remember he can use those skills too.
-- Mel Kiper, ESPN NFL Draft Insider