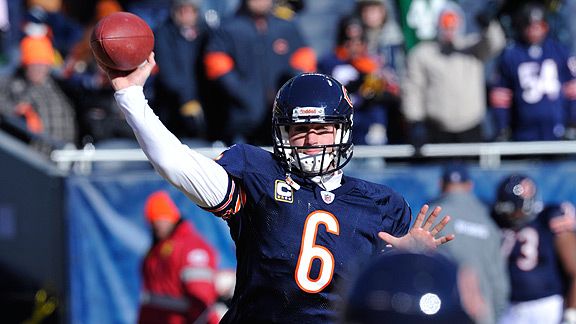 AP Photo/Jim Prisching
JOHN CLAYTON QB RANKING (16)
: Jay Cutler hopes to remain upright more often in 2011. He was sacked 35 times in 2009 and a staggering 52 times last season.
Expert Picks (Consensus: second)
The Bears finished first in the NFC North last season with an 11-5 record. For more coverage, visit: Kevin Seifert's NFC North blog ... on Twitter | ESPN Chicago | Clubhouse | More predictions
ANALYST
PREDICTION
Kevin
Seifert
ESPN.com

DIVISION FINISH: 3 The Bears will be competitive and have a strong chance to make the playoffs. But they're in a tough division and have as many question marks now as they did at the end of last season. It will take only one or two wrong steps to fall behind the Packers and Lions.
John
Clayton
ESPN.com

DIVISION FINISH: 2 Kickoffs from the 35-yard line will make QB Jay Cutler's job that much tougher because he'll start plenty of drives at the 20. In the past he has counted on starting drives after kickoffs from past the Bears' 30.

Adam
Schefter
ESPN.com

DIVISION FINISH: 3 Last season the Bears surprised many football fans; this season it will be more difficult to do.
Jeffri
Chadiha
ESPN.com

DIVISION FINISH: 3 A lot of things fell into place for this team to win the NFC North and reach the NFC Championship Game last season. Don't expect the Bears to be so lucky two years in a row.
Ashley
Fox
ESPN.com

DIVISION FINISH: 2 The Bears' aging defense will have to carry the team again. The offensive line needs to do a better job protecting Jay Cutler, and rookie OT Gabe Carimi should help in that regard.
Intelligence Report
Five things you need to know about the Bears:
1. Cutler's challenge: The quarterback reported to training camp notably slimmer after rehabilitating a knee sprain suffered in the NFC Championship Game. But his level of conditioning will have little role in what is probably the most important job he faces: becoming a leader of the offense rather than just its quarterback. The departure of center Olin Kreutz leaves a void that could naturally be assumed by a veteran quarterback. Cutler has never been in a true position of leadership before, but he said he hopes to take a more active role this season and help ensure a smoother-running offense.
2. The offensive line conundrum: The Bears are taking a leap of faith with an offensive line made up largely of holdovers from last season's shaky group. Offensive line coach Mike Tice identified his top five linemen early in training camp and will give them a fair amount of time to come together. Success largely rides on two positions. First, J'Marcus Webb will have to make a successful transition to left tackle after an uneven rookie season at right tackle. Veteran Frank Omiyale is waiting in the wings if he can't. Second, Lance Louis must prove he can handle the right guard position. Otherwise, the Bears will have to slide Roberto Garza from center to right guard and elevate reserve Chris Spencer into the starting center position.
3. Weapons in development: The Bears have given Cutler an interesting array of weapons, but appear ready to continue their late-season emphasis on the running game. The arrival of bruising tailback Marion Barber will give them a physical presence, and Tice believes the offensive line will come together better and more quickly with a steady diet of running plays. When he does throw, Cutler won't have tight end Greg Olsen, but will benefit from a more diverse group of receivers. While veteran Roy Williams wasn't impressive in training camp, he does have the physical tools to offer a unique target. Cutler remains close with receiver Earl Bennett, however, and Devin Hester is still a big-play threat.
4. Defensive depth: The Bears have the makings of the same strong defense that carried them to the NFC North championship last season. Two inexperienced players -- defensive tackle Henry Melton and safety Major Wright -- will be asked to hold down full-time jobs, but both are surrounded by established veterans. Depth is an issue, however. As the preseason continued, it seemed clear the Bears didn't have a reliable third defensive end to use behind starters Julius Peppers and Israel Idonije. And even general manager Jerry Angelo admitted their linebacker depth is shaky. The Bears benefited from excellent health last season and will need another dose of it in 2011.
5. Kickoff impact:Thanks to their strong return game, the Bears averaged the best drive-start position in the NFL last season. It's no surprise they opposed the NFL rule change moving kickoffs up to the 35-yard line, and it will be worth tracking whether this rule hurts the Bears more than most teams. Hester and Johnny Knox could split returns, and while both are game-breakers, their opportunities will be limited at least until colder weather slows the flight of the ball.
-- Kevin Seifert, ESPN.com
Inside The Numbers
Jay Cutler was sacked 52 times last season, 12 more than any other quarterback, despite ranking just 17th in total dropbacks (514). Being sacked once every 9.9 designed pass plays is a far cry from 2008, when Cutler was sacked once every 59.3 dropbacks in Denver.
Greg Olsen's departure is likely a positive in terms of keeping Cutler upright. The Bears ran nearly a quarter of their pass plays in 2010 with one running back, two wide receivers and two tight ends on the field -- a personnel grouping known as "tiger." Defenses normally counter two-wide receiver packages with their base 4-3 or 3-4, but Olsen is frequently treated like a third wideout. As a result, 42 of Cutler's 122 dropbacks with "tiger" personnel on the field were countered with five or more defensive backs. Cutler was sacked eight times in this situation, an alarming rate of one every 5.3 called pass plays.
• The top three tight ends on the Bears' depth chart are Kellen Davis, Matt Spaeth and Desmond Clark. Look for this group to be more of an extension of the offensive line than the receiving threat Olsen was. The trio combined for 11 receptions in 2011.
-- ESPN Stats & Information
Mel Kiper's Draft Class Watch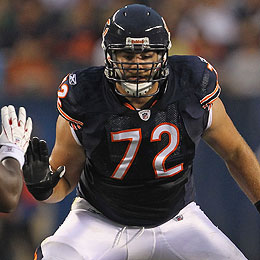 (Photo by Jonathan Daniel/Getty Images)
Gabe Carimi: Shoring up the run game.
Lost in the fact that the Bears couldn't protect Jay Cutler last season was another problem: They couldn't run the ball, either. In steps Gabe Carimi at right tackle to help fix that problem. A massive tackle with a mean streak as a run-blocker, he'll start immediately and help the run because he's at his best driving opposing defensive ends or outside linebackers downfield.
Elsewhere on the offense, look for undrafted rookie WR Dane Sanzenbacher to make his mark early. He's not big or particularly fast, but Sanzenbacher is a guy offensive coordinator Mike Martz will be able to depend on as a solid route runner who knows how to work in space.
On the defensive side of the ball, DT Stephen Paea should be able to shore up the interior as a depth addition, and a particularly effective asset against the run. Paea won't penetrate and chase down quarterbacks, but he has incredible strength and can battle double-teams to a draw, freeing up linebackers.
-- Mel Kiper, ESPN NFL Draft Insider