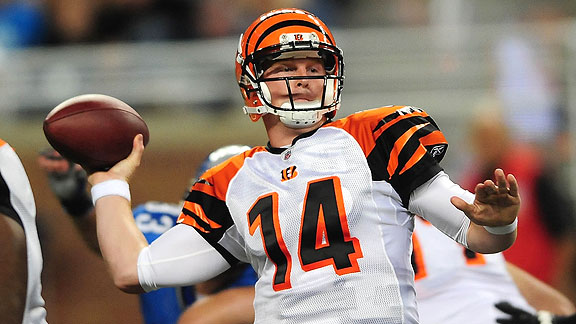 Andrew Weber/US Pressiwire
JOHN CLAYTON QB RANKING (33)
: The Carson Palmer drama leaves rookie Andy Dalton at the helm as Cincinnati hits the restart button.
Expert Picks (Consensus: fourth)
The Bengals finished fourth in the AFC North last season with a 4-12 record. For more Bengals coverage, visit: James Walker's AFC North blog ... on Twitter | Clubhouse | More predictions
ANALYST
PREDICTION
James
Walker
ESPN.com

DIVISION FINISH: 4 The Bengals are too young and inexperienced at key positions. Expect a lot of growing pains in 2011.
John
Clayton
ESPN.com

DIVISION FINISH: 4 Losing Terrell Owens, Chad Ochocinco and Carson Palmer has turned this franchise from a strange reality show to "The Young and the Restless."

Adam
Schefter
ESPN.com

DIVISION FINISH: 4 As Carson Palmer watches from California, Andy Dalton is about to learn about life in Cincinnati.
Jeffri
Chadiha
ESPN.com

DIVISION FINISH: 4 Carson Palmer quit on them and they finally gave up on Chad Ochocinco. The good news is that they wouldn't have finished higher with those two on the roster.
Ashley
Fox
ESPN.com

DIVISION FINISH: 4 New offensive coordinator Jay Gruden has his work cut out for him with rookie quarterback Andy Dalton. At least Cedric Benson is back.
Intelligence Report
Five things you need to know about the Bengals:
1. The Bengals are starting over: The Carson Palmer-Chad Ochocinco era is officially over in Cincinnati. The team has hit the reset button, and it will take some time to get back on track. Cincinnati is relying on a lot of young players at key positions. The biggest are rookie quarterback Andy Dalton and first-year receiver A.J. Green, who replaced Palmer and Ochocinco, respectively, in the starting lineup this year. Dalton and Green still have a lot to learn. Other young players such as receiver Jerome Simpson, receiver Jordan Shipley and defensive end Carlos Dunlap will have big roles.
2. Cincinnati wants to run the ball: The Bengals need a healthy, happy and productive Cedric Benson. New offensive coordinator Jay Gruden made it no secret he wants to have a power running game to protect his rookie quarterback. Benson is coming off back-to-back 1,000-yard seasons but was unhappy with former offensive coordinator Bob Bratkowski. Benson is much more in tune with Gruden's philosophy. Benson runs hard but needs to decrease his fumbling this season. He had a career-high seven fumbles and lost five in 2010.
3. Bengals' defense lacks speed: Lack of speed on defense could trouble the Bengals this season. The secondary really took a hit when it lost No. 1 corner Johnathan Joseph in free agency to the Houston Texans. The Bengals replaced Joseph with 31-year-old Nate Clements, who struggled some last season with the San Francisco 49ers. Cincinnati tried to address the speed issue by signing free-agent linebacker Manny Lawson and trading for safety Taylor Mays. That should help.
4. Rey Maualuga is better in the middle: The Bengals were excited when they landed Maualuga in the second round in 2009. He was one of the team's top three linebackers, but the Bengals couldn't play Maualuga in the middle because of veteran Dhani Jones. This offseason, Cincinnati didn't re-sign Jones. Now, Mualauga can play his natural position. He is stout against the run and good at blowing up plays at the line of scrimmage.
5. Punter Kevin Huber could have a good year: The Bengals were very high on Huber when they drafted him in the fifth round in 2009. He was one of the top-rated punters in that draft. Huber's first two years have been decent but not great. He seems to be kicking the ball very well this preseason. Field position will be huge for the Bengals this year. Huber may get a lot of opportunities to make an impact with a young offense.
-- James Walker, ESPN.com
Inside The Numbers
Cedric Benson has shouldered the bulk of the Bengals' rushing attempts the past two seasons, accounting for two-thirds of the team's rushes. Only Steven Jackson and Chris Johnson have had a higher percentage of their team's rushes over that span.
Rookie Andy Dalton is slated to start and Chad Ochocinco and Terrell Owens are gone. The Bengals probably will lean on Benson even more, but is he the right back for the job?

Of the five running backs with the highest percentage of their team's rushes, Benson has the lowest average yards per rush (3.8) and is the only back averaging fewer than 4.0. Of those five backs, Benson is also the only one with fewer than 100 receptions (65).

Benson also lacks the breakaway speed to churn out long runs. Benson recorded only two of his seven rushing touchdowns last season in non-short-yardage situations, the lowest total of the 19 backs to carry the ball at least 200 times in those situations.

• Rookie A.J. Green should help stretch the field for a receiving corps that ranked 23rd in yards per catch (25.7) on passes thrown at least 15 yards downfield. Bengals quarterbacks also had a 51.8 passer rating on such throws last season, good for 27th in the NFL.

-- ESPN Stats & Information
Mel Kiper's Draft Class Watch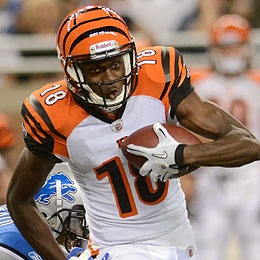 (Photo by Mark Cunningham/Detroit Lions/Getty Images)
A.J. Green: Destined for stardom.
A.J. Green, the No. 4 overall pick out of Georgia, is destined for stardom at wide receiver, but who will throw him the ball? Before 2011 is over, that may be second-round pick Andy Dalton. The redhead from TCU doesn't have a big fastball but has been allergic to losing at the college level. His obvious challenge is overcoming major questions about his arm strength.
Many still question whether Dalton can drive the ball into deep voids. Green is certainly the guy who can be finding his way down the field. Perhaps the safest pick in the entire 2011 draft, he's a gifted wide receiver who has all of the route-running skills that many big, down-the-field targets often lack coming out of school.
The other guy to watch out for this year is pass-rushing burner Dontay Moch, another supreme athlete who will try to prove he's more than a pure pass-rushing specialist. But even if he's that alone, he could be dangerous.
-- Mel Kiper, ESPN NFL Draft Insider