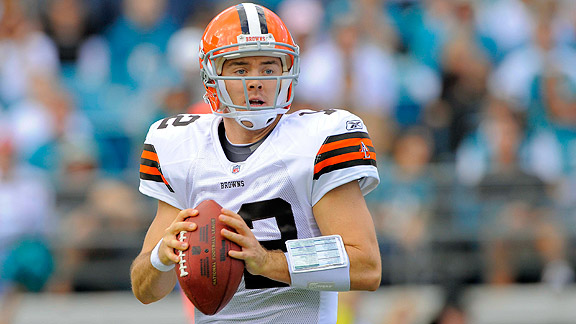 Scott A. Miller/US Presswire
JOHN CLAYTON QB RANKING (25)
: Colt McCoy started eight games as a rookie; now he's hoping to prove he's the long-term answer for the Browns.
Expert Picks (Consensus: third)
The Browns finished third in the AFC North last season with a 5-11 record. For more Browns coverage, visit: James Walker's AFC North blog ... on Twitter | Clubhouse | More predictions
ANALYST
PREDICTION
James
Walker
ESPN.com

DIVISION FINISH: 3 The Browns are building the right way but still face a significant gap between them and Baltimore/Pittsburgh.
John
Clayton
ESPN.com

DIVISION FINISH: 3 Colt McCoy is starting to look like a decent starting NFL quarterback. The switch to a 4-3 defense could also be a boost.

Adam
Schefter
ESPN.com

DIVISION FINISH: 3 Preseason might not be worth much, but if Colt McCoy plays like that, Cleveland's in good shape.
Jeffri
Chadiha
ESPN.com

DIVISION FINISH: 3 New head coach. New defensive scheme. Too many question marks on the roster.
Ashley
Fox
ESPN.com

DIVISION FINISH: 3 Pat Shurmur is the Browns' sixth head coach in 13 years and inherits a team that went 5-11. With Dick Jauron as defensive coordinator, Cleveland switched to a 4-3. They need more talent.
Intelligence Report
Five things you need to know about the Browns:
1. It's Colt McCoy's team: The Cleveland Browns went into last year planning to let McCoy sit the entire season. Injuries to former starters Jake Delhomme and Seneca Wallace altered that plan, and McCoy started eight games. His performance made the 2011 Browns his team, and he will be the Week 1 starter against the Cincinnati Bengals. It will be up to McCoy to prove he is the long-term solution at quarterback. He's performed well in the preseason, but McCoy's real evaluation will be based on wins and losses in the regular season.
2. Head coach Pat Shurmur looks the part: Very few Browns fans knew Shurmur when president Mike Holmgren hired him. Shurmur spent time as a quarterbacks coach in Philadelphia and offensive coordinator in St. Louis before joining Cleveland. But Shurmur is off to a good start in training camp and the preseason. The practices look crisp and organized. Most importantly, Shurmur's West Coast offense is an upgrade over the previous system run by former Browns head coach Eric Mangini and former offensive coordinator Brian Daboll.
3. Peyton Hillis needs to prove he's durable: Talent and production have never been issues with Browns running back Peyton Hillis. He's played well in every opportunity. But Hillis often gets banged up. Last year's injured ribs crippled the Browns' offense down the stretch. Hillis looked good in camp but already is dealing with minor back and hamstring ailments. The Browns need to lighten his workload this season to keep Hillis fresh and increase his effectiveness.
4. The defensive line is young: There could be some growing pains up front in Cleveland's new 4-3 defense. The Browns expect to start two rookies and another player (Jayme Mitchell) who has zero career starts. Cleveland invested its first- and second-round picks in defensive tackles Phil Taylor and Jabaal Sheard. The Browns expect both to be good players, but it could take time. The steadiest defensive lineman is fourth-year defensive tackle Ahtyba Rubin. He could be someone to watch.
5. New kickoff rule hurts Browns: Cleveland has one of the top kick returners in the NFL in former Pro Bowler Josh Cribbs. But the new kickoff rule has rendered players like Cribbs ineffective. We will see a lot more touchbacks, so Cribbs will have to make an impact in other ways. He is getting a lot more playing time at receiver this year, and his workload could increase at that position.
-- James Walker, ESPN.com
Inside The Numbers
After ranking in the bottom two in the NFL in receptions, yards and touchdowns by wide receivers for the second consecutive season, the Browns selected North Carolina WR Greg Little with the 59th pick of the draft.
Their hope is that Little can provide a spark down the field, something that no Browns receiver has been able to deliver in recent years. The Browns rank last in the league in receptions and completion percentage when targeting wide receivers more than 20 yards downfield since the start of 2009. Over the same span, the Browns have thrown 14 interceptions on such throws, tied with the Lions for most in the NFL.
• Although the Browns remain unproven through the air, there are few doubts about their running game. Madden cover boy Peyton Hillis returns after rushing for a team-high 1,177 yards and 11 touchdowns last season. Of his 270 carries in 2010, 171 were up the middle (63.3 percent). Only Frank Gore (66.5 percent) had a higher percentage of carries between the tackles among runners with at least 150 attempts last season.
-- ESPN Stats & Information
Mel Kiper's Draft Class Watch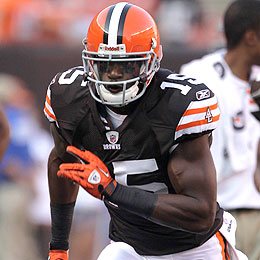 (AP Photo/Amy Sancetta)
Greg Little: Chemistry with McCoy?
The Browns have major questions at wide receiver, so don't be surprised if Greg Little, a third-round pick out of North Carolina, develops some early chemistry with Colt McCoy. Little can stretch the field and is the one wide receiver on this roster with elite size. He's looked impressive so far, and it's all a good reminder that Little was a guy with top-15 ability if he'd gotten in a season at North Carolina last year. We're talking about the upper half of the first round and mentioned in the same conversation with the likes of A.J. Green. McCoy may have improved significantly, but Little also has a chance to be a big part of the solution.
Elsewhere, Jabaal Sheard should develop into a fantastic pass-rusher for the Browns, who could be a drastically improved team if the offensive side of the ball can take a leap.
-- Mel Kiper, ESPN NFL Draft Insider