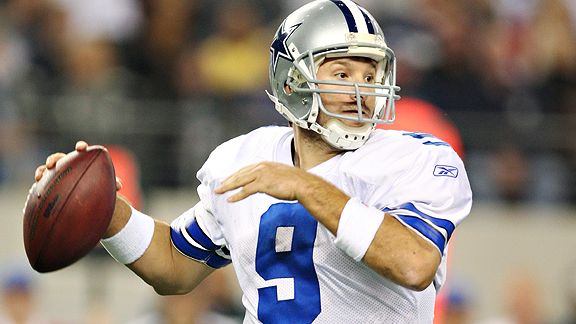 Matthew Emmons/US Presswire
JOHN CLAYTON QB RANKING (10)
: Tony Romo completed 69.5 percent of his passes before suffering a season-ending injury last season; he had 26 touchdowns and nine interceptions in 2009.
Expert Picks (Consensus: second)
The Cowboys finished third in the NFC East last season with a 6-10 record. For more coverage, visit: Dan Graziano's NFC East blog ... on Twitter | ESPN Dallas | Clubhouse | More predictions
ANALYST
PREDICTION
Dan
Graziano
ESPN.com

DIVISION FINISH: 2 The Cowboys say they're better than last year's 6-10 record. With Tony Romo healthy, the offense should put up a ton of points. And if Rob Ryan can elevate the defense from the back to the middle of the NFL pack, that should make Dallas a contender.
John
Clayton
ESPN.com

DIVISION FINISH: 2 Tony Romo is back so the offense will be better. Defensive coordinator Rob Ryan should give fans excitement with some of his aggressive blitz packages.

Adam
Schefter
ESPN.com

DIVISION FINISH: 1 Typically Dallas has been down one year, up the next; with Rob Ryan leading the defense, this is shaping up as an up season.
Jeffri
Chadiha
ESPN.com

DIVISION FINISH: 2 They could be a sleeper. They've got a healthy Tony Romo, a lot of talent and a head coach (Jason Garrett) determined to prove he can handle the job.
Ashley
Fox
ESPN.com

DIVISION FINISH: 2 Jason Garrett somehow kept the Cowboys together last season. He should have an easier time now that Tony Romo is healthy. Rob Ryan as defensive coordinator was a great move.
Intelligence Report
Five things you need to know about the Cowboys:
1. Felix Jones is ready to be the No. 1 running back: With Marion Barber playing in Chicago, and with Tashard Choice and DeMarco Murray injured for the bulk of training camp, Jones has been the star of the Cowboys' preseason. He looks fast, strong and motivated. The Cowboys (and Jones himself) have always believed that Jones had the ability to handle No. 1 running back duties. The issue is whether he can stay healthy enough to handle them over a full season. The way he's running right now, Murray and Choice might be there just to help keep him healthy by getting him a break here and there.
2. The defense is designed to confuse offenses: As does his brother in New York, Rob Ryan uses multiple defensive fronts and looks, and works to disguise them to make it difficult for opposing quarterbacks to identify what they're going up against on a given play. The only issue so far is that, with a limited amount of time in which to learn the new defense and the new coordinator, the Cowboys' players also have looked confused themselves at times. Once they get comfortable in the new scheme, players such as DeMarcus Ware and Jay Ratliff probably will enjoy being able to line up wherever they want and scare and confuse quarterbacks. The question is how soon they will all be comfortable together.
3. There's nothing wrong with Tony Romo: His completion percentage was 69.5 last year when he got hurt. The way he and the team finished the 2009 season should have eradicated any lingering questions about his leadership and clutch abilities. And yet he remains maligned, even though it was clearly the defense that sank the Cowboys in their 1-7 start last year. Romo is back healthy and poised to continue the work he was doing in late 2009 and early 2010 on silencing his doubters. He knows, however, that it'll probably take a Super Bowl title to do that completely.
4. Big changes on the offensive line: It appears as though the Cowboys are going to have a deep, talented offensive line -- someday. They love the way rookies Tyron Smith, David Arkin and Bill Nagy have looked so far in the offseason, and they believe they will form the foundation for the line of the future in Dallas. But while Smith looks like a capable Week 1 starter, Nagy at left guard remains a big question. And with Andre Gurode a surprise late cut, second-year man Phil Costa becomes the new starting center. That makes three new starters and only left tackle Doug Free starting in the same place he did last year. (Kyle Kosier moved from left guard to right to help out Smith.) Youth on the line isn't necessarily a bad thing, but the Cowboys will need this new unit to come together quickly in order for their very talented skill-position guys to perform at their best.
5. It's quiet, and the Cowboys like it that way: In his first offseason as a head coach, Jason Garrett has established a no-nonsense, all-business atmosphere. Of course it helps that the Cowboys aren't dealing with big-time Super Bowl expectations this year, but the fact is there's much less of a spotlight and a circus feel than there sometimes is around this team, and that's likely to be a good thing. The Cowboys need to work to make sure they play to their 2009 levels instead of their 2010 ones, and work has been the focus here so far. They believe it'll carry into the season and help them.
-- Dan Graziano, ESPN.com
Inside The Numbers
The Cowboys struggled in 2010 on defense, particularly against the pass. With the offseason hiring of Rob Ryan as defensive coordinator, the emphasis should be on improving a pass defense that saw Dallas rank near the bottom of the league in several key categories. In particular, the Cowboys' secondary struggled defending against deep throws, allowing 2,133 yards on throws more than 10 yards downfield (31st in NFL).
A lot of the Cowboys' problems stemmed from their base defense. The Cowboys allowed a plus-3 TD-interception differential out of the 3-4 last season compared with a plus-1 differential when using at least five defensive backs.
The Cowboys did perform better after the firing of Wade Phillips. Over their first eight games, the 3-4 yielded a plus-10 TD-interception differential, but once Jason Garrett took over as head coach, that number dropped to a plus-3.
• Also improving after the firing of Phillips was running back Felix Jones. Jones averaged nearly five more touches and 41.5 more yards per game with Garrett as head coach.
• Wide receiver Miles Austin should see a boost in production with Tony Romo under center. Jon Kitna completed only 48.3 percent of his passes to Austin, picking up 6.7 yards per attempt. Romo, on the other hand, completed 69.4 percent of his passes to Austin, averaging 10.2 yards per attempt.
-- ESPN Stats & Information
Mel Kiper's Draft Class Watch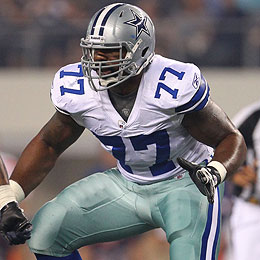 (Photo by Matthew Emmons/US Presswire)
Tyron Smith: Protecting Romo is key.
The Cowboys dodged a bullet when they were able to re-sign left tackle Doug Free. That allows 20-year-old rookie Tyron Smith to start his career on the right side.
Last year, the Cowboys couldn't protect Tony Romo effectively, and Smith will be a big part of that fix from day one. He has a ton of athleticism, and probably will protect better than he mauls in the run game early on, but all the physical tools are there for Smith to become a star.
Dallas may not get much production from the rookie class beyond Smith and made what I consider to be a couple of puzzling picks. But I do think the Cowboys may have an interesting option in sixth-rounder Dwayne Harris, who has impressed in camp and could provide nice depth in the wide receiver corps. Where he may really make his mark is in the slot, where he has run-after-catch ability.
-- Mel Kiper, ESPN NFL Draft Insider