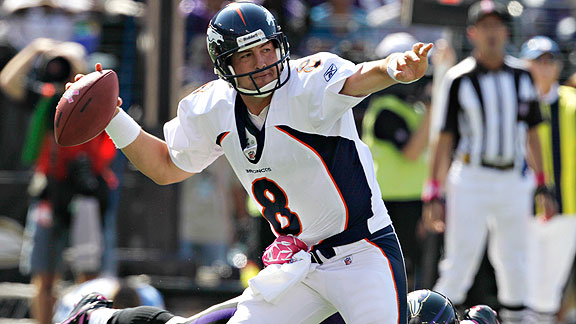 Photo Credit/Name Here
JOHN CLAYTON QB RANKING (20):
Kyle Orton was the subject of trade talk in the offseason, but he has fended off his challengers. He may not be especially popular in Denver, but he's back.
Expert Picks (Consensus: fourth)
The Broncos finished fourth in the AFC West last season with a 4-12 record. For more Broncos coverage, visit: Bill Williamson's AFC West blog ... on Twitter | Clubhouse | More predictions
ANALYST
PREDICTION
Bill
Williamson
ESPN.com

DIVISION FINISH: 4 This is the least talented team in the division, but it's growing. New coach John Fox is bent on improving the NFL's worst defense. Kyle Orton is back at QB, and he'll remain there unless the Broncos falter badly. I could see this team winning 6-7 games.
John
Clayton
ESPN.com

DIVISION FINISH: 4 The franchise is in good hands with John Elway and John Fox, but it's going to take three years to fix the roster problems created by Josh McDaniels. Good thing the Broncos didn't trade Kyle Orton, though.

Adam
Schefter
ESPN.com

DIVISION FINISH: 3 Kyle Orton and Brady Quinn are entering the last years of their contracts; Tim Tebow is the only quarterback under contract long term.
Jeffri
Chadiha
ESPN.com

DIVISION FINISH: 3 New coach John Fox will quickly make up for the train wreck this franchise became last season. It won't show on the field immediately, but the Broncos will be better.
Ashley
Fox
ESPN.com

DIVISION FINISH: 4 Kyle Orton is clearly the best quarterback on the Broncos' roster, but that won't mean the Tim Tebow talk will subside. If Orton struggles, will we see Tebow? That will be worth watching.
Intelligence Report
Five things you need to know about the Broncos:
1. The coach is simply the coach: John Fox is in Denver to coach the Broncos. That's it. He's not interested in negotiating contracts or arranging trades. He just wants to coach his team. That's a new concept in Denver. The past two coaches in Denver, Mike Shanahan and Josh McDaniels, made the personnel decisions. That's not Fox's gig. When I visited the Broncos' camp, players had noticed the difference and they like it.
2. There is no quarterback controversy in the locker room: If Denver's players had anything to say about it, Kyle Orton would be the starter all season. Although Orton will go into the season as the starter, I could see a scenario where second-year quarterback Tim Tebow gets a chance if the Broncos stumble. Tebow played the final three games last season after Denver fell to 3-10. But Orton's teammates believe in him, and they think he represents the team's best chance to win.
3. Miller will be unleashed: Rookie linebacker Von Miller will not be eased into the lineup. The No. 2 overall draft pick from Texas A&M is going to start at strongside linebacker. The Denver brass is thrilled by what it has seen from Miller. The Broncos think he is as advertised. Miller is still adjusting from playing a 3-4 scheme in college to Fox's 4-3 system, but the team believes he will be ready for the season without any issue. The Broncos think he can be a double-digit sack artist as a rookie.
4. Moreno and McGahee will get a chance to shine together: Fox believes in running the ball first. The Broncos think they are in good hands with the Knowshon Moreno-Willis McGahee combination. Neither is great alone, but Denver likes them as a pair. According to the Football Scientist, KC Joyner, Denver may be in good shape. Joyner told me both Moreno and McGahee rate well in his good blocking yards per attempt (GBYPA) metric. It gauges how productive a running back is when his blocking is effective. Joyner said Moreno had a 6.8 GBYPA last year, tied for 17th best in the league. McGahee had a 6.6 GBYPA last year.
5. Not thinking Luck: A lot of people around the league believe it would be a Hollywood script if the Broncos ended up with the worst record in the NFL and were put in position to draft Stanford quarterback Andrew Luck, who is widely considered the best quarterback prospect since Peyton Manning. Of course, Denver's football leader is John Elway, a former Stanford and Broncos legendary quarterback. It would be great copy, no doubt. But the Broncos are not planning to stink just to have a chance at Luck. Even though the team is rebuilding, Fox (who suffered through the league's worst record in Carolina last year) doesn't want to lose again.
-- Bill Williamson, ESPN.com
Inside The Numbers
The Broncos come into the 2011 season with a new coach (John Fox) and one of the league's most discussed quarterback controversies (Kyle Orton versus Tim Tebow).
Many in Denver think that Tebow should be under center when the Broncos open against the Raiders on Sept. 12, but the numbers say otherwise. Orton outplayed Tebow on throws toward the sideline last season, arguably validating concerns about Tebow's arm strength and throwing motion. Orton's completion percentage on such throws was 53.6; Tebow's was 39.6 -- the worst in the NFL among those with 50 or more attempts. Orton threw nine touchdowns and four interceptions in those situations and had a passer rating of 78.7. Tebow threw three touchdowns and two interceptions and had a passer rating of 64.5
Orton also had more success against an added pass rush in 2010. When facing five or more pass-rushers, Orton had a better passer rating (78.7 versus 64.5), TD-INT differential (8-5 versus 2-2) and completion percentage (53.6 versus 39.6) than Tebow. Tebow ranked 46th in passer rating among 51 quarterbacks who threw 20 or more passes against an added pass rush and tied for last in completion percentage.
• The Broncos had a league-low 23 sacks last season despite rushing five or more players 45.9 percent of the time, the second-highest rate in the NFL. The healthy return of 2009 NFL sacks leader Elvis Dumervil alone should provide a boost, but the Broncos also drafted outside linebacker Von Miller second overall and acquired defensive lineman Brodrick Bunkley in hopes of increased quarterback pressure.
-- ESPN Stats & Information
Mel Kiper's Draft Class Watch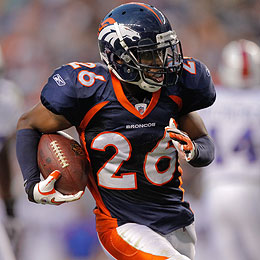 (Photo by Justin Edmonds/Getty Images)
Rahim Moore: Chance to shine.
No. 3 overall pick Von Miller will get the publicity, but safety Rahim Moore will also get the starts early. Moore is a ball hawk who adds some much-needed youth to the aging Denver secondary. Moore led the nation in interceptions as a sophomore at UCLA and will look for more picks, this time at altitude.
As for Miller, what he does will depend a lot on where he lines up. The Broncos will use him in a hybrid role and look for matchups that allow him to get to the quarterback. But Miller isn't so one-dimensional that it's QB or bust. He has speed across the field, not just up it, and should be able to chase down stretch plays from the weak side. He could be a dynamic player really early in his career. >
One guy to keep an eye on is Julius Thomas, a tight end out of Portland State who could become a valuable asset in the passing game. He's a former basketball player who could develop.
-- Mel Kiper, ESPN NFL Draft Insider