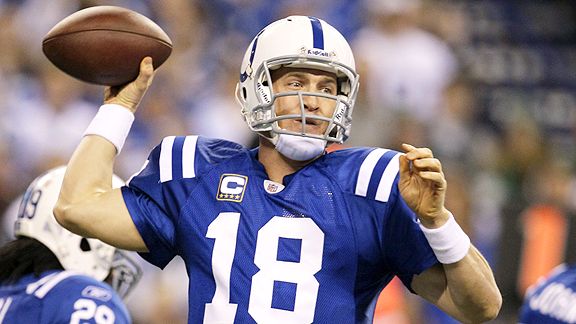 AP Photo/Nam Y. Huh
JOHN CLAYTON QB RANKING (3)
: Slow to recover from offseason neck surgery, four-time MVP Peyton Manning (4,700 passing yards, 33 TDs in 2010) has been sidelined for the entire preseason.
Expert Picks (Consensus: first)
The Colts finished first in the AFC South last season with a 10-6 record. For more Colts coverage, visit: Paul Kuharsky's AFC South blog … on Twitter | Clubhouse | More predictions
ANALYST
PREDICTION
Paul
Kuharsky
ESPN.com

DIVISION FINISH: 1 Their season centers on Peyton Manning's neck. If he's good to go from opening day, they remain the favorites to win the division.
John
Clayton
ESPN.com

DIVISION FINISH: 1 The Colts' dominance of this division is in jeopardy. If Peyton Manning plays 14 games, they'll still win it, but if he plays less the Texans will be champs.

Adam
Schefter
ESPN.com

DIVISION FINISH: 2 If somebody knows when Peyton Manning is going to be ready, then it'll be easier to know how Indianapolis will fare.
Jeffri
Chadiha
ESPN.com

DIVISION FINISH: 1 Even with Peyton Manning's bad neck, the Colts have the edge in this division until somebody else proves otherwise. They'll manage until he's at full strength.
Ashley
Fox
ESPN.com

DIVISION FINISH: 2 It looks like the Peyton Manning drama will continue into the regular season. Can Kerry Collins play well early after having just two weeks to prepare?
Intelligence Report
Five things you need to know about the Colts:
1. Quarterback uncertainty: A lot of people are saying Peyton Manning will start the opener, no matter what. Really? No matter whether doctors advise against it? I don't think so. He's driven, for sure, but he's not putting himself at medical risk. I expect we may not know his status until 90 minutes before the Sept. 11 game in Houston kicks off. In the meantime, late addition Kerry Collins provides an upgrade at backup. He needs better protection and a better run game than Manning's been getting in recent years to have a chance at success.
2. Stopping the run is key: The Colts failed to stop Arian Foster in the opener a year ago. They'll face the same challenge at Reliant Stadium on Sept. 11, followed by Peyton Hillis, Rashard Mendenhall, LeGarrette Blount and Jamaal Charles. Is the front good enough to stop those types of runners? It needs to be, especially if the offense isn't primed to run out to the sort of leads that prompt opponents to stop running it. Additions like Drake Nevis, Jamaal Anderson and Tommie Harris may help the front be better overall.
3. Special teams, with benefits: The new kickoff rule won't make kickoffs obsolete the way many doomsayers are predicting, but it certainly will make them less important. This is a great thing for the Colts, who regularly underachieve on special teams. Pat McAfee will bury a high percentage of kickoffs in the end zone and the team's lack of a consistent return man won't matter as much. When Manning is in place, the offense will happily take the ball at the 20-yard line at the start of most drives in exchange for not suffering as it did on Antonio Cromartie's big return late in the playoff loss to the Jets. McAfee's used that big leg to become adequate at long-range field goals. Once they are out of Adam Vinatieri's range, they could try the punter in desperate situations.
4. Depth a concern: Indianapolis has unproven depth at both safety and corner, and injuries akin to last year's could really leave the Colts exposed. They let Kelvin Hayden go in a salary-cutting move. That leaves them with Jerraud Powers, Jacob Lacey and Justin Tryon as their top-three corners, with untested Kevin Thomas fourth. They re-signed Melvin Bullitt to play safety alongside Antoine Bethea, but all the options behind them are young and haven't done much. It could be an issue.
5. Short-yardage offense: Joseph Addai can be effective in all situations, but he'd likely benefit and be fresher later in the season if he played fewer snaps. When the Colts are moving the ball, they go no-huddle and trap opponents in personnel packages, unable to substitute. The thing is, they are also unable to substitute. The Colts might do well to pause a bit more often to get rookie Delone Carter on the field to give them their best cracks on third-and-short and near the goal line.
-- Paul Kuharsky, ESPN.com
Inside The Numbers
One of the weaknesses of the Colts' secondary last season was with deep passes over the middle, and the team didn't make any significant personnel changes there. Indianapolis elected for continuity over improvement at safety by re-signing Melvin Bullitt. Kelvin Hayden's release left a hole at cornerback that sixth-round draft choice Chris Rucker won't be likely to fill.
• The Colts were so bad against the run in the 2010-11 season that teams didn't bother to disguise their intentions. When opposing offenses lined up with multiple running backs in the backfield, the Colts ranked 28th in the NFL, allowing 4.6 yards per rush. Free-agent acquisitions (DT Tommie Harris, LB Ernie Sims, DE Jamaal Anderson) plus rookie defensive tackle Drake Nevis should provide some muscle against the run.
• While blitzing Peyton Manning is generally regarded as a bad idea, manufacturing pressure with a four-man pass rush didn't yield results, either. Last season, Manning threw 25 touchdown passes against four or fewer rushers, tops in the league, and the Colts' offensive line allowed six sacks all season against a four-man rush (fewest in NFL). Opposing defensive coordinators will have to hope for growing pains from rookie tackles Anthony Castonzo and Ben Ijalana, who may be forced into early action with left tackle Charlie Johnson's move to Minnesota.
-- ESPN Stats & Information
Mel Kiper's Draft Class Watch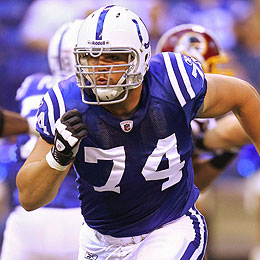 (Photo by Michael Hickey/ US Presswire )
Anthony Castonzo: Ready to protect.
You won't hear his name mentioned a lot, and that should be a good thing for rookie offensive tackle Anthony Castonzo, who could be protecting Peyton Manning's blind side in Week 1.
Castonzo has a ton of experience after a distinguished career at Boston College, and has very good feet that will help him against the speed rushers that come with the 3-4 alignments. That said, the Colts figure to be chipping on his side and providing plenty of help.
Elsewhere, rookie Ben Ijalana could see work at either guard or right tackle. He was a tackle in college, but I figured he'd move inside as a pro. Finally, look for former LSU star Drake Nevis to see a ton of reps at defensive tackle. He hasn't been overwhelmed after a college career filled with tough competition.
-- Mel Kiper, ESPN NFL Draft Insider