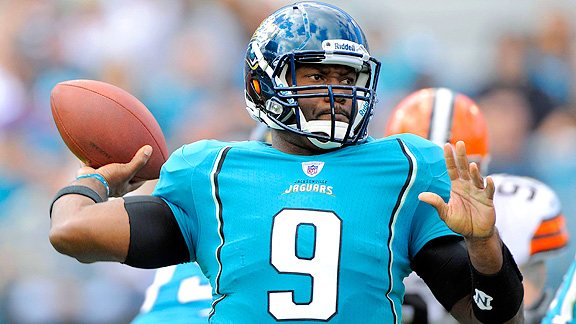 Scott A. Miller/US Presswire
JOHN CLAYTON QB RANKING (22)
: David Garrard, who threw a career-high 23 TD passes in 2010, battled a sore back during much of the preseason.
Expert Picks (Consensus: third)
The Jaguars finished second in the AFC South last season with an 8-8 record. For more Jaguars coverage, visit: Paul Kuharsky's AFC South blog … on Twitter | Clubhouse | More predictions
ANALYST
PREDICTION
Paul
Kuharsky
ESPN.com

DIVISION FINISH: 3 An improved defense may not be enough to offset the team's primary storyline and distraction: David Garrard versus Blaine Gabbert.
John
Clayton
ESPN.com

DIVISION FINISH: 3 A non-playoff season will cost coach Jack Del Rio his job, but the roster is probably one more draft away from being a contender. If the Jags fade down the stretch, Blaine Gabbert will replace David Garrard at quarterback.

Adam
Schefter
ESPN.com

DIVISION FINISH: 4 David Garrard is keeping his starting job, but Jacksonville must show signs of improvement.
Jeffri
Chadiha
ESPN.com

DIVISION FINISH: 3 It's hard to get excited about a team that routinely seems to be hovering around mediocrity. Nothing the Jags did this offseason suggests they can climb into playoff contention.
Ashley
Fox
ESPN.com

DIVISION FINISH: 4 The Jaguars could not stop anyone last season. Although they added some defensive players, the main problem remains the pass rush. There is none.
Intelligence Report
Five things you need to know about the Jaguars:
1. Quarterback debate: While David Garrard is in line to start the season, it's almost inevitable that he will be pushed by first-round pick Blaine Gabbert. Consistency has been Garrard's big issue. When he hits a dip, a team that thinks it's good enough to challenge for a playoff spot will likely be tempted to turn to Gabbert, presuming the rookie backup is practicing well. I think it's going to hang over the team's head in an uncomfortable way. No matter how well Jack Del Rio manages it, it's just a complicated deal that can weigh on a franchise.
2. Defense has upgraded: Five of the team's top 12 defenders are free-agent additions -- linebacker Paul Posluszny and Clint Session, safety Dawan Landry, end Matt Roth and nickelback Drew Coleman. That is a lot of change, and it's all for the better. How quickly does this become a cohesive unit? We don't know. But I buy Del Rio's confidence that the defense will be much improved over the one that ranked 28th overall in 2010. The question is whether the additions did enough to address the pass defense. Landry is a good player, but how well can he cover? The pass rush has to be better to help the secondary and ease the strain on corners Rashean Mathis and Derek Cox.
3. Jones-Drew still the centerpiece: The Jaguars were super careful with Maurice Jones-Drew, holding him out of the first three preseason games and severely limiting his preseason practice as he came back from serious knee surgery. I'm not among those expecting him to drop off or become fragile. He'll remain the centerpiece of the offense no matter who's under center. But it's fair to expect that offensive coordinator Dirk Koetter will get some touches for Rashad Jennings and even Deji Karim as he looks to ensure MJD will have a chance to finish the season strong.
4. Coaches on tenuous ground: Del Rio has two years remaining. Wayne Weaver initially declared it a playoffs-or-pink slip season, then backed off and said he just needs to see forward progress. Del Rio's staff is all working on one-year contracts. It's not a good situation in terms of stability. If the team plays well in the first half of the season, Del Rio will make a huge push for extensions for his guys. Without them, his security won't be so important if there is a mass exodus of assistants after the season ends. Stay tuned.
5. Questionable weaponry and protection: Sure, Jones-Drew and Marcedes Lewis are great threats in the passing game. But the quarterback needs production out of the wide receivers. Mike Thomas is a good player, but are Jason Hill and Cecil Shorts sufficient to round out the group that Garrard or Gabbert will be targeting? The team has a lot of faith in Hill and Shorts, but they are hardly proven commodities. And the offensive line needs to be a strength, not an issue, for a team that's been rebuilt by GM Gene Smith with a focus on the foundation.
-- Paul Kuharsky, ESPN.com
Inside The Numbers
The Jaguars have taken steps to improve their defense, signing linebackers Paul Posluszny and Clint Session, as well as safety Dawan Landry and cornerback Drew Coleman. Additionally, they used fourth- and fifth-round draft picks on defensive backs Chris Prosinski, who's running second to Landry on the depth chart, and Rod Isaac. Will that be enough?
One consistent trend for the Jags the past three seasons has been poor pass defense, specifically on throws near the sidelines. Since 2008, the Jaguars have allowed opposing quarterbacks to post a 101.7 passer rating on throws outside the numbers, the worst rate in the NFL. Only two other teams (Lions and Rams) have allowed a rating of more than 90.0.
The Jaguars' outside pass defense bottomed out in 2010, allowing a league-worst passer rating of 109.8. They were the only team with a rating over 100.0 (league average was 80.8).
Making matters worse was the Jaguars' inability to stop deep passes down the sideline. They allowed 52.1 percent of sideline passes thrown 15 yards or more in the air to be completed, worst in the NFL and nearly 17 percentage points above the league average of 35.4 percent.
• David Garrard might not have to worry about rookie Blaine Gabbert too much this season. Last year, Garrard had the fourth-best passer rating (102.1) among qualified quarterbacks when facing four or fewer pass-rushers. Only Philip Rivers, Tom Brady and Michael Vick were better.
• Maurice Jones-Drew has been a workhorse for the Jags, especially in the trenches. Over the past three years, 497 of Jones-Drew's 808 rushes have been up the middle, the second-most of any running back during that span.
-- ESPN Stats & Information
Mel Kiper's Draft Class Watch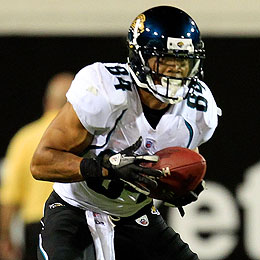 (Photo by Sam Greenwood/Getty Images)
Cecil Shorts: Boon to passing game.
Blaine Gabbert was the big name, but he won't be starting. That said, another pick could still impact the passing game. Like Pierre Garcon, third-round pick Cecil Shorts comes out of Mount Union College, and could be a reliable target at wideout. I don't expect Shorts to start immediately -- people underestimate how nuanced and tricky it can be to learn the pro game from that position -- but he very well could by midseason.
Elsewhere, third-round pick Will Rackley will likely hold down the left guard job in Week 1.
As for Gabbert, it really depends more on David Garrard's back than Gabbert's work. Garrard will be a better option if the Jags want to win, but his health is no guarantee, and Gabbert is a smart player who should at least be able to digest the playbook.
-- Mel Kiper, ESPN NFL Draft Insider