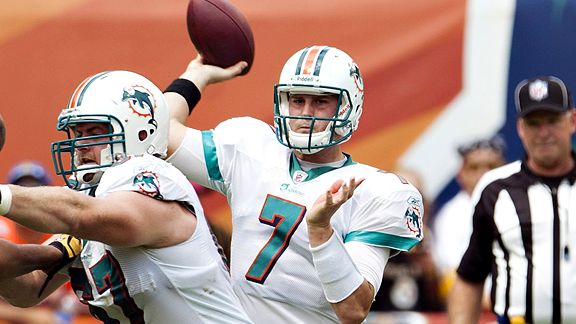 Jonathan Brownfield/US Presswire
JOHN CLAYTON QB RANKING (26)
: This season will be Chad Henne's third as Miami's full-time starter. He completed 61.4 percent of his passes last year, but also threw a career-high 19 interceptions.
Expert Picks (Consensus: third)
The Dolphins finished third in the AFC East last season with a 7-9 record. For more Dolphins coverage, visit: ESPN.com's AFC East blog … on Twitter | Clubhouse | More predictions
ANALYST
PREDICTION
Matt
Williamson
Scouts Inc.

DIVISION FINISH: 2 I am going out on a weak limb here considering how poorly Chad Henne played in 2010. But I expect Miami to feature a top-three defense this season. And the Dolphins did a nice job of surrounding Henne with a quarterback-friendly supporting cast.
John
Clayton
ESPN.com

DIVISION FINISH: 3 Tony Sparano and Chad Henne are both in desperate fights to keep their jobs past this season. If Henne can't mount a playoff run, major changes are coming for this franchise.

Adam
Schefter
ESPN.com

DIVISION FINISH: 3 Chad Henne and Reggie Bush are going to be better and more dynamic than Dolphins fans are expecting.
Jeffri
Chadiha
ESPN.com

DIVISION FINISH: 3 They don't know whether Chad Henne is the answer at quarterback and they're relying on a running game that will feature Reggie Bush. This already sounds bleak.
Ashley
Fox
ESPN.com

DIVISION FINISH: 3 This is a team short on talent with a tougher schedule than last season, when it went 7-9. Chad Henne is not the answer. It is going to be a long year for the Fish.
Intelligence Report
Five things you need to know about the Dolphins:
1. Henne must improve: Chad Henne needs to play better in 2011 than he did a year ago. He just didn't convert enough big plays to throw as many interceptions as he did (19). Still, I do think he was slightly unfairly criticized and I think he can revive his career, especially since Miami was quite proactive this offseason in getting him a lot of help at surrounding positions. And as Football Outsiders so adeptly notes, Henne was the most "unlucky" quarterback in the league last year as far as interceptions -- no quarterback paid more for his mistakes. This offense also has to get more aggressive with play calling. But any way you cut it, the Dolphins will go only as far as Henne can take them.
2. Defense is elite: I love the Dolphins' defense. Led by a very deep but greatly underappreciated defensive line, I fully expect Miami to have one of the top three or four defenses in the league. Vontae Davis and Cameron Wake are budding superstars with a ton of big-play potential, but young complementary players like Sean Smith and Koa Misi are also quite effective -- and should only be getting better. This defense needs to do a better job of taking the football away, and I don't love its free safety situation, but all in all, there are only a couple of NFL defenses that I rank ahead of the Dolphins'. And Mike Nolan is one of the best defensive coordinators in the league.
3. The Reggie Bush effect: As a former second overall pick in the draft, many consider the often-injured Bush a bust. I am not going to say that Bush was worth such a lofty draft slot, but I will tell you that he can make a major difference in Miami. Bush is as much wide receiver as he is running back, which makes accounting for him extremely difficult when he is on the field. Do you play nickel or base defense when he is the lead back? If you chose the smaller, more athletic defensive personnel, Miami will run the ball with Bush. If you chose the heavier base set, the Dolphins can split Bush away from the formation and get a coverage mismatch against a linebacker. His stats are not extraordinary, but Bush's effect on the game can be. Bush and Brandon Marshall should quickly become Henne's best friends.
4. Offensive line rebuilt: Henne isn't very fleet of foot. He struggles against interior pass-rush pressure, which was a big problem a year ago. In turn, Miami used its mid first-round pick on the best interior offensive lineman in the draft, Mike Pouncey, who is penciled in as the starting center. Former right tackle Vernon Carey has moved to right guard. That move is a bit curious, though, as I have major reservations about now-starting right tackle Marc Colombo. The plan is that the revamped line should help an ailing running game while also providing better interior protection for the immobile Henne.
5. More team speed: Miami clearly made a concerted effort to become a faster team this offseason. On offense, the Dolphins added a burner at wide receiver, Clyde Gates, who should open room for the Dolphins' other skill positions. We touched on Bush's potential effect in this offense, but clearly he is an improvement just in terms of his pure speed compared to the running backs from a year ago. Miami desperately needs more big plays on offense. On defense, the addition that really sticks out is every-down linebacker Kevin Burnett, who is replacing the slower run-stuffing Channing Crowder. Burnett's athletic ability and extreme versatility should serve Miami very well, especially when dealing with the Patriots' wide array of tight ends and running backs who can torture a defense from a matchup standpoint. He should make a very formidable inside linebacker pair with Karlos Dansby in Miami's 3-4 scheme.
-- Matt Williamson, Scouts Inc.
Inside The Numbers
The Dolphins' passing game lacked a vertical element last season. The Dolphins and the Rams were the only teams that scored just a single touchdown on throws of more than 20 yards. Miami's two most-targeted wide receivers on passes more than 20 yards downfield (Brandon Marshall and Brian Hartline) caught only six of 28 targets. The Dolphins drafted wide receiver Clyde Gates in the fourth round, hoping the burner can stretch the field and help Chad Henne (or Matt Moore) improve Miami's downfield numbers.
• Miami's rushing defense was stout in 2010, as the Dolphins finished in the top eight in yards per rush allowed in all three directions (left, middle and right). However, the Dolphins were one of only six teams to allow more than 5 yards per rush on third down. Replacing the loquacious yet underwhelming inside linebacker Channing Crowder with former Charger Kevin Burnett should help.
• The Dolphins struggled rushing the ball up the middle last season, but it didn't stop them from trying. Last year, Miami had the fifth-most rush attempts up the middle (247), but its 3.5 yards-per-attempt average was tied for 27th in the NFL. Miami acquired RB Daniel Thomas and drafted offensive lineman Mike Pouncey to beef up their interior running game.
-- ESPN Stats & Information
Mel Kiper's Draft Class Watch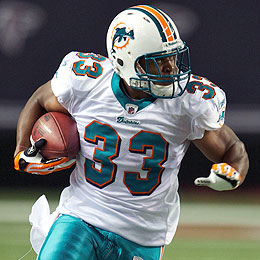 (Dale Zanine/ US Presswire )
Daniel Thomas: Miami's new workhorse?
Ronnie Brown is gone. So is Ricky Williams. Newly imported Reggie Bush can't handle a heavy workload, and the Dolphins don't want Chad Henne throwing more than he must.
That means Daniel Thomas, a second-round pick out of Kansas State, could be the man in Week 1. He should pile up the carries and has the frame to be a workhorse. He'll be key in goal-line situations, where the Dolphins don't have another clear option.
Part of the reason Thomas can have early success is because this offensive line looks built to support a solid running game, and rookie Mike Pouncey will be a big part of that. Pouncey should line up at center, and went extremely high in the draft for that position. But he has a similar skill set as his brother Maurkice, who was a Pro Bowl center last year for the Steelers.
-- Mel Kiper, ESPN NFL Draft Insider