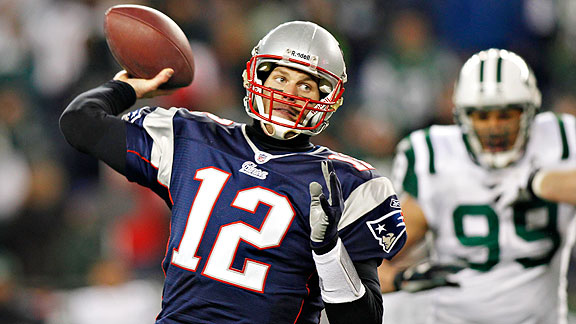 Greg M. Cooper/US Presswire
JOHN CLAYTON QB RANKING (1)
: Tom Brady had another sensational season in 2010. He threw 36 TD passes (against only four interceptions) and claimed his second MVP award.
Expert Picks (Consensus: first)
The Patriots finished first in the AFC East last season with a 14-2 record. For more coverage, visit: ESPN.com's AFC East blog … on Twitter | ESPN Boston | Clubhouse | More predictions
ANALYST
PREDICTION
Matt
Williamson
Scouts Inc.

DIVISION FINISH: 1 The No. 1 flaw on an exceptional 2010 Patriots team was its pass defense. Well, New England was aggressive in correcting this problem with the addition of cover men and pass-rushers. And they still have the best coach and player in the NFL.
John
Clayton
ESPN.com

DIVISION FINISH: 1 The Pats are loaded. Tom Brady continues to work his magic with the offense, while Bill Belichick made a wise move in switching to a 4-3 scheme that could be pretty good.

Adam
Schefter
ESPN.com

DIVISION FINISH: 1 Another year of Bill Belichick and Tom Brady combined with the motivation of falling short again last season.
Jeffri
Chadiha
ESPN.com

DIVISION FINISH: 1 The Patriots still have the best quarterback and coach in the league, and that's always been their biggest advantage. If their defense improves, they've got a good shot at a fourth Super Bowl.
Ashley
Fox
ESPN.com

DIVISION FINISH: 1 Let's see, the No. 1 offense from 2010, with more weapons for the league's best quarterback. Potentially the best run defense in football. Another 14-2 season is not out of the question.
Intelligence Report
Five things you need to know about the Patriots:
1. Defense changing its style: The Patriots have primarily utilized a two-gapping 3-4 defense in Bill Belichick's tenure as coach, which was often described as a read-and-react style of play. But things have looked significantly different this preseason, with the defense adopting more of a 4-3 look and attacking at the snap. It's a change that players are embracing. The Patriots ranked 32nd in the NFL on third down last season, but there have been early signs of improvement this year, sparked by the new emphasis on getting up the field. Belichick has already said the team is likely to keep more defensive linemen this year.
2. No surprise, Brady looks like the 2010 MVP: In the second preseason game against the Buccaneers, Tom Brady looked to be in midseason form, getting the offense in and out of the huddle at such a quick pace that Tampa defensive lineman Gerald McCoy said after the game, "Um, Mr. Brady, can we line up?" Brady has been sharp, showing no signs of trouble from the right foot surgery he had in January. A big part of his training camp has been devoted to spending time with receiver Chad Ochocinco as the two work to develop a rapport. Brady still looks like he has top arm strength.
3. Ochocinco easing into mix: Learning a new offense, and seeing the game through Brady's eyes so the two can communicate on the field without talking, has challenged Ochocinco. He is basically playing Randy Moss' old role and projects to be part of every receiver package. In the second preseason game, Ochocinco and Belichick had an animated discussion on the sideline, with Belichick pulling Ochocinco out of the game for two plays, seemingly because he wasn't pleased with his blocking down the field. For his part, Ochocinco said he has appreciated the hard coaching.
4. Big plans for Haynesworth: Despite rumors that the Patriots might cut Albert Haynesworth before the season, it was never a serious consideration. The team has big plans for him as a defensive tackle in its new-look defense, and believes that pairing him inside with Pro Bowler Vince Wilfork could be a lethal combination. Owner Robert Kraft signed off on the Haynesworth trade despite Haynesworth's off-field issues, noting that he didn't come for the money ($1.5 million base salary) and that he "found him to be genuine and sincere." Belichick said Haynesworth has done more than has been asked of him.
5. Meriweather in the doghouse: Brandon Meriweather -- the safety who was selected in the first round of the 2007 draft and has made the Pro Bowl twice -- could be on the outs. When the coaching staff rested all Pro Bowl players in the preseason opener, Meriweather played the entire first half. Then in the second preseason game, coaches adopted a three-man rotation at safety, with Meriweather coming off the field on the third series of the game. Clearly, coaches are trying to light a fire under him. If it doesn't ignite, that will be a key situation to monitor when rosters are trimmed to 53. (Update: Meriweather was released Saturday and agreed to a deal with the Bears on Sunday.)
-- Mike Reiss, ESPN Boston
Inside The Numbers
Rookie tight ends Rob Gronkowski and Aaron Hernandez not only added a new dimension to the Patriots' offense in 2010, they changed how the offense was run. The Patriots ran a league-high 631 plays with two or more tight ends on the field last season after averaging 363 such plays in 2008-09.
Brady thrived with two or more tight ends, throwing 22 of his 36 touchdowns with a 116.2 passer rating. Brady was also at his best when throwing to Gronkowski and Hernandez, posting two of the five best passer ratings among any quarterback-receiver duo with at least 50 attempts. Brady had a league-best 143.3 rating with Gronkowski and a 130.5 rating with Hernandez (fifth-best).
Gronkowski and Hernandez combined for 16 touchdown receptions, with all but one coming inside the red zone. In 2008-09, Patriots tight ends combined to catch six touchdowns inside the red zone.
• Chad Ochocinco should provide a nice complement to Wes Welker and the Patriots' tight ends. Ochocinco has the ninth-most receptions (79) on throws over 10 yards downfield the past three seasons. During that span, Welker led the NFL in receptions on throws 10 yards or shorter.
• If Albert Haynesworth can return to form, he could help a conservative Patriots pass rush. The Pats sent four or fewer pass-rushers on 73.7 percent of opponent dropbacks last season, the fourth-highest rate in the league.
-- ESPN Stats & Information
Mel Kiper's Draft Class Watch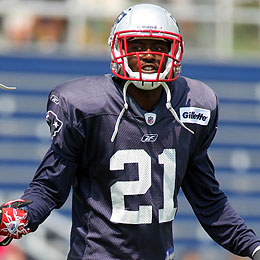 (Photo by Stew Milne/ US Presswire )
Ras-I Dowling: Durability questions.
Cornerback Ras-I Dowling was a star at Virginia and a likely first-round pick, but couldn't stay healthy. The Patriots grabbed him with the first pick in Round 2, and should be able to make use of him in nickel situations early -- that is, if he can stay healthy. New England had a tough time against the pass last year, and Dowling can be part of the solution.
Elsewhere, the Patriots used a pair of picks in somewhat puzzling fashion, taking running backs Stevan Ridley and Shane Vereen in the middle rounds. Ridley looks like he can add a physical presence to the attack, which was a finesse operation last year. Behind what should be a very good line, Ridley could get some run. Keep an eye on Vereen in the passing game, where he can learn some tricks from Kevin Faulk and perhaps take over in that role someday.
Rookie first-round pick Nate Solder has the physical skills to be a nice insurance policy at either offensive tackle position.
-- Mel Kiper, ESPN NFL Draft Insider