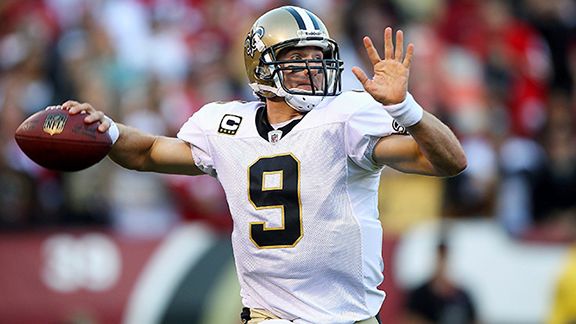 Jed Jacobsohn/Getty Images
JOHN CLAYTON QB RANKING (4)
: Drew Brees is the only starting quarterback in the NFC South ever to win a playoff game. And he has won some big ones.
Expert Picks (Consensus: second)
The Saints finished second in the NFC South last season with an 11-5 record. For more Saints coverage, visit: Pat Yasinskas' NFC South blog ... on Twitter | Clubhouse | More predictions
ANALYST
PREDICTION
Pat
Yasinskas
ESPN.com

DIVISION FINISH: 1 I'm picking the Saints for one reason -- on paper, they have more talent than they did in 2009. We know Sean Payton and Gregg Williams can coach and the roster is loaded. Plus, Brees is the only NFC South starting QB ever to win a playoff game.
John
Clayton
ESPN.com

DIVISION FINISH: 2 Sean Payton has loaded the roster with the additions of Olin Kreutz, Darren Sproles, Shaun Rogers and others, making the NFC South the best race in football.

Adam
Schefter
ESPN.com

DIVISION FINISH: 1 Any team that adds Shaun Rogers, Aubrayo Franklin and Cam Jordan to its defensive line has to be better on defense.
Jeffri
Chadiha
ESPN.com

DIVISION FINISH: 3 They need their running game to be reliable again. If injuries or inconsistency get in the way, they'll be watching this year's postseason.
Ashley
Fox
ESPN.com

DIVISION FINISH: 2 The Saints got better in the draft and are poised for another Super Bowl run. If he can stay healthy, rookie running back Mark Ingram should be a huge addition.
Intelligence Report
Five things you need to know about the Saints:
1. Coach Sean Payton and GM Mickey Loomis don't sit still: They recognized the main reasons why they got beat by Seattle in the first round of last season's playoffs and went out and addressed those areas heavily. The price wasn't cheap. After drafting defensive end Cameron Jordan, the Saints traded back into the first round to get running back Mark Ingram. That led to the departure of Reggie Bush and the arrival of Darren Sproles, who will be used as a speed back. But the real key was adding Ingram. He should give the Saints the kind of consistency they've lacked in the running game since Deuce McAllister was still going strong. On the defensive side, the Saints knew they had to get better at stopping the run, so they went out and spent big money to get defensive tackles Aubrayo Franklin and Shaun Rogers.
2. Drew Brees isn't going to have a two-season "slump": Brees threw a career-high 22 interceptions last season and that was totally out of character for a guy who has been the model of efficiency since his arrival in New Orleans. Brees had a knee issue surface early last season. It never sidelined him and the Saints never talked much about it. But you have to assume the knee played some role in Brees having an off year by his lofty standards. The knee has had time to recover and the arrival of Ingram and Sproles should bring new dimensions out of the backfield. Brees should bounce back to his old form.
3. The defense isn't going to sit on its heels: One of the other major reasons the Saints weren't able to repeat as Super Bowl champions was because last year's defense wasn't the turnover machine it was in 2009. Coordinator Gregg Williams knows that and he's not the type to sit back and let it happen again. Williams is a big believer that the best way to create turnovers is to apply more pressure. Defensive ends Will Smith and the rookie Jordan need to produce a consistent pass rush, but Williams will supplement them with plenty of blitzes. The Saints want to get younger at linebacker, and Will Herring and Jonathan Casillas could play bigger roles. They have fresh legs and will be asked to blitz and drop into coverage, which sometimes will allow members of the secondary to blitz.
4. There's a new star on defense: Middle linebacker Jonathan Vilma is still the unquestioned leader of this defense, but the best player on the unit down the stretch last season was free safety Malcolm Jenkins. He was in his first season as a starter, after playing cornerback as a rookie. He took over for Darren Sharper, who was a catalyst for the 2009 team, and took a little time to get comfortable. But Jenkins is a student of the game and has young, fresh legs. He should start off this season as an upgrade over what Sharper was in 2009.
5. Change can be good: It wasn't easy to let center Jonathan Goodwin leave via free agency and release veteran right tackle Jon Stinchcomb. They were part of an offensive line that was great in 2009 and Goodwin still played at a high level last season. But the Saints didn't want to sign Goodwin, 32, to a long-term deal. Instead, they signed Olin Kreutz, 34, and plan to use him as a bridge until Matt Tennant is ready to be the center. Stinchcomb's level of play dropped dramatically last year as he played with a quadriceps injury. The Saints decided it was time to get younger at that position and they probably will go with Zach Strief. He has been a backup most of his career, but there's hope he can step up. If not, second-year pro Charles Brown could be an option.
-- Pat Yasinskas, ESPN.com
Inside The Numbers
The Saints' running game in 2010 was strong up the middle -- among the league's top 10 -- but the Saints struggled when running to the outside in either direction. The 4.3 yards per rush to the left (tied for 29th) and 3.5 yards per rush to the right (tied for 30th) were near the league worst.
Not every running back struggled to the outside, however. Chris Ivory provided a nice boost for the Saints' running game after Pierre Thomas, Reggie Bush, Julius Jones and Ladell Betts struggled or got hurt.
Despite Ivory's success, the Saints drafted Mark Ingram in the first round. Like Ivory last season, Ingram saw his greatest success in his final year at Alabama when rushing to the outside. Ingram averaged 6.5 yards per rush outside the tackles compared with 4.7 yards per rush inside.
Ingram also provides more of a pass-catching threat than Ivory. Ingram caught 53 of the 62 passes thrown to him the past two years at Alabama, dropping only three. Ingram's 94.6 catch percentage is higher than the 92.6 average for all NFL running backs in 2010.
-- ESPN Stats & Information
Mel Kiper's Draft Class Watch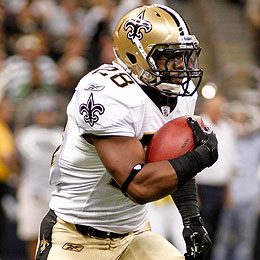 (Photo by Derick E. Hingle/US Presswire)
Mark Ingram: Revitalizing the run game.
Saints head coach Sean Payton is known for his play-calling prowess, but the guy loves to run the ball, and in trading up for Mark Ingram, he signaled there would be plenty of that in the future. Ingram could well be the NFL Offensive Rookie of the Year. Paired with Pierre Thomas, Ingram could help revitalize a Saints running game that wasn't as effective as it could have been.
This team has a really good offensive line, built from the core with two exceptional guards, and Ingram excels as an inside runner. His health will be a concern, so the tandem approach suits him fine.
The other big rookie impact will come from defensive end Cameron Jordan, a smart, versatile player with the size to be an every-down guy in this defense. While he'll come along slowly in what's a complicated scheme, Jordan's value rests on that fact that the Saints and defensive coordinator Gregg Williams can use him inside or outside. He's another rookie who figures to be more valuable late.
-- Mel Kiper, ESPN NFL Draft Insider