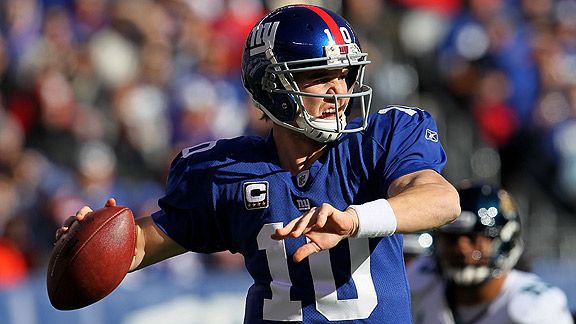 Chris McGrath/Getty Images
JOHN CLAYTON QB RANKING (9)
: Eli Manning threw for 4,002 yards and 31 touchdowns in 2010, but his 25 interceptions were extremely troubling.
Expert Picks (Consensus: third)
The Giants finished second in the NFC East last season with a 10-6 record. For more coverage, visit: Dan Graziano's NFC East blog ... on Twitter | ESPN NY | Clubhouse | More predictions
ANALYST
PREDICTION
Dan
Graziano
ESPN.com

DIVISION FINISH: 3 They've lost key passing-game components, overhauled the offensive line and are a couple of men down on the defensive line and in the secondary. They have enough good players to make themselves a contender, but depth is clearly a concern.
John
Clayton
ESPN.com

DIVISION FINISH: 3 The Giants had so many offseason problems that it's hard to project a 10-win season. They may struggle to get to eight wins.

Adam
Schefter
ESPN.com

DIVISION FINISH: 3 No team in the league suffered through a more painful and crippling summer than the Giants; losses already have mounted.
Jeffri
Chadiha
ESPN.com

DIVISION FINISH: 3 The secondary is a disaster. All those injuries don't bode well in a division with so many explosive receivers.
Ashley
Fox
ESPN.com

DIVISION FINISH: 3 Wow, did any team suffer as many losses in the preseason as the Giants? First-round draft pick Prince Amukamara will be back eventually, but the defense took a big hit. Can the Giants recover?
Intelligence Report
Five things you need to know about the Giants:
1. They'll probably run the ball a lot: They ran the ball a lot last year -- more than all but five other teams in the league -- and they brought back the very talented running back tandem of Ahmad Bradshaw and Brandon Jacobs. Jacobs has looked excellent in the preseason. And while Eli Manning has improved every year (those 25 interceptions last year notwithstanding) and emerged as a top quarterback, the losses of Steve Smith and Kevin Boss from the passing game leave him without a couple of key safety valves. Add in those offensive line changes, and the Giants are likely to stick with what they know and trust -- namely, that running game.
2. All eyes on left tackle William Beatty: A reserve for each of his first two seasons in New York, Beatty has been given the starting left tackle job with David Diehl moving inside to guard, next to new center David Baas. Left tackle is the most critical position on the line, and Beatty's ability to handle it as a full-time starter could have a lot to say about how far the Giants and their offense can go this year.
3. Pressure up front is still their bread and butter: Osi Umenyiora could miss a few weeks following his knee surgery, but in the meantime the Giants like their bookend defensive ends, Justin Tuck and Jason Pierre-Paul. They've moved Mathias Kiwanuka to linebacker for first and second down but will bring him up to play him on the line some in passing situations. And the hope is that Linval Joseph can help generate pressure from the tackle spot with Barry Cofield gone to Washington. The Giants are without second-round pick Marvin Austin, however, which is tough, because he was expected to help at that defensive tackle spot too. With Austin out for the year and Umenyiora not yet up to speed, they're thin on the defensive line.
4. Will they have enough cornerbacks? They drafted a cornerback, Prince Amukamara, but he got hurt in the first week of training camp. They've also seen starter Terrell Thomas and reserves Bruce Johnson and Brian Witherspoon suffer season-ending injuries. So the cornerback position is dangerously thin for the Giants right now, with Aaron Ross and Corey Webster looking like the starters and very little behind them. This could mean the play of safeties Kenny Phillips, Antrel Rolle and Deon Grant will be even more important than it already was.
5. Make-or-break year? Head coach Tom Coughlin survived the collapse of 2009, and the fact that the team won 10 games certainly helped him survive last season's lack of a playoff appearance. But if these Giants bottom out (as their lack of depth could lead them to do), one must wonder if the team will go in another direction at coach, or even if Coughlin might decide to go in a different direction himself. A bad year in New York could bring about change at a number of spots for the Giants.
-- Dan Graziano, ESPN.com
Inside The Numbers
Eli Manning threw a career-high and league-leading 25 interceptions in 2010. His biggest struggle came when opposing teams used five or more defensive backs. Manning led the league with 19 interceptions when facing defenses with five or more defensive backs on the field and ranked third worst in passer rating (minimum 200 attempts).
Manning will have to play the 2011 season without two players who helped bolster his stats against small defenses. Last season, Manning had a plus-6 TD-interception differential with a 96.1 rating when targeting TE Kevin Boss and WR Steve Smith against nickel and dime packages. Manning had a plus-3 differential and a 67.2 rating when throwing to WRs Mario Manningham and Hakeem Nicks in those situations.
Manning wasn't the only Giant to struggle against small defenses. The Giants picked up 4.6 yards per rush when facing at least five defensive backs, the 22nd-best rate in the NFL.
• Defensively, the Giants struggled against throws of 15 or more yards downfield in the middle of the field last season. They allowed an average of 16.0 yards per attempt (30th in the NFL), along with seven touchdowns, tied for worst in the league with the Cardinals.
• However, the Giants still have a top pass rush to lean on. They picked up a sack once every 11.6 opponent dropbacks last season, the second-best rate in the NFL. On average, teams picked up a sack once every 17.2 opponent dropbacks last season.
-- ESPN Stats & Information
Mel Kiper's Draft Class Watch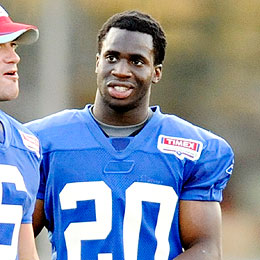 (AP Photo/Bill Kostroun)
Prince Amukamara: Eyeing October return.
Last year the Giants drafted a developmental pass-rushing prospect in Round 1 with Jason Pierre-Paul. This year, late in the draft, they got a player some scouts believed was just the opposite, a player who may have actually regressed last season, and perhaps had peaked as a college junior.
Greg Jones, a middle linebacker from Michigan State, may have had some of the shine wear off as a prospect (perhaps the price of starting since he was a freshman), but he's turning heads in camp. This was a bad linebacking corps last year, and Jones is a guy capable of sniffing out the run. He was a tackling machine in college, and could move up the depth chart both there and on special teams.
Elsewhere, cornerback Prince Amukamara may have been written off after breaking his foot early in camp, but the former Nebraska star whom the Giants couldn't pass up in Round 1 now will be thrust into a key role if he comes back healthy in early October. With Terrell Thomas out for the season, the Giants need Amukamara to step up and show some of the lockdown skills that defined his play in Lincoln.
The Giants have been unlucky with their draft picks, as second-rounder Marvin Austin also was lost for the season with a torn pectoral muscle.
-- Mel Kiper, ESPN NFL Draft Insider