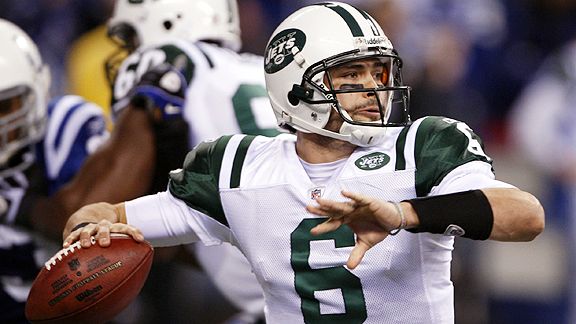 Brian Spurlock/US Presswire
JOHN CLAYTON QB RANKING (17)
: Mark Sanchez has earned a reputation as a winner, but the biggest knock on him is his pedestrian completion percentage (54.8 in 2010).
Expert Picks (Consensus: second)
The Jets finished second in the AFC East last season with an 11-5 record. For more coverage, visit: ESPN.com's AFC East blog … on Twitter | ESPN New York | Clubhouse | More predictions
ANALYST
PREDICTION
Matt
Williamson
Scouts Inc.

DIVISION FINISH: 3 Call me a "Jets hater" all you want. I am used to it. But New York fans, please tell me one area of this team that is improved on paper from a year ago. I see the arrow going down this year for the Jets.
John
Clayton
ESPN.com

DIVISION FINISH: 2 Rex Ryan is ready for the Super Bowl, but his roster has more holes along the offensive line and at receiver. Chances of going back to the AFC title game aren't great.

Adam
Schefter
ESPN.com

DIVISION FINISH: 2 Two straight years, two straight AFC Championship Game losses. They're hoping Plaxico Burress can help them climb higher.
Jeffri
Chadiha
ESPN.com

DIVISION FINISH: 2 It's time for Mark Sanchez to go from being a game manager to being a franchise quarterback. His growth will determine whether the Jets vault over New England for a division crown.
Ashley
Fox
ESPN.com

DIVISION FINISH: 2 Here is your Super Bowl champion. Again. Just ask Rex Ryan. The Jets have the defense to do it, but they will need Mark Sanchez to be more accurate to get there.
Intelligence Report
Five things you need to know about the Jets:
1. Mark Sanchez is going to have a shaky start: The third-year quarterback lost three-quarters of his receiving corps on the eve of training camp (Braylon Edwards, Jerricho Cotchery and Brad Smith), and it's going to take time to get comfortable with his new weapons, Plaxico Burress and Derrick Mason. Fortunately, he still has Santonio Holmes, who will be the go-to guy. During this transition period, the Jets will have to rely on their running game and defense to carry the day. Once the passing game is up to speed, offensive coordinator Brian Schottenheimer will be able to open things up. After two years of protecting him with the strong running game, the plan is to put more on Sanchez's shoulders. He'll be fine as long as he improves his accuracy.
2. The defense could dominate: If there's one thing Rex Ryan does well -- other than yapping -- it's coaching defense. Barring injuries, this should be a top-three unit for the third straight year. The Jets return 10 starters, nine of whom have been in Ryan's system for two years -- rare continuity. There should be very few mental mistakes, and the familiarity with the scheme should allow Ryan and defensive coordinator Mike Pettine to cook up some exotic packages. The major flaw is the lack of an elite pass-rusher, but they'll manufacture pressure with an array of blitzes.
3. They're not going to win many footraces: Save for Holmes, TE Dustin Keller and CB Antonio Cromartie, you can't say the Jets have any players exceedingly fast for their positions. The Jets are a big, physical team; they're not going to out-quick many opponents. Burress and Mason are 34 and 37, respectively; third-down back LaDainian Tomlinson is 32; and the middle of the pass defense -- safeties and linebackers -- will get exploited by certain teams. They will continue to struggle between the hashmarks against tight ends and slot receivers.
4. The new kickoff rule will hurt: You could argue that the Jets won three games last season, including a playoff game, because of long kickoff returns. It was an absolute weapon for the Jets, who relied on the return game to change field position. Now, with Smith gone and with touchbacks expected to increase, the Jets are losing a bullet in their revolver. Mike Westhoff is one of the smartest special-teams coaches in the business, but it's hard to scheme up a kickoff return when the ball is flying out of the end zone.
5. Built to win now: This is a smart, veteran team that knows what it takes to get to the playoffs. They're hungry, too, having lost the last two AFC Championship Games. It has to happen this season because they probably won't have Tomlinson, Burress and Mason in 2012, and the highly paid linebacking corps is one year away from an overhaul. They have 19 starters back, which gives them an edge in the post-lockout world. The key is staying healthy, because there are thin areas on both sides of the ball.
-- Rich Cimini, ESPN New York
Inside The Numbers
The Jets have hung their hat on the 3-4 defense against the pass during the Rex Ryan era. They finished tops in the NFL in every major category when opponents passed against their base package last season.
New York's 3-4 was even better in the postseason, especially in the win over the Patriots. With their 3-4 defense, the Jets held Tom Brady to 3-of-7 passing with a sack and an interception.
• It's also no surprise that the Jets are returning one of the top secondary units in the game. When utilizing five or more defensive backs, the Jets defended 52 passes last year -- tied with the Giants for the NFL lead.
• The rest of the league should continue to expect heavy pressure from the Jets this season. They have sent five or more pass-rushers on 48.4 percent of dropbacks since 2009 -- only the Saints have blitzed more in that span.
• The Jets selected defensive end Muhammad Wilkerson in the first round of April's draft and will try to revive the career of linebacker (and former first-round pick) Aaron Maybin. They will need to produce right away, as DE Shaun Ellis left via free agency and nose tackle Kris Jenkins retired.
-- ESPN Stats & Information
Mel Kiper's Draft Class Watch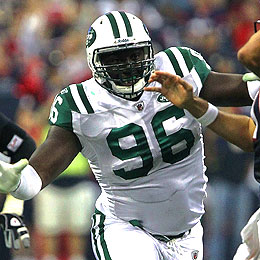 (Photo by Al Pereira/Getty Images)
Muhammad Wilkerson: Potential steal.
Temple doesn't churn out a lot of NFL talent, but it did in the 2011 draft, and the Jets may have gotten one of the steals of the first round when they landed Muhammad Wilkerson late on Day 1.
Wilkerson can add immediate help to the Jets' pass rush as a 3-4 defensive end who will penetrate. The question with Wilkerson is whether he'll draw enough attention as a penetrator to force some double-teams and open up the rush lanes in Rex Ryan's system. As we know, Rex likes to bring pressure.
Another rookie to keep an eye on is WR Jeremy Kerley, a fifth-round pick out of TCU. Kerley isn't big, but he's clever and knows how to get open. He might be a better option underneath than Plaxico Burress, so you could see him as a first-team guy depending on the situation. He could turn out to be a steal for the Jets.
-- Mel Kiper, ESPN NFL Draft Insider