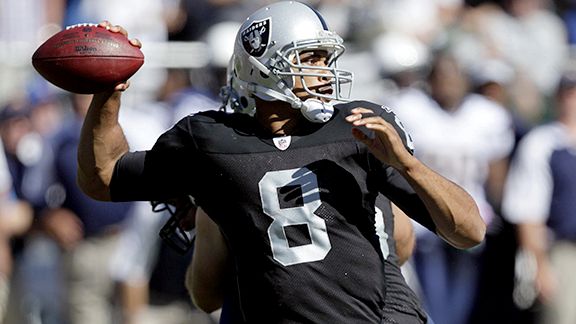 AP Photo/Ben Margot
JOHN CLAYTON QB RANKING (23)
: Coach Hue Jackson believes in Jason Campbell's talent, but if the offensive line can't block for him, talent might not matter.
Expert Picks (Consensus: third)
The Raiders finished third in the AFC West last season with an 8-8 record. For more Raiders coverage, visit: Bill Williamson's AFC West blog ... on Twitter | Clubhouse | More predictions
ANALYST
PREDICTION
Bill
Williamson
ESPN.com

DIVISION FINISH: 3 Keys for Oakland are the progression of quarterback Jason Campbell, a fast improvement by a young offensive line and solid cornerback play. Oakland's running game and defensive front are high caliber and make this team dangerous.
John
Clayton
ESPN.com

DIVISION FINISH: 3 Expect the Raiders to take a step back from their 8-8 finish in 2010. They have problems along the offensive line and questions in their secondary.

Adam
Schefter
ESPN.com

DIVISION FINISH: 4 Last season, it looked as if the Raiders were poised to take the next step; now they have some key losses to overcome.
Jeffri
Chadiha
ESPN.com

DIVISION FINISH: 4 Their best defensive player (cornerback Nnamdi Asomugha) and best receiver (tight end Zach Miller) left town. How are they supposed to be better?
Ashley
Fox
ESPN.com

DIVISION FINISH: 2 Believe it or not, this team has talent. Hue Jackson is the Raiders' sixth head coach since 2002, and he finally has stability at quarterback. Jason Campbell is the undisputed starter.
Intelligence Report
Five things you need to know about the Raiders:
1. McFadden's health is key: Running back Darren McFadden is Oakland's best offensive player. The No. 4 overall pick in 2008 had a spectacular third NFL season. He developed into an inside threat as well as an outside threat. He will be a main reason Oakland has a chance to win a lot of games this season. But he has to stay healthy. The Raiders have a strong backup tailback in Michael Bush, but McFadden gives Oakland's offense a special dimension when he's on the field. If there is a ding on McFadden it is his durability. He has missed 10 games in three NFL seasons. He missed a large chunk of training camp this year with a broken orbital bone.
2. Boss will get his chances: Kevin Boss is not the player that former Oakland tight end Zach Miller is. Miller signed with Seattle this offseason. But Boss is a solid player who will get his chances to be featured in Oakland's offense. Jason Campbell loved throwing to tight end Chris Cooley in Washington and Miller was, by far, his favorite target last season. Expect Boss, who has 119 career catches in four NFL seasons, to get a chance to grab 45 to 50 catches this season.
3. Need to start fast: The bad news for Oakland is that its first two games are on the road. The good news is the roadies are at Denver (on ESPN's "Monday Night Football" on Sept. 12) and at Buffalo. The Raiders have a chance to start 2-0. They will need to. Their next two games are at home, but they are against the New York Jets and New England. If the Raiders stumble at Denver or Buffalo, they will put themselves in a tough spot.
4. Watch out for the D-line: The Raiders' defensive front has a chance to be among the best in the NFL. The group of Richard Seymour, Tommy Kelly, Matt Shaughnessy and Lamarr Houston can be special. Seymour is still playing at an elite level. Kelly is a run-stuffer who had a great season in 2010, and Houston and Shaughnessy are potential future Pro Bowl players. This is a mean, nasty group that should set the tone for a lot of victories for Oakland.
5. Don't forget about Ford: Jacoby Ford may have missed much of the preseason with a broken hand, but don't think he won't be ready to contribute this season. The 2010 fourth-round sensation should be ready to play Denver. Expect him to be a lightning rod for this offense. Ford will be a slot receiver, at the very least, and he could start. And don't forget his return ability. He took three kickoffs to the house as a rookie.
-- Bill Williamson, ESPN.com
Inside The Numbers
The Raiders finished 8-8 last season but were 6-0 against their AFC West rivals. Quarterback Jason Campbell's play had a lot to do with that, especially against the blitz. Campbell was first or tied for first in every major passing category against a blitz last season versus division opponents: 36 completions, a completion percentage of 60.0, six passing touchdowns and 27 first downs.
Campbell will have to improve his pocket passing if the Raiders want to get over the .500 hump. Last season, Campbell led qualified quarterbacks in completion percentage (65.8), yards per attempt (10.3) and passer rating (134.8) on throws made outside of the pocket. When he threw from inside the pocket, however, Campbell's passer rating dipped to 79.8, and he threw just one more touchdown than interception.
• The Raiders' pass defense could be in trouble with the departure of Nnamdi Asomugha in free agency. The Raiders were tough on plays where three or more wide receivers took the field in 2010. They ranked first in the NFL in fewest completions (127), lowest completion percentage (49.9), fewest yards per attempt (5.9) and fewest first downs (74) against three-plus wide receiver formations.
• Campbell will miss tight end Zach Miller. Miller was Campbell's most-targeted receiver last season, and the two connected for 40 completions, 10 more than the next-highest Raiders receiver.
-- ESPN Stats & Information
Mel Kiper's Draft Class Watch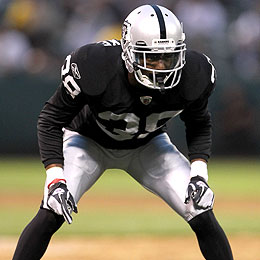 (Photo by Ezra Shaw/Getty Images)
DeMarcus Van Dyke: Big shoes to fill.
With the departure of all-world corner Nnamdi Asomugha, the Raiders could start a rookie at corner. DeMarcus Van Dyke, an absolute burner out of Miami, could be the solution. Along with Van Dyke, fellow rookie corner Chimdi Chekwa could get the call.
Stefen Wisniewski, nephew of a longtime Al Davis favorite, could be the most certain early contributor, because the Raiders have committed to sticking with a young and talented offensive line. They ran the ball extremely well last year, and Wisniewski and fellow rookie Joseph Barksdale could both start on the offensive line.
Elsewhere, look for rookie wideout Denarius Moore to get a lot of reps in the passing game. People rightly question value when assessing how the Raiders draft, but they've hit a lot in recent years.
-- Mel Kiper, ESPN NFL Draft Insider