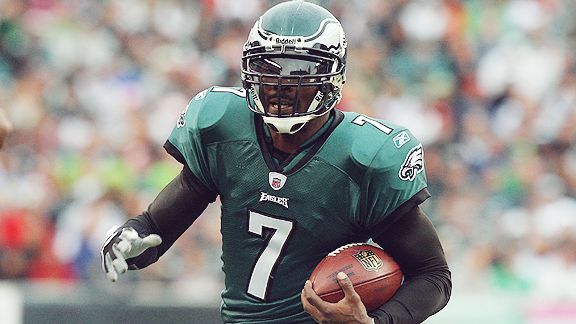 Jim McIsaac/Getty Images
JOHN CLAYTON QB RANKING (8)
: Michael Vick's 62.6 completion percentage last year was by far the best of his career. He also threw for 21 touchdowns and only six interceptions.
Expert Picks (Consensus: first)
The Eagles finished first in the NFC East last season with a 10-6 record. For more Eagles coverage, visit: Dan Graziano's NFC East blog ... on Twitter | Clubhouse | More predictions
ANALYST
PREDICTION
Dan
Graziano
ESPN.com

DIVISION FINISH: 1 As long as Michael Vick is healthy, the offense should be one of the most electric and productive in the league. And the depth the Eagles added at cornerback and on the defensive line addressed their biggest weaknesses of the past two years.
John
Clayton
ESPN.com

DIVISION FINISH: 1 The lure of being Michael Vick's teammate gave the Eagles the best offseason of anyone. For the season to work, though, the offensive line has to try to keep Vick healthy.

Adam
Schefter
ESPN.com

DIVISION FINISH: 2 Lots of talented pieces, but now comes the more diffcult part of making them all fit together.
Jeffri
Chadiha
ESPN.com

DIVISION FINISH: 1 No team did more to improve its personnel this offseason. Anything less than the Super Bowl would be considered a disappointment.
Ashley
Fox
ESPN.com

DIVISION FINISH: 1 This isn't a dream team, as Vince Young regrettably called the Eagles, but it is one poised for a Super Bowl run. The Eagles will have to get solid play from a young linebacker crew and at right tackle if they are going to achieve their goal.
Intelligence Report
Five things you need to know about the Eagles:
1. Vick wants to be even better: The big question is whether Michael Vick can repeat his amazing 2010 performance, or whether teams will be ready for him this time. But Vick says he's been working hard to correct the places where he wasn't so outstanding last year, most importantly blitz pickup. The Vick success story in Philadelphia is largely about his development into a quarterback who wants to refine his craft, as opposed to a superstar athlete playing quarterback. And if he's devoted to that aspect of it, he could take his game to even higher levels in 2011.
2. The cornerbacks can coexist: When the Eagles, who already had Asante Samuel, traded for Dominique Rodgers-Cromartie and signed Nnamdi Asomugha on consecutive days, everybody wondered how they'd make it work with all three. But the preseason games have shown that they can all get playing time, all move around to different positions and all be effective when on the field at the same time. This is a passing league, as everyone knows, and there are worse problems to have than too many excellent defensive backs with which to cover receivers.
3. The running game should be stronger: LeSean McCoy has shown steady improvement and been very good in his first two years in the league, and he should get a boost from the addition of Ronnie Brown as his backup. Brown's more powerful running style gives the Eagles a change of pace from the slick, speedy, outside style of McCoy, and with someone as good and experienced as Brown there to spell him on short-yardage situations, McCoy could be even more dangerous on first and second downs than he already was.
4. All eyes remain on the offensive line: It was a concern going into the draft, where the Eagles picked guard Danny Watkins in the first round. And it remained a concern deep into training camp, as the two positions on either side of the rookie remained unsettled. With newcomer Ryan Harris injured, the Eagles moved Todd Herremans from left guard to right tackle, and installed newcomer Evan Mathis at left guard. And rookie Jason Kelce looks like the starter at center ahead of Jamaal Jackson in spite of a shaky preseason. The fact that Vick's protection is an unsettled situation is a big issue, and the speed with which the offensive line gets settled and comes together could impact things a lot.
5. They may not have enough at linebacker: All that free-agent spending they did, and not one guy they brought in was a linebacker. So rookie Casey Matthews appears in line to start at middle linebacker with Jamar Chaney and Moise Fokou on the outside. It's definitely the weak spot of this defense, and there have been times in the preseason when teams have been able to attack the Eagles there the way teams have with the Giants and their weak linebacking corps over the past few years. The key to the Eagles' defense under new coordinator Juan Castillo and line coach Jim Washburn is the aggressiveness of the linemen. But if opposing quarterbacks and running backs can be quick enough, they could find yards in the middle of the field.
-- Dan Graziano, ESPN.com
Inside The Numbers
Asante Samuel and the Eagles' cornerbacks produced above-average numbers covering the right sideline last season, allowing 5.9 yards per attempt (13th in NFL). However, the Eagles' defense allowed 8.6 yards per attempt (31st) down the left sideline. With Dominique Rodgers-Cromartie and Nnamdi Asomugha joining the secondary, Philadelphia looks to have turned last year's weakness into a major strength.
The Eagles' defense struggled sending four or fewer pass-rushers a year ago, allowing 7.9 yards per pass attempt (30th in NFL) and a 91.6 passer rating (27th). While Philadelphia made major renovations to the secondary, it also added defensive end Jason Babin to improve on its 5.5 sack percentage of dropbacks (eighth).
After the Eagles led the NFC in fewest yards per play allowed in 2008 (4.4), that average jumped to 5.0 in 2009 and 5.2 in 2010. Philadelphia could use a disruptive linebacker, something the Eagles lacked last year, when their linebackers were tied for 25th in sacks with four.
-- ESPN Stats & Information
Mel Kiper's Draft Class Watch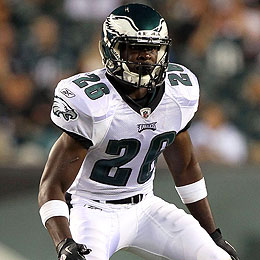 (Photo by Jim McIsaac/Getty Images)
Jaiquawn Jarrett: Should start at safety.
The Eagles' cornerbacks may be the talk of the league, but the safety situation is a little dicey, as is the middle of the linebacking corps.
At safety, rookie Jaiquawn Jarrett could be as important as any player on this defense. The Temple rookie should start immediately. Elsewhere, guard Danny Watkins is a player the Eagles think can be a star at the position, as odd as that sounds. He has been inconsistent early, but is a strong and athletic player who can get to the second level in the run game.
Kicker Alex Henery will face pressure early for a team that figures to be in a lot of big games, and Casey Matthews is getting a lot of work in a linebacking corps that's a little thin for a team with such big aspirations.
-- Mel Kiper, ESPN NFL Draft Insider