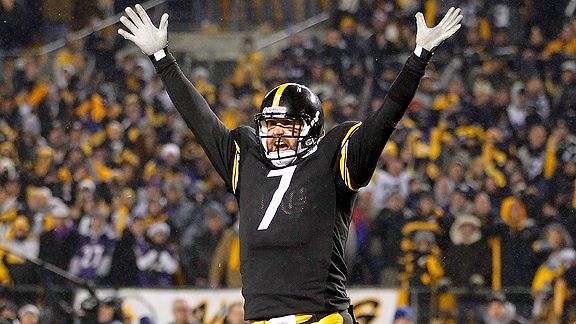 Gregory Shamus/Getty Images
JOHN CLAYTON QB RANKING (5)
: Ben Roethlisberger's career 92.5 QB rating -- and the sheer difficulty of tackling him -- make him one of the most feared quarterbacks in the NFL.
Expert Picks (Consensus: first)
The Steelers finished first in the AFC North last season with a 12-4 record. For more Steelers coverage, visit: James Walker's AFC North blog ... on Twitter | Clubhouse | More predictions
ANALYST
PREDICTION
James
Walker
ESPN.com

DIVISION FINISH: 2 The Steelers often struggle after Super Bowl appearances. But this team is still talented enough to make another playoff run.
John
Clayton
ESPN.com

DIVISION FINISH: 1 The Steelers' defense may be getting older, but this team just has a knack for staying ahead of the Ravens. Still, the race will go down to the wire.

Adam
Schefter
ESPN.com

DIVISION FINISH: 2 Looks like the same old Steelers: strong, tough, explosive offense, dangerous defense.
Jeffri
Chadiha
ESPN.com

DIVISION FINISH: 1 Forget about an offseason that included James Harrison's rants, Hines Ward's DUI arrest and Rashard Mendenhall's tweets about the death of Osama bin Laden. Once the season begins, this team will be locked and loaded.
Ashley
Fox
ESPN.com

DIVISION FINISH: 1 This is the most physical team in football. Rashard Mendenhall should have another big year, as should the Steelers' D, which held teams to 14.5 points per game last season.
Intelligence Report
Five things you need to know about the Steelers:
1. Troy Polamalu is healthy: Pittsburgh's Pro Bowl safety is healthy for the first time since November 2010. Polamalu suffered an Achilles injury late last year, and everything went downhill. He wasn't the same explosive player, and that hurt Pittsburgh's defense. But Steelers head coach Mike Tomlin has been diligent with Polamalu. Tomlin rested him during the first preseason game and some practices to make sure Polamalu stays fresh. On the field, Polamalu looks much better. He already has an interception off Philadelphia Eagles quarterback Michael Vick in the preseason.
2. Offense could be explosive: Pittsburgh is known for its defense. But the team has the potential to field a balanced and high-powered offense this season. The Steelers have weapons everywhere to support quarterback Ben Roethlisberger, who is 29 and in his prime. Pittsburgh has depth at running back and receiver. Tailback Rashard Mendenhall and backup Isaac Redman have both looked good this preseason. And the Steelers have Mike Wallace, Hines Ward, Jerricho Cotchery, Antonio Brown and Emmanuel Sanders (when healthy) at receiver. Tight end Heath Miller is always steady, as well.
3. Offensive line play is key: Longtime readers of the AFC North blog know I haven't been too keen on Pittsburgh's offensive line in recent years. Roethlisberger gets sacked a lot, and that doesn't include the many sacks he avoids with his size and strength. The group this year is again shaky on paper. The Steelers cut former starting offensive tackles Max Starks and Flozell Adams and will go with Jonathan Scott and Willie Colon. Chris Kemoeatu and Doug Legursky are average guards. Maurkice Pouncey is a stud at center but needs more quality pieces around him.
4. Lawrence Timmons could be a star: Timmons, 25, is one of the league's most athletic linebackers. Now, Timmons has enough starting experience under his belt and is getting the mental side of the NFL, as well. Timmons recorded 135 tackles for Pittsburgh in 2010. The Steelers expect even bigger things from their middle linebacker this year and recently signed Timmons to a six-year contract extension. The 2007 first-round pick is starting to reach his potential. Expect a big year from Timmons in 2011.
5. Questions remain at corner: Pittsburgh didn't do much to address its issues at cornerback. The Steelers re-signed Ike Taylor and drafted a pair of rookies in the third and fourth rounds. Taylor and Bryant McFadden are the starters. Things get dicey after that. Young players such as Keenan Lewis and Crezdon Butler and rookies Cortez Allen and Curtis Brown are all vying for backup roles, which will be important. Teams will continue to spread out Pittsburgh's defense with three and four receivers. That takes linebackers off the field, which is Pittsburgh's strength, and tests its thin secondary.
-- James Walker, ESPN.com
Inside The Numbers
The Steelers' biggest statement this offseason was the signing of outside linebacker LaMarr Woodley to a six-year, $61.5 million deal. Woodley (10) and fellow OLB James Harrison (10.5) combined for 20.5 sacks last season, which led all OLB tandems. The Steelers' defense posted a league-high 48 sacks in 2010.
The Steelers' linebackers played a critical role in those sacks. In 2010, the Steelers led the NFL in sacks by the linebacking corps on pass rushes of five or more defenders, with 16.
• Despite defending the pass well in certain scenarios, the Steelers' substitute nickel, dime and quarter packages ranked 22nd in pass yards allowed. Reigning Defensive Player of the Year Troy Polamalu will lead a secondary that added depth by signing Kevin Dockery and Macho Harris.
• The Steelers' offense boasts one of the league's best deep threats, Mike Wallace. He caught 14 passes thrown more than 20 yards downfield without dropping one. He led the league in touchdowns (seven) on such throws and joined DeSean Jackson (44.4) and Greg Jennings (43.9) as the only players to average more than 40.0 yards per reception (minimum 10 receptions) on those long passes.
• Ben Roethlisberger was sacked only 11 times last season when the opposing defense rushed at least five players, compared with 29 times in 2009 and 27 times in 2008. Roethlisberger's TD-INT differential in those situations also improved to plus-9 last season (10 TDs, one interception) compared with plus-6 in 2009 and minus-2 in 2008.
-- ESPN Stats & Information
Mel Kiper's Draft Class Watch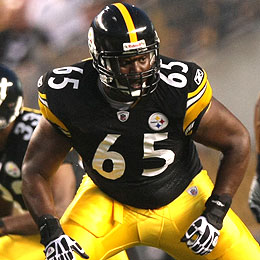 (Photo by Jason Bridge/ US Presswire)
Marcus Gilbert: Blindside help?
Last year the Steelers drafted Mike Pouncey out of Florida in Round 1. Ten months later, Pouncey was in the Pro Bowl. Marcus Gilbert is a 330-pound offensive tackle out of Florida, and he could be the one protecting Ben Roethlisberger's blind side down the line. Gilbert hasn't shown he's ready for the job, but Pittsburgh's offensive line was extremely inconsistent last year, and dramatic improvement isn't guaranteed for this unit.
Elsewhere, Cameron Heyward, who was a 4-3 defensive end at Ohio State, is getting good reviews early, and could be a solid depth piece on an aging defensive line. In Pittsburgh, he'll need to move inside as a 3-4 defensive end, but he has the size to thrive at that spot, and because he plays both the run and pass, should overcome some common growing pains that often accompany the shift.
-- Mel Kiper, ESPN NFL Draft Insider