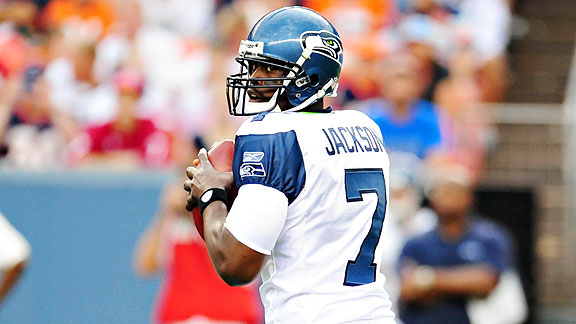 Ron Chenoy/US Presswire
JOHN CLAYTON QB RANKING (30)
: Tarvaris Jackson, who saw limited action in Minnesota, is now the starter in Seattle, replacing Matt Hasselbeck.
Expert Picks (Consensus: fourth)
The Seahawks tied for first in the NFC West last season with a 7-9 record. For more Seahawks coverage, visit: Mike Sando's NFC West blog ... on Twitter | Clubhouse | More predictions
ANALYST
PREDICTION
Mike
Sando
ESPN.com

DIVISION FINISH: 4 The gap between Seattle and the other NFC West teams isn't wide. The Seahawks are better in some areas and have proved they can win the division in a down year. Going extremely young without upgrading at quarterback makes this look like a transition year.
John
Clayton
ESPN.com

DIVISION FINISH: 4 Pete Carroll keeps improving the roster by 20 percent each year, but the decision to go to Tarvaris Jackson at quarterback could drop the team backward in the win column.

Adam
Schefter
ESPN.com

DIVISION FINISH: 4 While the other quarterbacks in the division have improved, Seattle is pinning its hopes on Tarvaris Jackson.
Jeffri
Chadiha
ESPN.com

DIVISION FINISH: 4 They were the first team ever to win a division with a losing record. This year they'll end up where they belong.
Ashley
Fox
ESPN.com

DIVISION FINISH: 4 It is hard to get excited about Tarvaris Jackson and Charlie Whitehurst as the quarterbacks. The Seahawks are rebuilding.
Intelligence Report
Five things you need to know about the Seahawks:
1. Tarvaris Jackson is the answer: Just make sure you're asking the right question. Jackson was convenient and available to Seattle once the team decided against re-signing Matt Hasselbeck for legitimate starter money. The Seahawks aren't banking on Jackson as their long-term starter. They're buying time to build up the rest of the roster before going after a quarterback next offseason. Sure, there's a chance Jackson or Charlie Whitehurst could surprise them. It's an outside chance. Using a 2012 first-round pick on a quarterback seems more likely.
2. Youth is served: The Seahawks went through training camp and the exhibition season with the NFL's youngest projected starters for 2011. Marcus Trufant and Robert Gallery were the only ones in their 30s. Gallery was the oldest, and he turned 31 only recently. Teams talk about getting younger. Few have the daring to go with so many younger starters when more established options were readily available. The Seahawks replaced longtime starters such as Hasselbeck, Lofa Tatupu, Lawyer Milloy, Sean Locklear and Chris Spencer with younger alternatives. Coach Pete Carroll's recent history in the college game has made him more comfortable going young than most NFL coaches would be.
3. Size matters in the secondary: Starting strong safety Kam Chancellor towers over most NFL defensive backs at 6-foot-3. He wasn't even as tall as the Seahawks' tallest cornerback -- that's right, cornerback -- through training camp and preseason. Brandon Browner, all 6-4 of him, was one of the more impressive cornerbacks in camp. The team used a fifth-round pick for cornerback Richard Sherman, who stands 6-3. Every defensive back on the roster is at least 5-10. Seven of 13 on the roster heading into the final preseason game are at least 6-0. Carroll wants big, rangy cover corners.
4. Leroy Hill lives: A year or two ago, it would have been unthinkable to hold up Hill as the Seattle linebacker whose future with the team appeared brighter than the futures of Tatupu or Aaron Curry. Tatupu had been to three Pro Bowls. Curry was the fourth player chosen in the 2009 draft. Hill was coming off a serious injury and multiple off-field incidents. Tatupu is gone. A restructuring for Curry chopped off two years from his rookie deal and made 2011 quite possibly his final one with the team. Hill, meanwhile, has recaptured the aggressive, borderline violent form that made him a potential rising star a few years ago.
5. The OL looks good on paper: Left tackle Russell Okung's recurring ankle problems aren't the only concern on an offensive line the Seahawks have worked hard to upgrade. Gallery represents an upgrade over his 2010 predecessors at left guard, but he has appeared a bit sluggish. Center Max Unger has yet to flourish since returning from a toe injury. Right guard John Moffitt and right tackle James Carpenter are suffering through typical rookie struggles. The Seahawks are counting on line coach Tom Cable to get the most from this mostly young group.
-- Mike Sando, ESPN.com
Inside The Numbers
A new-look offense is the name of the game for the Seahawks in 2011. The team will be without Matt Hasselbeck under center for the first time in 10 years. Although that change may take some getting used to for Seahawks faithful, it may be addition by subtraction for head coach Pete Carroll. Since the start of 2008, Hasselbeck ranks 30th among 33 qualified players in Total Quarterback Rating. He was 32nd in 2008, 31st in 2009 and 26th in 2010.
Hasselbeck's biggest struggle over the past three seasons has been throwing deep downfield. Since the start of the 2008 season, Hasselbeck has thrown 11 touchdowns and 23 interceptions on passes of at least 15 yards. Hasselbeck threw an interception once every 10.2 attempts of throws that length, the worst rate of any quarterback with at least 100 attempts over the past three seasons.
Tarvaris Jackson has thrown just two interceptions on 46 attempts of at least 15 yards over that time span.
• Seattle's new offensive line needs to improve on rushing plays away from the middle. The Seahawks were worst in the league on sideline rushes the past two seasons with a 3.1-yard average, a full yard worse than the next team on that list, the Colts.
-- ESPN Stats & Information
Mel Kiper's Draft Class Watch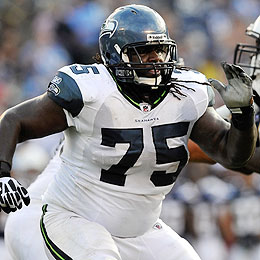 (Photo by Kevork Djansezian/Getty Images)
James Carpenter: Solidifying the O-line.
Seattle started almost a dozen different offensive line combinations last year, and it drafted aggressively in an attempt to fix that problem. Former Alabama star James Carpenter should be the right tackle here for 10 years, starting in Week 1.
The rap on Carpenter is that he was a right tackle and didn't get experience as a blindside pass protector. But he can protect effectively in the passing game and is very good in the running game. With Russell Okung locked in as the left tackle of the future, Seattle should be in good shape on both sides of the line for years to come if Okung and Carpenter remain healthy.
Lining up next to Carpenter will be John Moffitt, another rookie who will start immediately. With the addition of these two, a healthy Okung and last year's center pick, Max Unger, back healthy, the Seattle line could see a lot of improvement this season.
Another rookie to keep an eye on is cornerback Richard Sherman, who has impressed in the preseason. The Stanford product converted from wide receiver but has good size (6-foot-3) and could be a steal if he continues to develop.
-- Mel Kiper, ESPN NFL Draft Insider