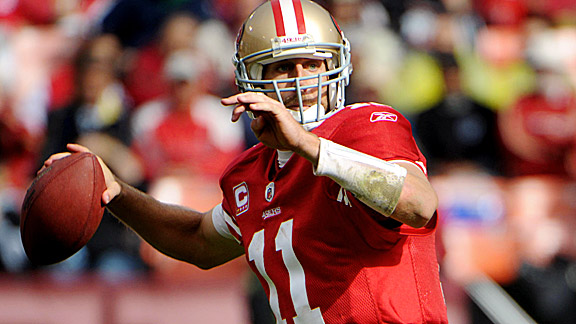 US Presswire/Kirby Lee
JOHN CLAYTON QB RANKING (28)
: The 49ers have a new head coach, but Alex Smith remains the starting quarterback. Restless Niners fans are lobbying for change.
Expert Picks (Consensus: third)
The 49ers finished third in the NFC West last season with a 6-10 record. For more 49ers coverage, visit: Mike Sando's NFC West blog ... on Twitter | Clubhouse | More predictions
ANALYST
PREDICTION
Mike
Sando
ESPN.com

DIVISION FINISH: 3 Jim Harbaugh will try to do what his predecessors could not in maximizing Alex Smith's production. The 49ers are not betting on Smith long-term, but will rely on him this season. Rushing rookie Colin Kaepernick into the lineup wouldn't make much sense.
John
Clayton
ESPN.com

DIVISION FINISH: 3 Jim Harbaugh is the perfect coach to take over the 49ers after Mike Singletary's failures. Harbaugh faces an adjustment, going from Andrew Luck to Alex Smith at quarterback.

Adam
Schefter
ESPN.com

DIVISION FINISH: 3 Rookie head coach Jim Harbaugh already knows, but will rediscover, how good the simple life at Stanford really was.
Jeffri
Chadiha
ESPN.com

DIVISION FINISH: 2 If Jim Harbaugh had a full offseason with this team, I'd be more optimistic about its chances for success. Unfortunately, he didn't.
Ashley
Fox
ESPN.com

DIVISION FINISH: 3 This is it for Alex Smith. Either he gets it done under yet another coach and offensive coordinator, or his career as a starter is probably over. As Smith goes, so go the Niners.
Intelligence Report
Five things you need to know about the 49ers:
1. The clock starts anew: As frustrating as the past decade has been for 49ers fans and the organization as a whole, none of that serves as a relevant reference point for Jim Harbaugh. This will be a season of discovery for him. If the team reaches the playoffs, great. But the Harbaugh era is only beginning and there is much to figure out, starting at quarterback.
2. Patience is the name of the game: The 49ers could have drafted Jake Locker, Blaine Gabbert or Christian Ponder with the seventh overall choice. All three quarterbacks went in the five slots immediately after the 49ers made outside linebacker Aldon Smith the seventh overall choice. After the draft, the 49ers could have engaged Arizona in a bidding war for Kevin Kolb. They passed. Harbaugh was content grabbing Colin Kaepernick in the second round and bringing back Alex Smith for a seventh season with the team. The 49ers showed patience again during free agency, reaching into the bargain bin while letting some of their own starters sign elsewhere uncontested. They appear to be in no rush.
3. The running game is king: The 49ers' lack of urgency at quarterback could at least partially reflect their desire to lean hard on the ground game. In that respect, the philosophy hasn't changed much from Mike Singletary to Harbaugh. San Francisco will continue to emphasize a power scheme on offense. Harbaugh brings many more variations within the running game. He's installing a short-passing game that will give Smith bailout options should he find no one open on vertical routes. But running the football will remain the top priority. Frank Gore has a new contract and should be happy about his role in the offense. He's going to get the ball plenty this season.
4. Braylon Edwards is an X factor: The one-handed, diving grab Edwards made for a 32-yard gain during preseason trumped any catch I can recall a 49ers wideout making in recent seasons. It was the sort of play the 49ers badly need their receivers to make. Smith isn't an elite quarterback. He isn't going to elevate the play of those around him. He needs playmakers to make him look better. Edwards has shown he has the ability to do that. His addition gives the team another big target with the physical traits to stretch a defense. Tight end Vernon Davis had been the only 49ers player with that ability
5. The defense is surprisingly new: Nate Clements, Aubrayo Franklin, Manny Lawson, Travis LaBoy, Takeo Spikes and Taylor Mays figured prominently into the 49ers' defensive plans at various points last season. None remains with the team. The middle of the defense has a fresh look with Isaac Sopoaga moving to nose tackle, NaVorro Bowman replacing Spikes at inside linebacker and the 49ers making a concerted effort to build depth at safety. Most changes were designed to upgrade the pass defense. Opposing quarterbacks Tony Romo, Michael Vick, Josh Freeman and Matthew Stafford will put those changes to the test before the 49ers hit their bye in Week 7.
-- Mike Sando, ESPN.com
Inside The Numbers
Braylon Edwards could add a dimension to the 49ers' offense they have been sorely lacking. Over the past two seasons, Alex Smith's average length of throws on his completions has been just 5.5 yards downfield. He hasn't had a steady receiver catch a ball at least 10 yards downfield on average (minimum 20 targets) over that span. His deepest single-season target over that span was Michael Crabtree in 2009, when Smith completed 46 passes to the rookie at an average of 9 yards past the line of scrimmage.
Edwards is the only receiver in the NFL over the past three seasons to average at least 40 receptions and have an average completed-pass length of at least 11 yards from the line of scrimmage. He has also averaged 16.1 yards per reception over the past three seasons, higher than any 49er over that span. (Vernon Davis led the team with 13.6.)
Regardless of who has been passing for the 49ers, completing balls downfield has been an issue that Edwards is likely to solve. San Francisco quarterbacks have completed only 37.8 percent of their attempts at least 15 yards downfield, ranking 24th in the NFL.
-- ESPN Stats & Information
Mel Kiper's Draft Class Watch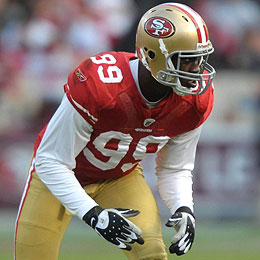 (Photo by Kirby Lee/Image of Sport/US Presswire)
Aldon Smith: Late season impact?
Aldon Smith was considered more of a developmental pass-rushing prospect, even as the No. 7 overall pick, but he could well end up starting and will be featured against the pass as a ferocious rusher. If he works off the rough edges, he could be a late-season impact player.
The issue with Smith is how raw he was coming out of Missouri. He has all the athleticism you could hope for, but technique and simply reading what's going on will be a challenge for him.
Running back Kendall Hunter wasn't really a steal out of Oklahoma State in the fourth round, but he could see action spelling Gore. Hunter is about 200 pounds and isn't what I'd call a physical runner, but he's also unafraid of running between the tackles and can get to the hole and make linebackers miss.
One thing you like about him is his patience. The old phrase "slow to the hole and fast through it" applies to Hunter. He has a good eye for running lanes and has enough speed to break away on the second level.
-- Mel Kiper, ESPN NFL Draft Insider