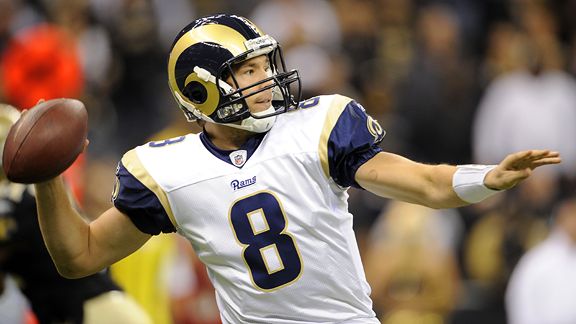 John David Mercer/US Presswire
JOHN CLAYTON QB RANKING (14)
: Sam Bradford threw for 3,512 yards and completed 60 percent of his passes as a rookie. And with new weapons aboard in 2011, there's room for growth.
Expert Picks (Consensus: first)
The Rams tied for first in the NFC West last season with a 7-9 record. For more Rams coverage, visit: Mike Sando's NFC West blog ... on Twitter | Clubhouse | More predictions
ANALYST
PREDICTION
Mike
Sando
ESPN.com

DIVISION FINISH: 1 The team with the most talented quarterback and most consistent defense should have the best chance at winning the division. The Rams are not a slam dunk. This is a big season for the Rams because expectations are higher.
John
Clayton
ESPN.com

DIVISION FINISH: 1 The Rams have the best quarterback in the division -- Sam Bradford -- and all they need to do is get to eight wins to be a division champ.

Adam
Schefter
ESPN.com

DIVISION FINISH: 1 Sam Bradford has one of the best arms in football; it should make the Rams relevant for the next decade.
Jeffri
Chadiha
ESPN.com

DIVISION FINISH: 3 New offensive coordinator Josh McDaniels should help quarterback Sam Bradford grow. The question is whether the Rams' receivers can blossom quickly.
Ashley
Fox
ESPN.com

DIVISION FINISH: 1 The Rams are a good team in a bad division. Steve Spagnuolo enters his third season with more playmakers on defense and a quarterback who had a strong rookie season.
Intelligence Report
Five things you need to know about the Rams:
1. They like their wide receivers: Say what you will about Brandon Gibson, Danny Amendola, Mike Sims-Walker, Greg Salas, Austin Pettis and any others who wind up earning spots on the initial 53-man roster. The Rams think they're talented enough at the position to put stress on opposing defenses in multiple ways. And "stress" is the word new coordinator Josh McDaniels emphasizes. He has consistently downplayed the need for a dynamic physical talent at the position. Time will tell if he is correct. The Rams made no effort to pursue Sidney Rice, for example.
2. The Rams got older, for now: The Rams have gone from fielding one of the five or six youngest teams on average to fielding one of the 10 or 12 oldest. This was by design. The team leveraged a flooded market in free agency to add veterans on short-term contracts without long-term salary ramifications. Eleven of the 14 unrestricted free agents they added signed one-year deals. Quintin Mikell's deal was the only one carrying a signing bonus with cap ramifications beyond this season. Players such as Ben Leber, Zac Diles, Justin Bannan, Daniel Muir and Al Harris brought seasoning to the defense in particular. The Rams' starting offense remains among the very youngest.
3. McDaniels wants a low profile: McDaniels' track record in personnel and people management in Denver contributed to his demise with the Broncos. He's making a focused effort to change perceptions. McDaniels consistently downplays suggestions he contributed to personnel-related decisions with the Rams, even in cases when he clearly played a role, such as with the drafting of tight end Lance Kendricks. McDaniels also has been quite congenial with reporters during media sessions. He's using this opportunity with the Rams to redefine himself and reposition himself for another head-coaching job.
4. The division race can wait: The Rams are the only team in the league without a division game before Week 9. They've got the Philadelphia Eagles, New York Giants, Baltimore Ravens, Green Bay Packers, Dallas Cowboys and New Orleans Saints in the first eight weeks of the season. It's conceivable the Rams could fall behind in the NFC West race before they even play a division game. They play four division games in a row beginning in Week 11. That will be a critical stretch in the NFC West race.
5. Cornerback depth is a concern: Division rivals added some big, physically gifted receivers this offseason. Sidney Rice and Braylon Edwards come to mind immediately. The Rams have not kept pace at cornerback. Starters Bradley Fletcher and Ron Bartell give the team a solid 1-2 combination. But with an ankle injury sidelining third corner Jerome Murphy, the Rams are one injury away from facing a potential crisis situation at the position. Look for the Rams to consider adding a veteran corner before the regular season begins.
-- Mike Sando, ESPN.com
Inside The Numbers
No running back in the league has taken a higher portion of his team's carries over the past three seasons than Steven Jackson. Jackson has carried the ball on 72 percent of all Rams rushes since the start of 2008, much more than any other back in the league (Minnesota's Adrian Peterson was second at 67 percent). All that work could be catching up with Jackson, whose yards per carry dipped to 3.7 in 2010, the lowest of his career.
The Rams have brought in reinforcements at running back, adding Jerious Norwood and Cadillac Williams via free agency.
Since the start of his rookie season in 2004, when he split carries with Marshall Faulk, no Rams back other than Jackson has carried more than 86 times in a season. And in the past three seasons, Jackson's bread and butter -- runs up the middle -- has shown a steady decline in productivity.
Norwood in particular could benefit the Rams in this area. He ran 62 times up the middle over the past three seasons, averaging 4.8 yards per carry.
• It will be interesting to see whether the Rams open up the playbook a bit more for second-year quarterback Sam Bradford. As a rookie, over 58 percent of Bradford's pass attempts traveled only 5 yards past the line of scrimmage (second-highest in NFL among qualified QBs). When Bradford did air it out a bit, he was prone to more mistakes. Bradford threw an interception on 4.9 percent of passes more than 5 yards downfield compared to only 0.8 percent when throwing within that distance of the line.
-- ESPN Stats & Information
Mel Kiper's Draft Class Watch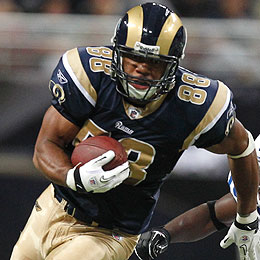 (AP Photo by Jeff Roberson)
Lance Kendricks: Impact talent.
Sam Bradford flourished as a rookie, even without much impact talent among his pass-catchers. The Rams drafted three targets in 2011. Tight end Lance Kendricks of Wisconsin could be the first one to start and become an early favorite of Bradford.
Because of his size and athleticism, don't be surprised to see Kendricks line up in the slot, or at least away from the line as more of a wide receiver. He has enough speed to be a nuisance to linebackers and the size to essentially post up on smaller defensive backs.
Elsewhere, keep an eye on the progress of No. 14 overall pick Robert Quinn. After sitting out the 2010 season due to NCAA violations, Quinn will have to shake off some rust, but he's an athletic specimen who will remind some of Giants second-year man Jason Pierre-Paul, who was more of a force late in 2010.
It's not an exaggeration to say that Quinn has the kind of ability that could have made him a No. 1 overall pick in the draft, but his lack of reps meant that he'd need more time to gain seasoning. As a pass-rushing specialist, he can make an impact for a team that believes it should be in the playoff picture this year.
-- Mel Kiper, ESPN NFL Draft Insider