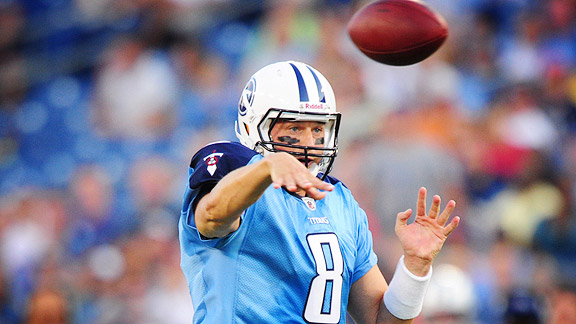 Don McPeak-US PRESSWIRE
JOHN CLAYTON QB RANKING (24)
: Matt Hasselbeck joined the Titans as a free agent after spending the past 10 seasons in Seattle. The 35-year-old has an 82.2 career passer rating.
Expert Picks (Consensus: fourth)
The Titans tied for third in the AFC South last season with a 6-10 record. For more Titans coverage, visit: Paul Kuharsky's AFC South blog … on Twitter | Clubhouse | More predictions
ANALYST
PREDICTION
Paul
Kuharsky
ESPN.com

DIVISION FINISH: 4 They will be better than people think, but there are still a great deal of unknowns that are hard to count on. Don't expect a pushover.
John
Clayton
ESPN.com

DIVISION FINISH: 4 Mike Munchak didn't have the benefit of having an offseason to teach his team, so it will be hard to make a playoff run. Blame the lockout and not having a starting quarterback in place after losing Vince Young and Kerry Collins.

Adam
Schefter
ESPN.com

DIVISION FINISH: 3 In the first non-Jeff Fisher season in a while, Tennessee's offensive line and defense need to be better than they've been.
Jeffri
Chadiha
ESPN.com

DIVISION FINISH: 4 Former coach Jeff Fisher gave that franchise great stability and leadership for 16 years. The Titans will realize how much they'll miss that this fall.
Ashley
Fox
ESPN.com

DIVISION FINISH: 3 New (first-year) coach. New (old) quarterback. What could possibly go wrong for the Titans?
Intelligence Report
Five things you need to know about the Titans:
1. A full, fresh start: Coach Mike Munchak has a staff filled with fresh ideas, and his no-nonsense approach has a refreshing feel to it. His primary theme is simple: He asks players to know what to do, and to do it. Working without an offseason, he appears to have instilled a workmanlike attitude matching his own in short order. Players are appreciating and responding to his methods. He created mini-competition periods during camp that had the whole team watching and tended to bring out the best in guys. The spirit from those short periods, with up-downs at stake for the offense or defense, then spilled into the rest of practice.
2. Quarterback turnover: It's the position that sets the tone, and with Vince Young over the last five seasons, the tone was often unhealthy. Enter Matt Hasselbeck and Jake Locker. They are both natural leaders, both on the field and in the meeting rooms, who carry the work ethic that needs to go with it. Hasselbeck picked things up at the pace the team expected from a prominent veteran addition and showed a stronger, more versatile arm than I anticipated. Locker showed steady progress and the "it" factor the team loved when it decided to draft him eighth overall. As long as Hasselbeck stays healthy, he's the man, while Locker benefits from additional time to learn.
3. Bigger is better: In Jeff Fisher's final years, the team got small up front. Loaded with speed rush types, the Titans' D tended to wear down and, by the analysis of new defensive coordinator Jerry Gray, ventured too far from the basics of stopping the run first. So the Titans will be bigger up front with tackles like Shaun Smith and rookies Jurrell Casey and Karl Klug. Jason Jones will now playing end in the base set and tackle in nickel, and Derrick Morgan could ultimately be a breakout guy at end. All the ends will line up more head on with tackles than way out wide, and defenders will be expected to stay disciplined in helping prevent big runs.
4. Weaponry issues: If the Titans have Chris Johnson, Kenny Britt and Jared Cook in action, they can be threatening on offense. But Johnson was a holdout for most of the preseason and Britt missed most of camp and the first three preseason games with a hamstring issue. After Johnson, the Titans are far less experienced and explosive at running back ( Javon Ringer and rookie Jamie Harper). Without Britt, the Titans would be relying on receivers who have consistently disappointed (Nate Washington, Justin Gage) or who have underachieved so far (Lavelle Hawkins, Damian Williams).
5. Secondary not quite settled: Cortland Finnegan will move inside to play nickelback most of the time, with youngsters Jason McCourty and Alterraun Verner as the corners. Michael Griffin can be excellent at free safety if things in front of him and around him go well. Chris Hope is the biggest question in the secondary. He's slowing down, but Gray may be able to use him effectively anyway. The alternative is Jordan Babineaux, who played for Gray in Seattle and has some big-play ability. With Hope due $6.5 million, there still could be a move to be made at safety. If he remains with his current contract, the pressure will mount if he doesn't rebound in a big way in the new system.
-- Paul Kuharsky, ESPN.com
Inside The Numbers
The Titans parted ways with former first-round pick Vince Young and will start over at quarterback. Tennessee selected Jake Locker with the eighth pick in the draft this spring and signed Matt Hasselbeck for temporary help while the young passer out of Washington acclimates to life in the NFL.
Although Hasselbeck will serve only as a stopgap until Locker is ready, the Titans failed to address downfield passing problems in the short term that have plagued them since the 2008 season. The Titans rank 26th in the league in completion percentage and passer rating on throws 15 yards or more downfield over the past three seasons, two stats in which Hasselbeck ranks last in the league among qualified passers in that stretch.
• Although issues remain unresolved in the passing game, no such concerns exist when it comes to the Titans' rushing attack. Johnson rushed for a team-high 1,364 yards in 2010 (fourth in the NFL) and his 5.0-yard average since entering the league in 2008 is second all-time to Jim Brown (5.1) among running backs with at least 600 attempts in their first three seasons in the league.
-- ESPN Stats & Information
Mel Kiper's Draft Class Watch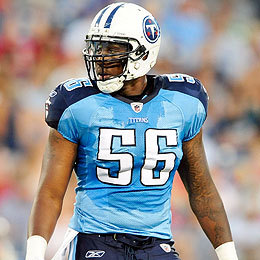 (Photo by Grant Halverson/Getty Images)
Akeem Ayers: Early impact expected.
The necessity of starting rookie quarterback Jake Locker was nullified by the pickup of veteran Matt Hasselbeck, but there won't be a wait for Akeem Ayers, a linebacker out of UCLA picked in Round 2.
Highly versatile, Ayers can tackle, cover and rush the passer. Some Titans teammates are already touting him as a defensive rookie of the year candidate. We won't go that far, but Ayers should be a starter here for a long time.
Another pair of players to keep an eye on are Karl Klug and Jurrell Casey, who could ultimately form the interior of this defensive line. Casey was far more talented than his third-round draft position, but he had an inconsistent junior season at USC. Klug, a former wrestler, plays with great leverage and holds up, though he is a little undersized.
-- Mel Kiper, ESPN NFL Draft Insider