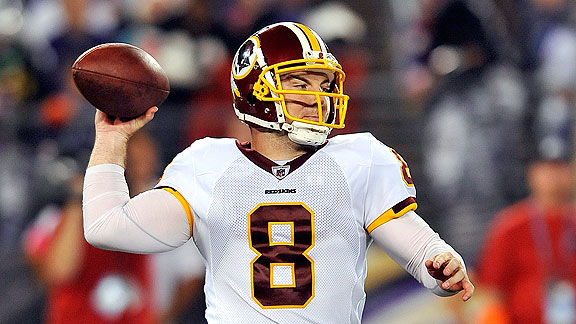 AP Photo/Gail Burton
JOHN CLAYTON QB RANKING (31)
: Solid play in the preseason gave veteran Rex Grossman a leg up over the inexperienced John Beck in the race to become the Redskins' starter.
Expert Picks (Consensus: fourth)
The Redskins finished third in the NFC East last season with a 6-10 record. For more Redskins coverage, visit: Dan Graziano's NFC East blog ... on Twitter | Clubhouse | More predictions
ANALYST
PREDICTION
Dan
Graziano
ESPN.com

DIVISION FINISH: 4 They made a lot of moves in free agency that will help now and also keep an eye on the future. But there are too many questions on offense -- at QB, OL, WR and RB -- to expect the Redskins to make a run at the NFC East title this year.
John
Clayton
ESPN.com

DIVISION FINISH: 4 Mike Shanahan's team looked great during the preseason. It's still hard to embrace the decision to go into the season with John Beck and Rex Grossman as the main quarterbacks.

Adam
Schefter
ESPN.com

DIVISION FINISH: 4 In a tough division, Washington faces a tough task. But the Redskins have begun to rebuild their roster.
Jeffri
Chadiha
ESPN.com

DIVISION FINISH: 4 Mike Shanahan didn't like Donovan McNabb as his quarterback. He'll like his options even less after a full season with Rex Grossman and John Beck.
Ashley
Fox
ESPN.com

DIVISION FINISH: 4 So the Donovan McNabb-Mike Shanahan era ended well, didn't it? Now Shanahan has John Beck and Rex Grossman, not exactly John Elway.
Intelligence Report
Five things you need to know about the Redskins:
1. They are rebuilding: It might be a new concept in Washington. Might be one in a lot of NFL cities, really. But while the people running the Redskins would never admit it, their focus isn't on trying to contend for the Super Bowl this season. It's on trying to make sure they get themselves in a position from which they can contend for a number of years into the future. That's why they're trying to find out what they have at quarterback, running back, receiver and offensive line. Because they want to know, come next offseason, what they have to do to correct those positions for the future.
2. The defense could actually be good: They seem to have installed a nice 3-4 front-line rotation with Barry Cofield at the nose tackle and Stephen Bowen, Adam Carriker and rookie Jarvis Jenkins at the ends. They love their outside linebackers, Brian Orakpo and rookie Ryan Kerrigan. Inside linebacker London Fletcher may be the best all-around player they have. And they think they have the best safety tandem in the division in LaRon Landry and O.J. Atogwe. So while the offense may be a work in progress, the defense could make the Redskins a tough team to play in 2011.
3. Expect John Beck to get a real chance: Mike Shanahan has said he's going to hold off on naming a starting quarterback until right before the season, but the basic principle at work here is that he knows what he has in Rex Grossman and wants to see what he has in John Beck. If Beck shows he can't handle the job or the pressure, sure, they'll go with Grossman. But don't expect the Redskins to make a quarterback change just because they start losing games. This season will be about finding out about people, and Beck is one of the people on the roster who intrigues the coaches the most. (Update: ESPN's Adam Schefter reported on Sept. 5 that Grossman will start the opener against the N.Y. Giants.)
4. Running back revolving door: Tim Hightower looks like the likely starter at running back for the beginning of the season. But Shanahan doesn't mind switching up here from week to week. Hightower has had fumble problems in the past, and the team likes a lot of things about Ryan Torain and Roy Helu. So if Hightower can't handle the job, the Redskins are likely to use a lot of different options at running back as the season goes along.
5. They're looking for big things from Trent Williams: The Redskins picked Williams No. 4 overall in the 2010 draft thinking he could be a franchise left tackle. They still believe he has the talent to be among the very best tackles in the league. But he didn't show that consistently as a rookie, and he and the coaching staff are expecting him to take a big step forward in 2011. It's still too early to know whether Williams will hone his considerable talents into a long, productive NFL career. But if he doesn't, the Redskins are going to struggle at offensive line for a longer period of time than they'd have hoped or expected.
-- Dan Graziano, ESPN.com
Inside The Numbers
Throughout the 2010 season, the Redskins' defense struggled defending the pass. The Skins finished near the bottom of the league in yards per attempt, passing first downs and sacks. They had particular problems defending the pass when they used five or more pass-rushers. The Redskins ranked in the bottom five in yards per attempt, passing first downs and completion percentage in those situations.
Maybe even more alarming is how infrequently the Redskins picked up sacks when sending five or more pass-rushers. The Redskins recorded a sack once every 19.8 opponent dropbacks when using added pressure, the third-worst rate in the NFL last season. The Redskins did draft defensive end Ryan Kerrigan in the first round and added defensive tackles Jarvis Jenkins and Barry Cofield via the draft and free agency, so the pass rush could see some improvement.
• When using a base 3-4 defense, the Redskins allowed the most yards per attempt (9.7) and first downs (90) in the NFL last season. Opponents dropped back to pass 240 times against the Redskins' 3-4 and were sacked only eight times.
• Only two teams targeted their running backs in the passing game more than the Redskins last season. The acquisition of Tim Hightower shouldn't change that, as Hightower is the ninth-most targeted NFL running back since the start of the 2008 season.
-- ESPN Stats & Information
Mel Kiper's Draft Class Watch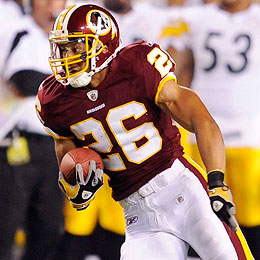 (Photo by Rafael Suanes/US Presswire)
Roy Helu: Will get his share of carries.
Mike Shanahan has famously put forth the idea that he can win with any running back. So when he traded up aggressively in Round 4 to get Nebraska's Roy Helu, it was a sign he found one he actually liked. Helu has been getting some
first-team reps in camp, and should get his share of carries as a rookie along with import Tim Hightower.
The big rookie to watch, however, is on the defensive side of the ball, where each week in the season we could see Ryan Kerrigan making a bigger impact from the 3-4 OLB position. Kerrigan was a defensive end at Purdue, but each time I see him, he seems to get more comfortable standing up.
Kerrigan has a relentless style, and impresses me in how he works down the line of scrimmage as a run defender. It wouldn't shock me at all if he leads all rookies in sacks this year.
-- Mel Kiper, ESPN NFL Draft Insider