AP Photo/Joe Howell
JOHN CLAYTON QB RANKING (28)
: John Skelton, who threw for 1,913 yards in 2011, beat Kevin Kolb for the Cardinals' starting quarterback job in 2012.
Expert Picks (Consensus: third)
The Cardinals finished second in the NFC West last season with an 8-8 record. For more coverage, visit: ESPN.com's NFC West blog … on Twitter | Clubhouse | More predictions
ANALYST
PREDICTION
Mike
Sando
ESPN.com

DIVISION FINISH: 3 The situation at quarterback remains a question mark, and with left tackle Levi Brown suffering a torn triceps, there's an ominous feel to the season. We should note, however, that the Cardinals went from 1-6 to 8-8 last season.
John
Clayton
ESPN.com

DIVISION FINISH: 3 With the Kevin Kolb experiment failing, Ken Whisenhunt has to rally the forces behind John Skelton and follow up the great late run the team had last season.

Adam
Schefter
ESPN.com

DIVISION FINISH: 4 If only the Cardinals could have signed Peyton Manning …
Jeffri
Chadiha
ESPN.com

DIVISION FINISH: 2 The Cardinals won seven of their last nine games in 2011, so that's a good place to build confidence. They'd look even better if their quarterback situation wasn't so shaky.
Ashley
Fox
ESPN.com

DIVISION FINISH: 3 When you have two quarterbacks, you don't have one.
Intelligence Report
Five things you need to know about the Cardinals:
1. Levi Brown is finally appreciated: The much-criticized tackle has never appeared more valuable than in the days since a torn triceps knocked him out for at least three months. The Cardinals' pass protection has been abysmal since Brown left the lineup. Arizona will do more to help its tackles once the regular season begins, but from what we've seen so far, the team's quarterbacks will have a tougher time making it through the season healthy. John Skelton has been more durable than Kevin Kolb. That is something to keep in mind.
2. There's competition at RB: Beanie Wells and Ryan Williams are both talented enough to start. Both are coming off knee surgeries. One or the other could be a 1,000-yard rusher. It would be no surprise, as well, if one or both missed extended periods to injury. This is a difficult situation to read from a fantasy football standpoint. At best, Wells and Williams will push each other. They'll compete for carries and give the Cardinals a one-two punch featuring power (Wells) and explosiveness (Williams).
3. Peterson is more than a returner: Patrick Peterson earned Pro Bowl honors as a rookie for his work as a punt returner. Four return touchdowns, each covering at least 80 yards, will get anyone noticed. The goal this season is for Peterson to land in Hawaii for his efforts at cornerback. Games against Tom Brady (Week 2), DeSean Jackson (Week 3), the Packers (Week 9), Roddy White/Julio Jones (Week 11), Calvin Johnson (Week 15) and Brandon Marshall (Week 16) should put Peterson in the spotlight, for better or worse.
4. Finding Fitzgerald: Larry Fitzgerald is coming off the fourth season of his career with at least 1,400 receiving yards. Only three players in NFL history have as many seasons with at least 1,400. The milestone was significant for Fitzgerald because it marked the first time Fitzgerald had reached 1,400 yards without Kurt Warner as his primary quarterback. Meanwhile, Fitzgerald's yards per reception spiked from 12.6 in 2010 to a career-high 17.6. Fitzgerald proved he can produce at the highest level with or without a top quarterback. The Cardinals do a good job making sure he gets his touches.
5. Small margins for error: The Cardinals have generally been a resilient team under coach Ken Whisenhunt. They'll need that to remain the case if the quarterback play remains spotty. Arizona overcame fourth-quarter deficits in six of its eight victories last season, one off the NFL record for a season since 1970. The Cardinals went 4-0 in overtime games and are 7-2 in OT games under Whisenhunt. The 2011 team tied a franchise record with seven victories by seven or fewer points. The Cardinals' eight victories were by 4.25 points on average, the lowest average margin since at least 1970 for teams with eight or more victories in a season. Overall, the 2011 Cardinals played a league-high 13 games decided by seven or fewer points, going 8-5 in those games.
-- Mike Sando, ESPN.com
Inside The Numbers
The Cardinals have two options at quarterback with Kevin Kolb and John Skelton. Regardless of which one they go with, the Cardinals will need to improve up front. Despite using five offensive line combinations last season (second fewest in NFL), the Cardinals struggled to protect the passer, giving up a league-high 32 sacks when facing four or fewer pass-rushers.
Overall, Kolb was sacked once every 9.6 dropbacks last season, which was worst in the NFL among qualified quarterbacks. Skelton was sacked once every 13.7 dropbacks (ninth worst).
When the Cardinals had time, they were able to find All-Pro receiver Larry Fitzgerald, who had 13 catches on throws of at least 21 air yards, tied for fourth in the NFL. Fitzgerald had all three of Arizona's touchdowns on such throws and no other teammate had more than one reception that covered that distance. First-round pick Michael Floyd had nine such receptions and four touchdowns on such throws in his senior season at Notre Dame.
• The Cardinals scored 12 rushing touchdowns last season, all inside the red zone. The Giants were the only other team with no rushing touchdowns from outside the red zone.
• Cardinals tight ends caught 65 passes for 712 yards and four touchdowns last season. Cardinals tight ends caught 73 passes for 692 yards and three touchdowns the previous three seasons combined.
-- ESPN Stats & Information
ESPN The Mag: Insider's View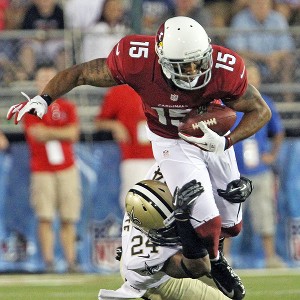 (Photo by Al Pereira/Getty Images )
Michael Floyd: Instant impact expected.
Best Unit: Wide receivers
Kevin Kolb and John Skelton may not be reliable QBs, but they have a bevy of top targets. Larry Fitzgerald is a future Hall of Famer, and rookie Michael Floyd has excellent size (6-3, 225) and body control to go with solid speed. Behind them, the quick Andre Roberts excels as a route runner, while Early Doucet has more possession skills. And watch out for TE Rob Housler's rare combo of height (6-5) and speed (4.55).
Worst Unit: Offensive line
There's a reason Arizona drafted three linemen, albeit in the fourth round or later. The pass protection was porous in 2011 (54 sacks allowed, second worst), and while Kolb held the ball too long, personnel was a big issue.
-- Gary Horton
• AccuScore projects every team, every game