AP Photo/Chuck Burton
JOHN CLAYTON QB RANKING (10)
: Matt Ryan has yet to win a playoff game, but he's been one of the game's most consistent passers the last two years (62 percent, 57 TDs).
Expert Picks (Consensus: first)
The Falcons finished second in the NFC South last season with a 10-6 record. For more coverage, visit: ESPN.com's NFC South blog … on Twitter | Clubhouse | More predictions
ANALYST
PREDICTION
Pat
Yasinskas
ESPN.com

DIVISION FINISH: 2 I think this is the season Atlanta finally wins a playoff game, but I don't think the Falcons win the division.
John
Clayton
ESPN.com

DIVISION FINISH: 1 The Falcons are going to fully unleash Matt Ryan, letting him go with more three-receiver and no-huddle looks. The question is how much new coordinator Mike Nolan can get out of the defense.

Adam
Schefter
ESPN.com

DIVISION FINISH: 3 The most explosive one-two wide receiver combination in football needs to find a way to win a playoff game.
Jeffri
Chadiha
ESPN.com

DIVISION FINISH: 1 Atlanta is good enough to make its fourth playoff appearance in five years. The Falcons just have to prove they actually can win a postseason game once they get there.
Ashley
Fox
ESPN.com

DIVISION FINISH: 1 This will be a breakthrough year for Ryan. The bagel on his postseason résumé will be no more.
Intelligence Report
Five things you need to know about the Falcons:
1. An all-new look: Although the Falcons have had four straight winning seasons, they are kind of starting over on offense and defense. They've got new coordinators in Dirk Koetter (offense) and Mike Nolan (defense), and it's clear there's a lot of pressure for the Falcons to win a playoff game for the first time since coach Mike Smith and quarterback Matt Ryan arrived in town. With players such as Roddy White, Julio Jones, Tony Gonzalez, Michael Turner and Jacquizz Rodgers, Ryan has plenty of weapons. It's Koetter's job to figure out how to get more explosive plays out of this offense than predecessor Mike Mularkey. It's a similar story on defense, where Nolan inherits quite a bit of individual talent, but he needs this unit to establish a more aggressive identity than it had under Brian VanGorder.
2. The under-300 club: The Falcons repeatedly have said they want to limit Turner's carries and keep him fresh throughout the season. But that doesn't mean the Falcons suddenly will abandon the running game or Turner. You can bet Turner isn't going to get anywhere close to the 376 carries he had in 2008, but I still see him getting somewhere between 230 and 250 carries. The Falcons may throw the ball a little more often than in the past. But the difference will be made up by Rodgers. He didn't play a lot as a rookie, but the Falcons have big plans for him this year. He can do some things in the passing game that Turner can't, but Rodgers also is going to get some runs between the tackles.
3. It's all on the line: Lots of people talk about the pressure on Ryan and Smith. But I think the real pressure is on the offensive line. That unit was perhaps the most disappointing group last season. Ryan didn't throw the deep ball as much as the Falcons wanted, almost entirely because the offensive line couldn't protect him long enough. Other than bringing in offensive line coach Pat Hill and drafting Peter Konz, who may or may not start right away, the Falcons didn't have much turnover on the offensive line. The key is left tackle Sam Baker. He lost his starting job last year, but the Falcons say Baker was limited by injuries and is healthy now.
4. Help wanted: For far too long, Atlanta's pass rush has been defensive end John Abraham and not much else. That has to change, because Abraham is 34, and even if he has another good year, the Falcons still need to get more pressure on opposing quarterbacks. Defensive players have indicated they expect to blitz a lot more in Nolan's scheme. Linebackers Sean Weatherspoon and Stephen Nicholas have enough quickness to be effective pass-rushers, and some members of the secondary will be asked to blitz at times. But the real key will be defensive end Ray Edwards. He didn't produce much after signing as a free agent last year. But as with Baker, the Falcons say Edwards wasn't healthy last season and is now.
5. What's left in the tank? After the Falcons traded for Asante Samuel, there was a report that Philadelphia coach Andy Reid parted with the veteran cornerback because he sensed a steep decline. Samuel has taken exception to that, and the Falcons wouldn't have made the move if their personnel people sensed a serious problem. The Falcons aren't looking for Samuel to be the player he was five years ago. They just want him to be a role player as another strong cover corner to go with Brent Grimes and Dunta Robinson.
-- Pat Yasinskas, ESPN.com
Inside The Numbers
Julio Jones made an instant impact in 2011 on a Falcons team that lacked big-play ability. The Falcons went from having the fewest pass plays of 30 or more yards (nine) in 2010 to 15th in the NFL in 2011 with 19. Jones nearly matched the Falcons' team total from a year before with eight of his own.
Big plays were not always preceded by deep throws with Jones, who averaged 8.0 yards per reception after the catch on throws 10 air yards or fewer from the line of scrimmage in his rookie campaign (third in NFL). Jones doubled Matt Ryan's other favorite targets -- Roddy White and Tony Gonzalez -- on such throws last season.
Jones' ability to turn a short pass into a big gain is a plus, but his big-play ability on the deep ball should not be overlooked. Jones had more receptions on throws of least 21 air yards last season (six) than the rest of his teammates combined (four).
• Despite his size (5-foot-10, 247 pounds), Michael Turner averaged 5.6 yards per rush outside the tackles (ninth among RBs) and gained 20 or more yards five times on such rushes (fifth among RBs).
-- ESPN Stats & Information
ESPN The Mag: Insider's View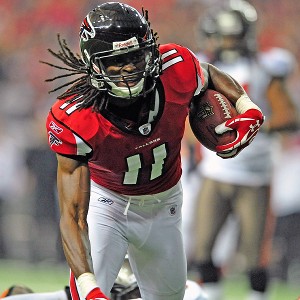 (Photo by Grant Halverson/Getty Images )
Julio Jones: Soon-to-be star.
Best Unit: Wide receivers/tight ends
Roddy White is still one of the NFL's best receivers, Julio Jones is knocking on stardom's door and the ageless Tony Gonzalez is coming off his top season in Atlanta. Drops were an issue for White and Jones, but Gonzalez catches everything. Jones accounted for 16.8 percent of Atlanta's offense as a rookie; that should only grow thanks to his size (6-foot-3, 220), power, pure speed and run-after-the-catch skills. The only issue is depth.
Worst Unit: Offensive line
Two issues here: One, the line lacks a blocker who can dominate. And two, LT Sam Baker is a massive liability in protection; QB Matt Ryan was hit 84 times in 2011, seventh-most in the league. At least guard Peter Konz fell in the Falcons' lap in the second round of April's draft.
-- Gary Horton
• AccuScore projects every team, every game