AP Photo/Derek Gee
JOHN CLAYTON QB RANKING (22)
: After an impressive start to 2011, Ryan Fitzpatrick was plagued by inconsistency for much of the second half. He ended up leading the league with 23 interceptions.
Expert Picks (Consensus: second)
The Bills finished fourth in the AFC East last season with a 6-10 record. For more coverage, visit: ESPN.com's AFC East blog … on Twitter | Clubhouse | More predictions
ANALYST
PREDICTION
James
Walker
ESPN.com

DIVISION FINISH: 2 It's been 13 years since the Bills last made the playoffs. Buffalo finally has the roster and depth in 2012 to make a push.
John
Clayton
ESPN.com

DIVISION FINISH: 2 Adding Mario Williams and Mark Anderson to the defensive line and Stephon Gilmore at cornerback could propel the Bills' new 4-3 defense. An easy schedule could allow Ryan Fitzpatrick to have a 4,000-yard season.

Adam
Schefter
ESPN.com

DIVISION FINISH: 2 So many injured players coming back, but they need Fitzpatrick to bounce back to last season's first-half form.
Jeffri
Chadiha
ESPN.com

DIVISION FINISH: 2 The return of injured RB Fred Jackson and the addition of DE Mario Williams are huge. This year should be Buffalo's best chance at breaking a 12-year playoff drought.
Ashley
Fox
ESPN.com

DIVISION FINISH: 2 The Bills made a splash by signing Mario Williams, and he will make a difference.
Intelligence Report
Five things you need to know about the Bills:
1. Bills must embrace expectations: This is the best roster the Bills have had in a long time. Owner Ralph Wilson has been criticized for not spending big bucks, but that certainly wasn't the case this offseason. The Bills went all out by signing the biggest defensive free agent -- Mario Williams -- to a $100 million contract. Additions of fellow defensive end Mark Anderson and top draft pick Stephon Gilmore have raised the bar. The Bills are used to being underdogs. But many are predicting a playoff season for Buffalo, and this team has to learn to handle expectations.
2. Defensive line the foundation: If Buffalo does make a playoff push, it will be because of winning in the trenches. The Bills are taking an old-school approach to building the roster. They put a lot of focus and resources the past two years into remaking the offensive and defensive lines. Both groups should be the team's strength. Williams, Anderson and defensive tackles Kyle Williams and Marcell Dareus have the potential to be one of the best defensive lines in the NFL. Controlling the line of scrimmage puts the Bills in position to win more games.
3. No excuses for Fitz: Buffalo starting quarterback Ryan Fitzpatrick is no longer the cute story of a seventh-round pick from Harvard who became a starting NFL quarterback. All of that changed last season when the Bills paid Fitzpatrick $59 million to be their franchise quarterback. Now Fitzpatrick is expected to produce. Playing through a rib injury down the stretch, he had a very inconsistent 2011 season. This is the best team he's played on in Buffalo, and there are no more excuses. Fitzpatrick worked hard this offseason on his fundamentals in an effort to have the best season of his career.
4. Jackson-Spiller duo must work: Bills coach Chan Gailey calls it a good problem to have. But Gailey has a big challenge of keeping tailbacks Fred Jackson and C.J. Spiller happy. Both tailbacks are starting material. Jackson tore up the NFL last year until a season-ending leg injury. Spiller was mostly ignored but did well in Jackson's absence. Now, both running backs want the ball, and Buffalo's coaches must divide the carries.
5. Searching for the next Steve Johnson: Buffalo has one proven receiver in Steve Johnson, who has had back-to-back 1,000-yard seasons. But the Bills are looking for more options at receiver. Donald Jones, Marcus Easley, Naaman Roosevelt and rookie T.J. Graham are all vying to be the No. 2 receiver. Someone from this group needs to develop consistency.
-- James Walker, ESPN.com
Inside The Numbers
The Bills allowed 27.1 points per game last season, tied for third most in the NFL. The Bills are switching to a 4-3 defense this season with new defensive coordinator Dave Wannstedt after playing a base 3-4 in 2011. The Bills allowed 5.8 yards per play when in the 3-4 last season, second-most among the 13 teams to play such a defense.
One of the problems was getting to the opponent's quarterback. Their rate of picking up a sack every 19.0 drop-backs last season ranked 27th in the NFL. The acquisitions of defensive ends Mario Williams and Mark Anderson should help a team whose leader registered 5.5 sacks each of the past two seasons.
The Bills' rush defense also struggled last season, surrendering 18 touchdowns between the tackles, second most in the league. In goal-to-go situations, Buffalo gave up 16 rushing touchdowns, also second-most.
• The Bills drafted cornerback Stephon Gilmore in the first round of the 2012 draft after allowing a league-high 16 touchdowns on passes outside the painted field numbers. The Bills also allowed 61.6 percent of such throws to be completed, the third-worst rate last season.
• The Bills' offensive line was successful protecting the quarterback last season, allowing a sack every 27.2 drop-backs, the second-best rate in the league. The offensive line also helped generate a 20-plus-yard run once every 23 rushes, fourth best in the NFL.
-- ESPN Stats & Information
ESPN The Mag: Insider's View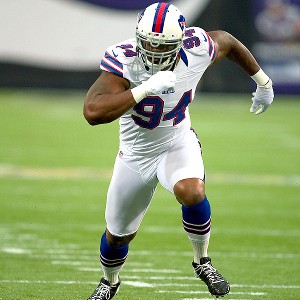 (Photo by AP Photo/Scott Boehm)
Mario Williams: Prize acquisition.
Best Unit: Defensive line
DEs Mario Williams and Mark Anderson, both acquired as free agents, have tremendous first-step quickness and provide a great pass rush off the edge for a D that posted just 29 sacks in 2011 (27th in the NFL). Their presence will free up DTs Marcell Dareus and Kyle Williams -- quick, one-gap penetrators who can't be single-blocked.
Worst Unit: Linebackers
The starters are average and don't make enough impact plays. Weakside LB Nick Barnett and strongside LB Kirk Morrison are on the wrong side of 30, and MLB Kelvin Sheppard made 70 tackles but didn't create a single turnover as a rookie last season. Even if the front four create havoc as expected, it's questionable whether the guys behind them can finish plays.
-- Gary Horton
• AccuScore projects every team, every game