Kim Klement/US Presswire
JOHN CLAYTON QB RANKING (15)
: Cam Newton set the rookie passing yardage record (4,051) in 2011 and rushed for 14 TDs, the highest single-season total ever put up by a QB.
Expert Picks (Consensus: third)
The Panthers finished third in the NFC South last season with a 6-10 record. For more coverage, visit: ESPN.com's NFC South blog … on Twitter | Clubhouse | More predictions
ANALYST
PREDICTION
Pat
Yasinskas
ESPN.com

DIVISION FINISH: 3 This team is ready to slip through the door in the NFC South, but I'm not sure the Saints and Falcons will leave it open.
John
Clayton
ESPN.com

DIVISION FINISH: 3 Cam Newton works too hard to have a sophomore slump. For the Panthers to become a .500 team or better, Ron Rivera must make this defense better, which he should.

Adam
Schefter
ESPN.com

DIVISION FINISH: 2 If Cam can duplicate what he did last season, the Panthers will make the playoffs.
Jeffri
Chadiha
ESPN.com

DIVISION FINISH: 2 Carolina won four of its last six games in 2011. Expect Newton and a healthier defense to keep that momentum alive this season.
Ashley
Fox
ESPN.com

DIVISION FINISH: 3 After having the best season a rookie quarterback has ever had, what will Cam Newton 2.0 do?
Intelligence Report
Five things you need to know about the Panthers:
1. What sophomore slump? I can't understand why people even suggest that Carolina quarterback Cam Newton might have a sophomore slump. It simply isn't going to happen. Did you happen to notice what Newton did last season, when he was selected the NFL's Offensive Rookie of the Year? Newton set all sorts of records and, most important of all, he did it in a lockout year in which he couldn't work with his coaches until training camp. Newton has had an entire offseason program with his coaching staff, and he's a year older and wiser. There's no way he takes a step backward. If anything, he takes several steps forward.
2. Looking to break out: Aside from Muhsin Muhammad, the Panthers never have had a real complement to Steve Smith. But that's about to change. The Panthers firmly believe third-year pro Brandon LaFell is ready to be a solid No. 2 wide receiver. LaFell was held back as a rookie because former coach John Fox was opposed to the team's youth movement, and his offense didn't feature the passing game. The Panthers brought LaFell along slowly last season, but he showed some promise as the year went on. After seeing LaFell in the offseason program, they are convinced he's comfortable in the offensive system and ready for a breakout season.
3. The comebacks: Much has been made about defensive tackle Ron Edwards and linebackers Jon Beason and Thomas Davis missing almost all of last season due to injuries. You can't understate the significance of that because those are three key players, and the defense fell apart without them. The fact that Beason and Edwards are back is reason enough to think Carolina's defense will be significantly improved. Edwards should give the Panthers the kind of run-stuffer the Panthers have lacked since the departure of Kris Jenkins, and Beason is the defense's leader. Davis is coming off his third torn ACL, and the Panthers are realistic with their expectations. If he can contribute as a situational player, that will be viewed as a bonus.
4. Backfield in motion: A lot of people seem to be worried about how the Panthers are going to use DeAngelo Williams, Jonathan Stewart and Mike Tolbert in the same backfield. Let offensive coordinator Rob Chudzinski figure that one out. Chudzinski previously coached Tolbert in San Diego and lobbied the Panthers to sign him as a free agent. General manager Marty Hurney listened, even though he had signed Wiilliams to a big contract last year and later would sign Stewart to a contract extension. Chudzinski, called "The Mad Scientist'' by his players, must have big plans for all three. The Panthers are listing Tolbert as a fullback, but they freely admit he'll get time at tailback. Are there enough carries to keep all three happy? Chudzinski must believe so, or else he would have been lobbying for more wide receivers or tight ends.
5. The next step: One of the best moves I saw this preseason was when coach Ron Rivera called out defensive end Charles Johnson. Rivera said Johnson has been doing what's required, but not anything extra. It's not difficult to figure out what that was all about. Rivera sees a player who's accounted for 20½ sacks the past two seasons just getting by on natural ability. The Panthers had a guy like that once. His name was Julius Peppers, and he was sometimes very good, but never consistently great. The Panthers want Johnson to step up and be great.
-- Pat Yasinskas, ESPN.com
Inside The Numbers
The Panthers averaged 150.5 yards on the ground per game last season, the third-most in the NFL. They were especially effective on carries to the left side, averaging a league-best 7.0 yards per carry and scoring an NFL-high 12 touchdowns. (No other team scored more than eight touchdowns in that direction.) Carolina also had 16 rushes of 20 yards or more to the left side.
Jonathan Stewart and DeAngelo Williams each rushed for more than 750 yards, joining the Houston Texans' Arian Foster and Ben Tate as the only running back tandems to do so last season. Defenses had a difficult time bringing down Panthers ball carriers, as Carolina averaged 2.1 yards after contact per rush, trailing only the Vikings.
Cam Newton had the most rushing yards by a quarterback (706) last season and scored twice as many rushing touchdowns (14) as the next-highest quarterback. No player scored more than Newton's six touchdowns on rushes up the middle.
• Steve Smith caught 29 passes that traveled at least 15 air yards, second in the NFL to Calvin Johnson's 30. No one else on the Panthers had more than 11 receptions on such throws.
• The Panthers' pass defense struggled when it sent five or more rushers last season, allowing 10 touchdowns and intercepting just four passes. The 9.6 yards per pass attempt it allowed with such pressure was the highest in the NFL.
-- ESPN Stats & Information
ESPN The Mag: Insider's View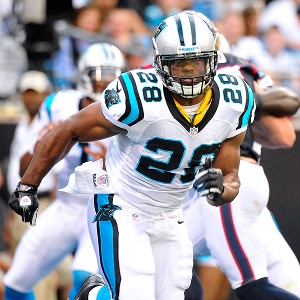 (Photo by Grant Halverson/Getty Images )
Jonathan Stewart: Do-it-all running back.
Best Unit: Running backs
The Panthers have the best stable of backs in the NFL. Jonathan Stewart is the total package. I would love to see what he could do as a full-time back in this offense; I think he'd rank among the three or four best RBs in football. DeAngelo Williams mixes excellent vision with the ability to make tacklers miss. Add in Mike Tolbert as a hammer/receiver and the Panthers have unmatched depth, with star power to boot.
Worst Unit: Defensive line
The Panthers don't ask a lot of their DTs -- just eat space so their great LBs can run and hit. Ron Edwards fits the mold, but Terrell McClain and Sione Fua did little to impress as rookies. At least Carolina boasts solid DEs: Charles Johnson had a team-high nine sacks last season, and Greg Hardy has all of the tools.
-- Gary Horton
• AccuScore projects every team, every game