Nuccio DiNuzzo/Chicago Tribune/MCT via Getty Images
JOHN CLAYTON QB RANKING (14)
: Jay Cutler has some unfinished business after his 2011 season was cut short by a thumb injury. The Bears were 7-3 at the time.
Expert Picks (Consensus: second)
The Bears finished third in the NFC North last season with an 8-8 record. For more coverage, visit: ESPN.com's NFC North blog … on Twitter | ESPN Chicago | Clubhouse | More predictions
ANALYST
PREDICTION
Kevin
Seifert
ESPN.com

DIVISION FINISH: 2 Knee surgery for linebacker Brian Urlacher brought a mid-August scare, but otherwise the Bears have their best team under coach Lovie Smith. Their passing offense should be explosive and for once the team won't rely totally on its defense.
John
Clayton
ESPN.com

DIVISION FINISH: 2 Jay Cutler should throw for 4,000 yards now that he has WRs Brandon Marshall and Alshon Jeffery. The Bears' offense is loaded, which is necessary because the defense is getting older.

Adam
Schefter
ESPN.com

DIVISION FINISH: 2 Jay Cutler and Brandon Marshall back together again should bring this team back to the playoffs again.
Jeffri
Chadiha
ESPN.com

DIVISION FINISH: 3 Chicago finally gave QB Jay Cutler some help at receiver, with Brandon Marshall being a major acquisition. If things go right, the combination of an explosive offense and a tough defense could get the Bears back to the postseason.
Ashley
Fox
ESPN.com

DIVISION FINISH: 2 Finally with a No. 1 wide receiver in Brandon Marshall, Jay Cutler is positioned to have his best season yet.
Intelligence Report
Five things you need to know about the Bears:
1. Minnesota Broncos: The best way to describe the Bears' new offense is to predict it will mix two distinct schemes: The one-back power running game that offensive coordinator Mike Tice used when he was the Minnesota Vikings coach, and the version of the West Coast passing game that quarterbacks coach Jeremy Bates (and quarterback Jay Cutler along with receiver Brandon Marshall) used with the Denver Broncos from 2006 to 2008. The Bears believe Marshall will be their best offensive playmaker in a generation and hope that their offense will be explosive enough to compete in the pass-happy NFC North.
2. Urlacher questions: The team insists middle linebacker Brian Urlacher will be healthy and ready for the season after knee soreness, and eventual surgery, cost him most of training camp and all of the preseason. But any and all speculation is fair about Urlacher's short- and long-term future. A reasonable person would be justified with concern that a sprain in January was still bothering him in August. Urlacher is 34 years old and in the final year of his contract. He's a superior and unique athlete but plays a high-contact position. Make no mistake, however: The Bears don't have a reasonable alternative on the roster if he declines dramatically this season. They need the Urlacher we all know for at least one more season.
3. Left tackle competition: Tice has pledged to do whatever is necessary from a scheme perspective to protect Cutler, who took a beating in two seasons with offensive coordinator Mike Martz. But there is only so much a scheme can do to protect a left tackle, and that's something the Bears might have to do this season regardless of who plays there for them. The Bears opened training camp hoping that J'Marcus Webb would win the job from Chris Williams, but Webb's progress has been slow. At some point, the Bears will have to rely on him -- or whoever mans the spot -- to single-block an elite pass-rusher. The success of their offense, as well as Cutler's health, depends on it.
4. McClellin's role: First-round pick Shea McClellin got off to a slow start in training camp and will need some time to adjust to the speed of the NFL game. But soon, the Bears hope to be able to use him as a situational pass-rusher opposite Julius Peppers. That would allow them to limit the playing time of starter Israel Idonije and/or use Idonije as a defensive tackle in passing situations.
5. Jeffery's turn: While McClellin's development came slowly, the Bears' second-round draft pick -- receiver Alshon Jeffery -- looked promising from the start of training camp. At 6-foot-3 and 216 pounds, Jeffery's size would have drawn more discussion this summer were it not for the arrival of the 6-4 Marshall. Jeffery has excellent hands and knows how to get open in between the numbers. He might not be a burner downfield, but he will provide another big target for Cutler and should get some favorable looks from defenses as long as Marshall is on the field.
-- Kevin Seifert, ESPN.com
Inside The Numbers
The Bears are hoping that the additions of wide receivers Brandon Marshall and Alshon Jeffery will boost a passing offense that averaged 188 yards per game last season, 26th in the NFL.
Marshall was Jay Cutler's favorite target in Denver, with Cutler targeting Marshall a league-high 179 times in 2008 alone. Since joining the Bears in 2009, Cutler's most-targeted receiver has been Johnny Knox (212).
The Bears could look to feature Marshall in the red zone this season. Cutler targeted Marshall 25 times in the red zone in 2008, completing 12 passes, five for touchdowns. Cutler was without a major red zone threat last season, completing just 16 passes total and targeting rookie Dane Sanzenbacher a team-high eight times.
Marshall and Jeffery could also help improve Chicago's downfield passing. Marshall tied for the second-most receptions (15) on throws more than 20 air yards downfield last season, as many as the entire Bears receiving corps.
• The Bears averaged 1.44 more yards per play with Matt Forte on the field last season than with him off the field. No Bears player accounted for a bigger difference when on and off the field.
• The Bears finished 2011 with 33 sacks (tied for 19th) but still got pressure on the quarterback. Opposing quarterbacks were under duress (forced to move or alter a throw because of pressure) on 20.6 percent of their attempts against the Bears, the highest rate in the NFL.
-- ESPN Stats & Information
ESPN The Mag: Insider's View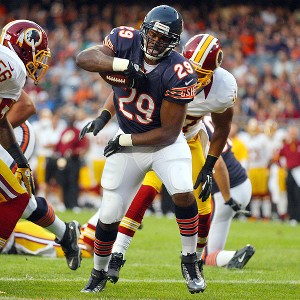 (Photo by Dennis Wierzbicki/US Presswire )
Michael Bush: Short-yardage specialist.
Best Unit: Running backs
The Bears prepared for life without Matt Forte by signing Michael Bush. Now, with Forte locked in, they have one of the NFL's top duos. The two complement each other's game: Bush excels in short yardage, one of Forte's few weaknesses, while the presence of the former Raider should keep the versatile Forte fresh. Also, keep an eye on Kahlil Bell, who showed good power while averaging 4.3 yards per carry last season.
Worst Unit: Offensive line
New offensive coordinator Mike Tice won't expose blockers like predecessor Mike Martz did in using seven-step drops with no help. But the Bears still don't have enough quality linemen. RT Gabe Carimi (dislocated kneecap as a rookie in 2011) won't fix a unit that has struggled for years.
-- Gary Horton
• AccuScore projects every team, every game