AP Photo/David Kohl
JOHN CLAYTON QB RANKING (19)
: In 2011, Andy Dalton became the only rookie in NFL history to throw for 20 or more TD passes while winning eight or more games as a starting quarterback.
Expert Picks (Consensus: third)
The Bengals finished third in the AFC North last season with a 9-7 record. For more coverage, visit: ESPN.com's AFC North blog … on Twitter | Clubhouse | More predictions
ANALYST
PREDICTION
Jamison
Hensley
ESPN.com

DIVISION FINISH: 2 The Bengals haven't had back-to-back winning seasons since 1981-82. But this isn't your typical Bengals team. A.J. Green is one of the most explosive playmakers in the league, and the defense could be the best in the division if it avoids injuries.
John
Clayton
ESPN.com

DIVISION FINISH: 3 Marvin Lewis has the Bengals back as a playoff contender with a good, young quarterback. The challenge of repeating as a wild-card team in this division is tough.

Adam
Schefter
ESPN.com

DIVISION FINISH: 3 Most players get better their second year, which bodes well for Dalton and Green.
Jeffri
Chadiha
ESPN.com

DIVISION FINISH: 3 They surprised everybody by making the playoffs during what was supposed to be a rebuilding year. They won't be so fortunate this season.
Ashley
Fox
ESPN.com

DIVISION FINISH: 3 This is Year 2 for Dalton and Green. They won't sneak up on anybody after last season.
Intelligence Report
Five things you need to know about the Bengals:
1. Andy Dalton has an edge this year: Dalton has a lot to prove (he went 0-7 against teams with a winning record last season), and that is a good thing for the Bengals. Critics seem to bring the best out of Dalton, who went to the Pro Bowl as a rookie after being a second-round pick. The talk all offseason has been his lack of arm strength. When he threw a 55-yard touchdown pass to A.J. Green in the preseason, he said, "You can tell everybody that it's not even close to what I've got if I need it." That's what you call swagger.
2. It's a make-or-break year for Rey Maualuga: He's watched his former USC teammates, linebackers Clay Matthews and Brian Cushing, become the leaders of their defenses. Maualuga would be happy to establish himself at his own position. The move to middle linebacker last year wasn't as successful as everyone anticipated. Maualuga believes he will play much better this season after having his ankle surgically repaired in January. But time is running out for Maualuga, who is entering the final year of his contract. There's increased pressure with impressive rookie Vontaze Burfict playing behind him.
3. They will run the ball up the middle: The Bengals made a concerted effort to address their biggest weakness on offense by signing left guard Travelle Wharton in free agency and drafting right guard Kevin Zeitler in the first round. This game plan took a hit when Wharton went down with a season-ending knee injury in the preseason opener and center Kyle Cook recently suffered a serious ankle injury. Cincinnati is hoping the replacements -- left guard Clint Boling and newly signed center Jeff Faine -- will provide a better push inside than last year's line. Last season, the Bengals averaged 3.3 yards in between the tackles (30th in the NFL) and scored three touchdowns up the middle (tied for 21st), according to ESPN Stats & Information. Cincinnati is still going to run up the middle because that's where physical running back BenJarvus Green-Ellis is most effective.
4. Jermaine Gresham will elevate his game: It's no secret Green is the top receiver on the team and one of the best young playmakers in the league. The biggest question is who would step up to be the Bengals' No. 2 target. The focus has been the battle between Armon Binns and Brandon Tate. But the player to watch is Gresham. Drafted ahead of Rob Gronkowski and Jimmy Graham in 2010, Gresham has the tools to be an elite tight end like them. It wouldn't be a surprise to see Gresham crack 70 receptions this season.
5. Defense has the potential to be the best in the AFC North: This initially comes across as blasphemy because the Bengals are in the same division as the Steelers and Ravens, two of the best defenses the past 15 years. But making this jump isn't much of a stretch for Cincinnati, which ranked first in defense for a couple of weeks last season and finished seventh overall. Great defense starts up front and the Bengals are loaded with Geno Atkins and Domata Peko inside and Carlos Dunlap (who could miss the season opener with a knee injury) and Michael Johnson on the ends. Cincinnati has experience at outside linebacker with underrated Thomas Howard and Manny Lawson and it has stockpiled former first-round picks at cornerback. This group can be nasty this year.
-- Jamison Hensley, ESPN.com
Inside The Numbers
Quarterback Andy Dalton and wide receiver A.J. Green gave the Bengals a promising and potent pass-catch combination in their rookie seasons in 2011.
Dalton was steady in the Bengals' run to a playoff berth, especially against added pass pressure. Dalton was first among qualified rookie quarterbacks last season in completions (89) and completion percentage (54.9), and also took the fewest sacks (14) against five or more pass-rushers in 2011.
Green was an instant big-play target for Dalton. Green had 12 receptions of 30-plus yards, which was fourth in the NFL, and four more than the rest of his teammates combined. Green also proved to have dependable hands, dropping only three passes, tied for sixth-fewest among players with at 100 targets in 2011.
• The Bengals' rush defense was good at plugging holes last season, allowing the third-fewest yards per rush before contact (2.00). However, the Bengals struggled to bring those runners down, allowing the seventh-most yards per rush after contact (1.94).
• Free-agent addition BenJarvus Green-Ellis finished sixth in the league with 11 rushing touchdowns with the Patriots last season but had zero 20-yard rushes among his 181 attempts. No other running back had more rushes without a 20-yard gain than Green-Ellis last season.
-- ESPN Stats & Information
ESPN The Mag: Insider's View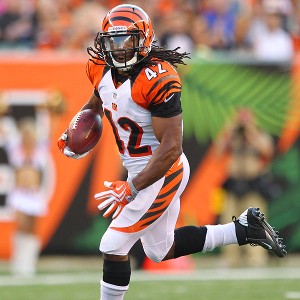 (Photo by Matthew Emmons/US Presswire )
BenJarvus Green-Ellis: RB upgrade?
Best Unit: Defensive line
This 4-3 front will occasionally morph into a 3-4 and is effective at winning one-on-one matchups using twists and stunts. The defense had 45 sacks in 2011 (fifth in the NFL), and that number should increase with DT Geno Atkins and DE Michael Johnson coming off breakout seasons.
Worst Unit: Running backs
Marvin Lewis likes to think of his offense as a run-first attack, even though the passing game should be better equipped. The Bengals just don't have the personnel to keep it on the ground. Former Patriots RB BenJarvus Green-Ellis is more explosive on the stretch play than the departed Cedric Benson, but he has never really been "the guy," which likely will force Lewis to use more of a back-by-committee approach.
-- Gary Horton
• AccuScore projects every team, every game