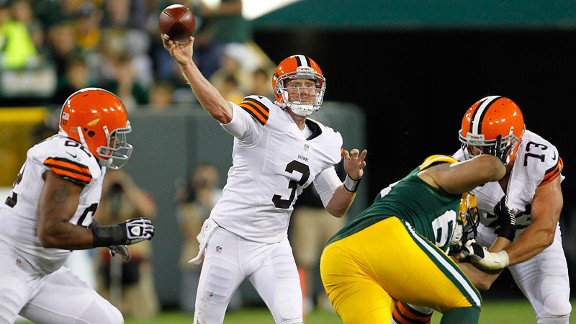 AP Photo/Mike Roemer
JOHN CLAYTON QB RANKING (31)
: The Browns are going with 28-year-old rookie Brandon Weeden over Colt McCoy, who averaged only 5.9 yards per pass attempt (33rd in the NFL) last season.
Expert Picks (Consensus: fourth)
The Browns finished fourth in the AFC North last season with a 4-12 record. For more coverage, visit: ESPN.com's AFC North blog … on Twitter | Clubhouse | More predictions
ANALYST
PREDICTION
Jamison
Hensley
ESPN.com

DIVISION FINISH: 4 The Browns have upgraded their talent with RB Trent Richardson and QB Brandon Weeden, although it won't show in the win total. Cleveland is too young on offense and too vulnerable against the run on defense to hold up against a difficult schedule.
John
Clayton
ESPN.com

DIVISION FINISH: 4 An untimely ownership change has Browns leadership worried about their jobs at a time the franchise got younger and more talented on offense. A good team for the future likely will suffer in the present.

Adam
Schefter
ESPN.com

DIVISION FINISH: 4 Every time this franchise seems to get a little positive momentum, there's some kind of setback -- Richardson's injury, Haden's suspension, something.
Jeffri
Chadiha
ESPN.com

DIVISION FINISH: 4 They have one of the league's worst offenses in a division filled with three tough defenses. Another long year lies ahead for Cleveland.
Ashley
Fox
ESPN.com

DIVISION FINISH: 4 The Browns drafted essential pieces in Weeden and Richardson, but both will need time to develop.
Intelligence Report
Five things you need to know about the Browns:
1. Pat Shurmur's seat is already hot: His first season was made more challenging by the NFL lockout, which meant he didn't meet his players until training camp. His second one is marked by a change in ownership, which has created an uncertain future for him in Cleveland. If that hasn't made his job difficult enough, Shurmur's top draft pick from 2011, defensive tackle Phil Taylor, is expected to miss at least the first six games with a torn pectoral muscle. His top pick from this year, running back Trent Richardson, had his knee scoped in training camp. Circumstances have made it tough to evaluate Shurmur.
2. The offense is young: The Browns are close to fielding a college all-star team on offense. Cleveland may start as many as four rookies: Richardson, quarterback Brandon Weeden, right tackle Mitchell Schwartz and wide receiver Josh Gordon. That's in addition to the three players who started as rookies last season: wide receiver Greg Little, left guard Jason Pinkston and fullback Owen Marecic. The Browns needed to inject some new blood into their offense. Cleveland ranked 29th in offense last season and scored more than 17 points just twice.
3. The big concern on defense once again is stopping the run: Only two teams (St. Louis and Tampa Bay) were worse at slowing running backs last season. The Browns allowed seven backs to gain more than 100 yards, and the Ravens' Ray Rice ran for 204 yards. There's little hope that Cleveland's run defense has improved. The only major addition was defensive end Frostee Rucker, a free-agent signing from Cincinnati. That pales in comparison to the losses in the front seven. Taylor is expected to be sidelined until Oct. 21, outside linebacker Chris Gocong is out for the season with an Achilles injury and outside linebacker Scott Fujita has been suspended for the first three games for his role in the Saints' bounty scandal. The Browns open the regular season against Philadelphia's LeSean McCoy, the NFL's fourth-leading rusher from a year ago.
4. Weeden doesn't lack confidence: The knock on Weeden has been his age (he turns 29 in October), but he's the poised leader this offense desperately needs. But sometimes he's too confident. Weeden plays with a gunslinger mentality and shows no fear in throwing into tight windows. That will often lead to turnovers, which was one thing the Browns' offense didn't do last season. Weeden is in a tough position because his wide receivers don't have the speed to get open consistently.
5. Schedule poses a couple of problems: The NFL schedule-makers didn't do the Browns any favors at the beginning or end of the season. After the season opener against the Eagles, the Browns play three of the next four games on the road, and all come against teams that made the playoffs last season (Cincinnati Bengals, Baltimore Ravens and the defending Super Bowl champion New York Giants). Cleveland finishes the regular season at Denver and at Pittsburgh. That's consecutive road games against Peyton Manning and Ben Roethlisberger. Cleveland is a combined 1-19 against them.
-- Jamison Hensley, ESPN.com
Inside The Numbers
The Browns drafted Trent Richardson and Brandon Weeden in the first round to revive their dormant offense. The Browns' offense finished 30th last season in yards per play (4.5) and was the only offense in the NFL that averaged less than 6 yards per pass attempt (5.8) and 4 yards per rush (3.7).
Richardson should lift a Browns rushing attack that ranked at or near the bottom of the league in several categories last season. In his final college season at Alabama in 2011, Richardson scored a touchdown every 13.5 rushing attempts and gained 799 rushing yards after contact. He averaged 5.9 yards per carry and registered 81 first downs.
The Browns, who were last in the NFL with four rushing touchdowns last season, averaged 103.8 rushing attempts per touchdown and had only 796 rushing yards after contact -- as a team. They averaged 3.7 yards per carry.
The Browns also could not stretch the field in the passing game last season. They only had 33 completions on throws of 15-plus air yards and only the Colts (32) and Jaguars (31) had fewer such completions. Weeden excelled on such throws in his last season at Oklahoma State, with 54 completions on 15-plus air yard passes.
• Linebacker D'Qwell Jackson thrived last season after the Browns switched to a 4-3 defense. Jackson led the league in solo tackles with 116 and was especially good in run defense as 40 of his tackles resulted in three or fewer rushing yards.
-- ESPN Stats & Information
ESPN The Mag: Insider's View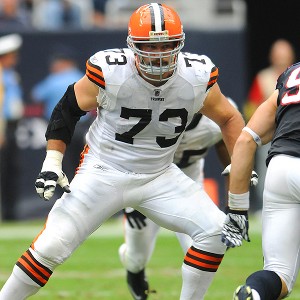 (Photo by John Rivera/Icon SMI )
Joe Thomas: O-line leader.
Best Unit: Offensive line
Joe Thomas keys an underrated unit that finally has the chance to block for an elite back once overall No. 3 pick Trent Richardson returns from a knee scope. Center Alex Mack hasn't missed a start in three seasons; second-year LG Jason Pinkston and rookie RT Mitchell Schwartz (Cal) appear equally consistent. The Browns are flexible, playing some zone and man packages and keeping defenses guessing.
Worst Unit: Wide receivers/tight ends
This is a conservative West Coast offense, which is a product of not having playmakers to stretch the D. Greg Little was uneven as a go-to target as a rookie, and return specialist Josh Cribbs was No. 2. Mohamed Massaquoi's production has regressed, and tight ends have been nonexistent.
-- Gary Horton
• AccuScore projects every team, every game