Jeff Zelevansky/Getty Images
JOHN CLAYTON QB RANKING (8)
: Tony Romo surpassed the 4,000-yard passing mark for the third time in his career last season. He has a career completion percentage of 64.5.
Expert Picks (Consensus: third)
The Cowboys finished third in the NFC East last season with an 8-8 record. For more coverage, visit: ESPN.com's NFC East blog … on Twitter | ESPN Dallas | Clubhouse | More predictions
ANALYST
PREDICTION
Dan
Graziano
ESPN.com

DIVISION FINISH: 3 Offensive line concerns will drag down the ability of Tony Romo and his receivers to perform at a consistently high enough level to hang with the Giants and Eagles. And in spite of the upgrades at CB, more work still needs to be done on defense.
John
Clayton
ESPN.com

DIVISION FINISH: 3 Jerry Jones knows the clock is ticking on the aging core group of this team, but now the problem is injuries. The Cowboys enter a tough opening part of the season banged up at receiver and hurting along the interior offensive line.

Adam
Schefter
ESPN.com

DIVISION FINISH: 3 Time for Jerry's team to perform up to its bosses' expectations.
Jeffri
Chadiha
ESPN.com

DIVISION FINISH: 3 Dallas doesn't have enough talent to win this division. The Cowboys filled some holes in the offseason but they're still lacking in difference-makers on both sides of the ball.
Ashley
Fox
ESPN.com

DIVISION FINISH: 3 There are still a lot of questions surrounding this team, particularly about its depth and defense. As always, there are high expectations in Dallas.
Intelligence Report
Five things you need to know about the Cowboys:
1. It's all about the D: The Cowboys' late-season defensive collapse was the reason they failed to win the NFC East after they appeared to have it in their control with five games to go. Adding free-agent cornerback Brandon Carr and drafting cornerback Morris Claiborne should shore up that position, but there are more areas where improvement is needed, including safety and defensive line. Second-year coordinator Rob Ryan comes with plenty of hype and is under a lot of pressure to show he can fix a Dallas defense that was the team's Achilles' heel in 2011.
2. Romo's protection: The Cowboys' biggest problem on offense last year was the interior of their offensive line, which lacked strength and consistency and forced quarterback Tony Romo to make too many plays and decisions on the run. Romo and his numbers held up fine, but things will work better if they see improvement from center Phil Costa and if the veteran guards they brought in -- Mackenzy Bernadeau and Nate Livings -- can show more strength in the middle than the guys who were playing those spots a year ago.
3. The running game: Second-year back DeMarco Murray returns from a season-ending ankle injury to a role as the clear-cut starter in the Dallas backfield. Felix Jones is a backup now, and Murray is looking forward to the opportunity to show he can handle full-time duty. The offense worked much better last year when Murray was healthy and carrying the ball 20-plus times per game, and that will be the Cowboys' goal going into 2012. The trick is keeping Murray healthy; if they do, not only will their running game improve, but their passing game should click better along with it.
4. The pass rush: The Cowboys had 42 sacks last year, which tied for the seventh-best figure in the league. But DeMarcus Ware had 19.5 of them. The issue with the Cowboys' pass rush is finding someone to complement Ware, as Anthony Spencer is a nice outside linebacker who plays the run well but doesn't get enough pressure on quarterbacks. Victor Butler could be a help if the coaches can get him into the right situations. Rookie Tyrone Crawford could show up as a pass-rusher in nickel and dime situations. And they get some pressure from nose tackle Jay Ratliff and defensive end Jason Hatcher. If one or more of those players can step up their pass-rush game in 2012, Ware might not have to carry so much of the load.
5. Look to the future: The Cowboys intend to contend this year, to be sure. But much of what they're doing as an organization right now is with an eye on building a long-term contender behind young leaders such as Murray and inside linebacker Sean Lee. This is head coach Jason Garrett's team right now, as owner Jerry Jones is allowing Garrett a strong hand in personnel decisions and the implementation of his vision for what the Cowboys should be. Even if they don't make it to the playoffs this year, the Cowboys will be looking for signs that the group they're building for the future is a reliable reason for optimism.
-- Dan Graziano, ESPN.com
Inside The Numbers
One of Dallas' most glaring flaws in 2011 was secondary play, especially when the defense committed extra defenders to the pass rush. The Cowboys allowed 14 passes to gain 30-plus yards and 13 touchdowns when sending at least five pass-rushers, both tied for most in the league. The additions of cornerback Brandon Carr and first-round pick Morris Claiborne should help. Over the past two seasons, Carr defended or intercepted 33 passes, third-most in the NFL. Claiborne was a standout cornerback at LSU, a defense that allowed only one touchdown and recorded 10 interceptions on passes of 15 air yards or more last season.
• Tony Romo had a productive 2011 season, logging 4,184 passing yards (seventh in NFL) and 31 touchdowns (fifth). However, Romo could miss Laurent Robinson, Dallas' most reliable end zone target last season. In 2011, the duo connected on all seven passes Romo threw targeting Robinson in the end zone, the most without a miss of any quarterback-receiver combo.
• In Week 7, rookie running back DeMarco Murray broke Emmitt Smith's single-game Cowboys rushing record with 253 yards in a 34-7 win over the Rams. From Week 7 to Week 14, only Arian Foster (1,009) amassed more yards from scrimmage than Murray (984), but 22 running backs had more than Murray's two touchdowns over that span. Murray didn't just rely on quickness, ranking 10th in the NFL with 2.4 yards after contact per rush before injuring his ankle in Week 14.
-- ESPN Stats & Information
ESPN The Mag: Insider's View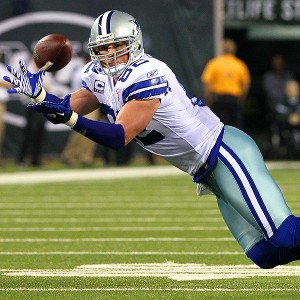 (Photo by Al Pereira/New York Jets/Getty Images )
Jason Witten: Sure-handed TE.
Best Unit: Wide receivers/tight ends
Losing WR Laurent Robinson and TE Martellus Bennett leaves a frightening lack of depth. But the trio of Jason Witten, Miles Austin and Dez Bryant is scary good. Witten, once he recovers from a lacerated spleen, is a weapon at TE. Austin was down a bit in 2011, but that might have been related to a lack of post-lockout fitness. Bryant is one of the NFL's five most talented receivers; now it's time for him to reach his potential.
Worst Unit: Offensive line
Tyron Smith will be an elite lineman soon, but he could struggle in Year 2 as he switches from right to left tackle, a position he played sparingly in college. I don't see a single starting-caliber center or guard, so Tony Romo will face lots of interior pressure, and Dallas will struggle to run up the middle.
-- Gary Horton
• AccuScore projects every team, every game