Ron Chenoy/US Presswire
JOHN CLAYTON QB RANKING (6)
: After missing all of last season, future Hall of Famer Peyton Manning is starting anew in Denver. He enters the 2012-13 season with 399 career touchdown passes.
Expert Picks (Consensus: first)
The Broncos finished first in the AFC West last season with an 8-8 record. For more coverage, visit: ESPN.com's AFC West blog … on Twitter | Clubhouse | More predictions
ANALYST
PREDICTION
Bill
Williamson
ESPN.com

DIVISION FINISH: 2 Yes, Manning is in the division, but the Broncos have to prove they can continue to make strides on defense and deal with the second-toughest schedule in the NFL.
John
Clayton
ESPN.com

DIVISION FINISH: 2 I'd take 85 percent of Manning in a second. His presence, leadership and mind should allow the Broncos to exceed last year's 8-8 record. A tough schedule, though, will make it difficult to get above nine or 10 wins.

Adam
Schefter
ESPN.com

DIVISION FINISH: 2 Few teams will be watched more closely, and no quarterback will be scrutinized more than one of the all-time greats.
Jeffri
Chadiha
ESPN.com

DIVISION FINISH: 1 Everybody in Denver is excited about Manning's arrival. The key is whether his supporting cast can play as well as it did last season.
Ashley
Fox
ESPN.com

DIVISION FINISH: 1 This division race will be tight top to bottom, but Peyton Manning will be the Peyton Manning of old. Look out.
Intelligence Report
Five things you need to know about the Broncos:
1. All-in on Manning: To a person in this organization, everyone is on board with the Peyton Manning Experience. The confidence in Denver is sky-high. The Broncos went through a difficult time toward the end of the Mike Shanahan era and during the disastrous 23-month Josh McDaniels era. But with the combination of respected second-year coach John Fox and Manning, there is an air of professionalism and expectation in Denver that has been unmatched for years.
2. The Broncos feel focused on defense: The Broncos made defensive progress last year in Fox's first season as coach and in Dennis Allen's first season as a defensive coordinator. Denver went from No. 32 in the NFL in defense in 2010-11 to No. 20 last season. Some would think the loss of Allen to Oakland as head coach would be a negative for the Broncos, especially because the Broncos are now on their seventh defensive coordinator in seven years. However, that is not the case because Fox brought in former Jacksonville head coach Jack Del Rio to replace Allen. Del Rio was Fox's defensive coordinator in Carolina 10 years ago. The Broncos respect and like Allen. He did a good job in Denver. But the Broncos are very comfortable with the Fox-Del Rio defensive leadership. They don't feel like they took a step backward.
3. Great locker room: The Broncos saw one of the great leaders in NFL history retire when safety Brian Dawkins hung 'em up in the offseason. However, the Broncos actually will have more leadership this season. Of course, Manning brings a priceless amount of leadership to the offense. There's not a better offensive leader in the game. On defense, Denver signed linebacker Keith Brooking and safety Jim Leonhard. Both are role players, but both have strong leadership capabilities. The defense was already in good shape with cornerback Champ Bailey leading the group. But Brooking and Leonhard give Denver an abundance of leadership -- and you can never have enough.
4. Hillman a key: The Broncos expect rookie running back Ronnie Hillman to be a big part of the offense. The third-round pick is explosive and can help in the running and receiving games. Fox has compared Hillman to a Reggie Bush or Darren Sproles-type player. He should be a good complement to the more rugged Willis McGahee. Expect Manning to try to utilize Hillman often out of the backfield.
5. Middle of defense is vital: The Broncos are strong on the edges of the defense. But they must show they are improved in the middle -- at defensive tackle, middle linebacker and safety. Denver is confident it has improved in those areas. It better have, because that's where stopping the run starts. The Broncos will be fine in pass coverage, but the defense will wear down if the run defense isn't solidified.
-- Bill Williamson, ESPN.com
Inside The Numbers
Manning was the NFL's biggest offseason acquisition. From 2008 to 2010, he went up against new divisional opponents the Chiefs, Raiders and Chargers a combined four times during the regular season. Manning averaged nearly 40 fewer passing yards per game against those teams than he did against AFC South opponents and both his Total QBR (81.6 to 69.9) and yards per attempt (7.4 to 5.8) dropped significantly.
• The Broncos' defense sent five or more pass-rushers on 46.3 percent of pass plays last season, the third-highest rate in the league. However, the Broncos struggled when committing extra defenders to the pass rush, allowing 10 touchdowns with only two interceptions.
• Broncos running back Willis McGahee was fifth in the NFL last season with 579 yards after contact, averaging 2.0 yards after contact per rush. However, in the red zone McGahee averaged only 0.6 yards after contact per rush, half the league average of 1.2. The Broncos gained 98 rushing yards in the red zone in 2011 (28th in the NFL) and scored six red zone rushing touchdowns (29th).
• Broncos kicker Matt Prater was a big part of Denver's success last season. Prater made 11 of 12 field goal attempts in the second half or overtime last season, including four game-winning kicks. Prater was the only kicker with three overtime field goals made last season (3-0), with no one else even attempting three.
-- ESPN Stats & Information
ESPN The Mag: Insider's View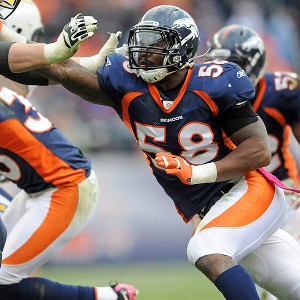 (Photo by Ron Chenoy/US Presswire )
Von Miller: Keyed defensive turnaround.
Best Unit: Linebackers
The Broncos drafted Von Miller last year to lead the shift to a 4-3. His 11.5 sacks invigorated the pass rush, which went from last (23 sacks) to tied for 10th (41). MLB Joe Mays had a breakout season (75 tackles), and OLB D.J. Williams had five sacks but will miss six games this season because of a supension for performance enhancers. Fortunately, super-sub Wesley Woodyard led the team with 97 tackles last season.
Worst Unit: Defensive line
Elvis Dumervil got his wish to play defensive end and had 9.5 sacks. So how is this the worst unit? Denver hasn't had a run defense ranked above 22nd since 2006. DE Robert Ayers seemingly has more position changes than sacks. The tackles are a mystery. Ty Warren missed last season with a torn triceps, and Justin Bannan has switched teams three straight offseasons.
-- Gary Horton
• AccuScore projects every team, every game