AP Photo/David J. Phillip
JOHN CLAYTON QB RANKING (12)
: Matthew Stafford had a breakout year in 2011. The former No. 1 pick passed for 5,038 yards and 41 TDs, propelling Detroit to the playoffs.
Expert Picks (Consensus: third)
The Lions finished second in the NFC North last season with a 10-6 record. For more coverage, visit: ESPN.com's NFC North blog … on Twitter | Clubhouse | More predictions
ANALYST
PREDICTION
Kevin
Seifert
ESPN.com

DIVISION FINISH: 3 The Lions are a playoff-caliber team with an explosive passing game that plays in arguably the NFL's best division. Injuries and uncertainty in the secondary could plague them against Aaron Rodgers and Jay Cutler.
John
Clayton
ESPN.com

DIVISION FINISH: 3 Despite questions about the running offense, the Lions should average close to 30 points a game, but the problem is their defensive back seven.

Adam
Schefter
ESPN.com

DIVISION FINISH: 3 Questions at running back and cornerback drag down the rest of a talented roster.
Jeffri
Chadiha
ESPN.com

DIVISION FINISH: 2 The combination of Matthew Stafford and Calvin Johnson should continue to excite fans in Motown. A reliable running game would make life even easier on a team that needs more balance.
Ashley
Fox
ESPN.com

DIVISION FINISH: 3 After making the playoffs last season, there are huge expectations for the Lions. Going to be a war in the division.
Intelligence Report
Five things you need to know about the Lions:
1. Stafford-Johnson combination: Any team with Matthew Stafford at quarterback and Calvin Johnson at receiver has a chance to do big things. Stafford joked this summer that half of the NFL still doesn't realize he threw for 5,038 yards last season, but the Lions' opponents sure do. Beyond their physical tools, Stafford and Johnson have reached a level of chemistry that makes a big play possible at any time. And Johnson is always the first player Stafford looks for in the red zone.
2. Backfield options: The Lions entered the summer believing they would finally get a chance to employ a two-pronged running attack featuring Jahvid Best and Mikel Leshoure. At this point, they would be happy to have one of them at their disposal for the majority of the season. Best has not yet been cleared for contact because of a concussion suffered last October and will open the season on the physically unable to perform (PUP) list. Leshoure was limited in training camp by a hamstring injury and has been suspended for the first two games of the year for violating the NFL's substance-abuse policy. That leaves the Lions likely relying on Kevin Smith as their primary runner early in the season.
3. Discipline issues: There is not much that coach Jim Schwartz can do about the Lions' string of offseason arrests, all of which occurred during players' off time. But he worked hard this summer to address another discipline issue: penalties. Players said during training camp that Schwartz had ramped up the pressure to minimize correctable penalties, under the implied threat of a loss of playing time. The Lions have a playoff-caliber team, but no team can give away first downs and yardage the way the Lions have in recent years and expect to make a playoff run.
4. Stout defensive line: The Lions' already-strong defensive line should be improved this season. The camp absence of defensive end Cliff Avril revealed the Lions have a pretty good pass-rusher in backup Willie Young, who should see significant playing time spelling Avril and fellow starter Kyle Vanden Bosch. Defensive tackle Ndamukong Suh appears determined to return the public discussion of his career to the field, and 2011 first-round pick Nick Fairley was healthy for the first time since the start of his rookie season. Fairley didn't make a huge preseason impact, but the Lions think he will grow into a havoc-wreaking role and could also give them some help as a defensive end, as well.
5. Secondary concerns: The Lions spent a good portion of their summer looking for combinations of defensive backs that can help them improve their pass defense. The only healthy player we know will be a starter is cornerback Chris Houston. Safety Louis Delmas will start once he returns from knee surgery, but in the meantime the Lions gave veterans John Wendling and Erik Coleman a chance to unseat fellow safety Amari Spievey. The Lions also looked at Jacob Lacey, rookie Bill Bentley and veteran Alphonso Smith at the cornerback spot vacated by the released Aaron Berry.
-- Kevin Seifert, ESPN.com
Inside The Numbers
In 2011, Matthew Stafford became the fourth different quarterback to throw for more than 5,000 yards in a season in NFL history. About 61 percent of those yards (3,085 -- fourth most in the NFL) came from offensive sets with three or more wide receivers. Stafford's 478 drop backs in those receiver-heavy sets were the second most in the NFL, and his 20 touchdowns and plus-12 TD-INT differential were both third best.
Stafford excelled against a standard pass rush (75.1 QBR, plus-24 TD-INT differential). Opposing defenses sent four or fewer rushers on 75.3 percent of pass plays, the second-highest rate faced by any team in the NFL (Bills, 76.1 percent). Stafford was not as effective against added pressure (44.4 QBR, plus-1 TD-INT differential), and opposing defenses may try to turn up the heat against the Lions.
• Calvin Johnson was the only receiver in the league to gain more than 1,000 receiving yards in between the numbers (1,050) last year. Only Wes Welker had more receptions between the numbers (78) than Johnson's 64, and Johnson's 51 first downs over the middle led the league. Johnson also had six receptions of 30 yards or more between the numbers, tied for most in the NFL.
• The Lions sent four or fewer pass-rushers on 78.9 percent of drop backs last season, the fourth-highest rate in the NFL. When sending four or fewer pass-rushers, the Lions' defense ranked sixth in the NFL, holding opposing quarterbacks to a 53.6 QBR. Defensive end Cliff Avril led the team and tied for 11th in the NFL with 9.0 sacks as part of a four-man rush.
-- ESPN Stats & Information
ESPN The Mag: Insider's View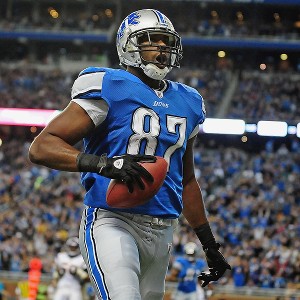 (Photo by Andrew Weber-/US Presswire )
Brandon Pettigrew: Headache for defenses.
Best Unit: Wide receivers/tight ends
If this group featured Calvin Johnson and a bunch of guys who had never played football, it still might be a strength. But there is plenty of other talent on hand. Brandon Pettigrew and Tony Scheffler cause matchup problems in double-TE sets. Adding WR Ryan Broyles to Titus Young and Nate Burleson gives Matthew Stafford an impressive group of targets.
Worst Unit: Defensive backs
The farther from the line you move, the weaker this defense gets. Safety Louis Delmas is at his best in the box. The pass D will be even worse after losing CB Eric Wright to Tampa Bay. Detroit will force corners Chris Houston and Bill Bentley to play extremely conservatively to eliminate big plays.
-- Gary Horton
• AccuScore projects every team, every game