Justin K. Aller/Getty Images
JOHN CLAYTON QB RANKING (24)
: With Peyton Manning in Denver, rookie Andrew Luck is the new man in Indy. The No. 1 overall pick was solid in the preseason.
Expert Picks (Consensus: fourth)
The Colts finished fourth in the AFC South last season with a 2-14 record. For more coverage, visit: ESPN.com's AFC South blog … on Twitter | Clubhouse | More predictions
Paul
Kuharsky
ESPN.com

DIVISION FINISH: 4 If the Colts stay healthy, I expect they'll win a few more games than most people expect. But they've got some holes and soft spots -- particularly on the offensive line and in the secondary -- to go with a ton of youth.
John
Clayton
ESPN.com

DIVISION FINISH: 4 Andrew Luck should throw for between 3,500 and 4,000 yards if he stays healthy. Facing five first- or second-year starting quarterbacks gives Luck the chance to have a winning record at home.

Adam
Schefter
ESPN.com

DIVISION FINISH: 2 With Andrew Luck leading the way, the Colts will be better than people expect.
Jeffri
Chadiha
ESPN.com

DIVISION FINISH: 4 Indianapolis blew up its entire franchise and started anew with rookie QB Andrew Luck. The Colts won't be much better than they were during a two-win season in 2011.
Ashley
Fox
ESPN.com

DIVISION FINISH: 4 Andrew Luck looks like a can't-miss star.
Intelligence Report
Five things you need to know about the Colts:
1. Andrew Luck won't look like a rookie: The No. 1 overall pick learns quickly. When he struggled some early in Pittsburgh in the second week of the preseason, he rebounded briskly, diagnosing the Steelers more effectively as he went along and rallying his team from a two-touchdown deficit. The organization worked hard to surround Luck with good support, spending most of its resources to do so. He can make all the throws and has great anticipation and feel. Defenses will have to find the right mix of pass rush and coverage complication to make things challenging for him.
2. Look for lots of motion on offense: Reggie Wayne is going from being a stationary guy to a receiver who will motion and shift, perhaps on every snap. We'll see the same with the rest of the receivers and tight ends in coordinator Bruce Arians' offense. It will make defenses react and give Luck more pre-snap things to interpret. It may also help create mismatches for the Colts to target and exploit. The first time you see it, you may do a double take because it's so strikingly different.
3. The defense rates as exotic: In the Tampa 2 put in place by Tony Dungy and run for years by the Colts, there weren't a lot of moving parts. Small, fast defenders could chase anything down, and blitzes out of the 4-3 were rare. New coach Chuck Pagano has brought a hybrid 3-4 scheme that creates much more mystery about who's rushing and who's dropping. There will be bigger linemen and more man coverage on the secondary. Critics of the old scheme might have called it bland and predictable. Some of the current Colts defenders are branding this one exotic.
4. Pagano gives them swagger: The Colts' roster turnover has been enormous, and general manager Ryan Grigson will continue to work to unearth good players for the bottom of the roster who can help. With so many newcomers and so much youth, Pagano can really put his stamp on this group. He's talked to his players about his goal to "build the monster," with that monster being this team. He's passed out T-shirts that say "B.T.M." on the front and list preseason league power rankings on the back -- rankings that have the Colts 32nd.
5. There will be a new emphasis on special teams: Under Bill Polian's leadership, the Colts de-emphasized special teams beyond kicking and punting. The roster construction didn't allow for many of the sort of veteran backups who usually make up the core of special teams. And Peyton Manning had a way of overcoming any yardage deficiencies that resulted from special-teams play. Pagano worked under John Harbaugh in Baltimore, and Harbaugh came from a special-teams background. Indy's special-teams coordinator, Marwan Maalouf, came with Pagano from the Ravens.
-- Paul Kuharsky, ESPN.com
Inside The Numbers
Peyton Manning's neck injury was blamed for the Colts' dismal season, but the defense struggled. Indianapolis had the most conservative defense in the league last season, sending five or more pass-rushers on just 18.1 percent of opponents' dropbacks.
The conservative Colts simply didn't generate enough pressure. The Colts' defense registered a sack once every 18.6 dropbacks, eighth worst in the NFL. Opposing quarterbacks were under duress or hit on only 71 of 493 pass attempts (14.4 percent) in 2011. This was the fourth-lowest rate in the league, ahead of only the Patriots (14.0 percent), Titans (14.0) and Bills (11.2).
This lack of pressure up front made pass coverage difficult for Colts defensive backs. No team had fewer interceptions than Indianapolis' eight.
• Indianapolis did not use tight ends effectively to stretch the field last season. Colts quarterbacks were 2-of-7 (28.6 percent) on throws at least 15 yards downfield to tight ends last season. Rookie teammates Andrew Luck and Coby Fleener excelled in this area at Stanford, connecting on 15 of 24 throws (62.5 percent) and seven touchdowns on those deep throws.
• Indianapolis quarterbacks completed 41.0 percent of red zone passes last season and posted a 9-1 TD-Int ratio. Only the Rams and Chiefs had fewer passing touchdowns in the red zone last year than the Colts. In his last two years at Stanford, Luck completed 70.0 percent of his red zone throws and threw 46 touchdowns with one interception.
-- ESPN Stats & Information
ESPN The Mag: Insider's View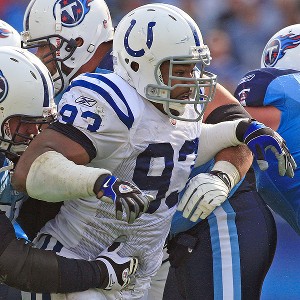 (Photo by Ronald C. Modra/Sports Imagery/Getty Images )
Dwight Freeney: Making a transition.
Best Unit: Linebackers
With the Colts' switch from a 4-3 to a 3-4 under new defensive coordinator Greg Manusky, the defense's two best players, DEs Dwight Freeney and Robert Mathis, become OLBs -- at least on early downs. ILBs Kavell Conner and Pat Angerer (likely out through Week 3 with a broken foot) are underrated and athletic, and they will stay on the field for all three downs. This group can blitz from any direction and should create a lot of big plays.
Worst Unit: Offensive line
The Colts return only two starters from 2011, LT Anthony Castonzo and LG Jeff Linkenbach; the rest are cast-offs and underachievers. They'll try to be a more physical man-blocking group, but that's tough to do with guys built for finesse, not power. Pass protection could be an issue.
-- Gary Horton
• AccuScore projects every team, every game