Brad Barr/US Presswire
JOHN CLAYTON QB RANKING (30)
: Rookie Ryan Tannehill was the Dolphins' most impressive QB during the preseason, and the team's new coaching staff believes he's ready to start right away.
Expert Picks (consensus: fourth)
The Dolphins finished third in the AFC East last season with a 6-10 record. For more coverage, visit: ESPN.com's AFC East blog … on Twitter | Clubhouse | More predictions
ANALYST
PREDICTION
James
Walker
ESPN.com

DIVISION FINISH: 4 This is a rebuilding year for the Dolphins. There are too many changes all across the board for Miami to be a legitimate threat.
John
Clayton
ESPN.com

DIVISION FINISH: 4 The plan was to slowly develop Ryan Tannehill on an offense in need of wide receivers. David Garrard's knee surgery and Matt Moore's average training camp made Tannehill the winner for the starting job.

Adam
Schefter
ESPN.com

DIVISION FINISH: 4 On the 40-year anniversary of the NFL's lone unbeaten team, this Dolphins team will struggle to make history.
Jeffri
Chadiha
ESPN.com

DIVISION FINISH: 4 A rookie quarterback and a weak receiving corps shouldn't breed much optimism in South Florida. The Dolphins are at least two years away from being competitive.
Ashley
Fox
ESPN.com

DIVISION FINISH: 4 Miami general manager Jeff Ireland needs to find Ryan Tannehill some receivers to give him a chance.
Intelligence Report
Five things you need to know about the Dolphins:
1. Dolphins are finding their identity: Everything is new in Miami. The Dolphins have a new head coach, new offense, new defense and new faces at quarterback. With all these changes, it's natural to have growing pains. The players are getting used to a new program under rookie head coach Joe Philbin. A perfect example was the quick release of Chad Johnson following his arrest on charges of simple domestic battery. On the field, Miami needs to find what it does well despite holes on the roster.
2. Ryan Tannehill is the future and present: The days of drafting a top quarterback and putting that player on ice for a year or two are over. Things move fast in today's NFL. Regimes no longer have four or five years to establish a winning program. Therefore, top rookies are playing sooner than ever. Tannehill is the only first-round quarterback who wasn't handed the job right away. But Tannehill has been the Dolphins' most impressive quarterback in the preseason. Tannehill is clearly the quarterback of the future. He's also the quarterback of the present.
3. Philbin learning on the job: Philbin has plenty of experience at the pro and collegiate level. But nothing compares to the pressure and responsibility of being an NFL head coach. Philbin already got a taste this summer with handling HBO's "Hard Knocks" and the Chad Johnson situation. Also, it's hard to gauge his in-game planning in the exhibition season, but this will be a huge part of Philbin's success. The Dolphins won't be able to win every week purely on talent. Philbin's coaching and strategy will be key.
4. Depth is a concern: For Miami to compete, this team must stay healthy. The Dolphins have good players at several positions. Players such as left tackle Jake Long, defensive end Cameron Wake, linebacker Karlos Dansby and defensive tackle Paul Soliai are talented. But the depth behind these players leaves a lot to be desired. Wake, Dansby and starting linebacker Kevin Burnett have missed time this preseason, and it significantly hurt the defense.
5. Passing game is thin: Miami created a huge hole on its roster after trading No. 1 receiver Brandon Marshall to the Chicago Bears for two third-round picks. The Dolphins traded Marshall due to locker room concerns, but the move hurts the passing game on the field. Miami hoped Johnson could fill the hole, but that move didn't pan out. Now, the Dolphins are relying on a mostly unknown group of receivers to step up in their West Coast offense. Players such as Legedu Naanee, Davone Bess, Brian Hartline and Marlon Moore all will get a chance to produce.
-- James Walker, ESPN.com
Inside The Numbers
Quarterback Matt Moore was one of 11 passers last season to complete 200 passes, have a 60 percent completion percentage, average at least 7.0 yards per attempt and finish with a Total QBR of at least 50.0. He also averaged 9.9 air yards per attempt to finish third among qualified passers.
The Dolphins averaged 4.3 yards after the catch in 2011, last in the NFL. With the departure of Brandon Marshall, the Dolphins lost their leader in targets (141), receptions (81) and touchdowns (6), as well as 35 percent of their receiving yards (1,214).
With a new head coach and a new offensive coordinator, the Dolphins have room to grow. On screen passes, the Dolphins finished 30th in yards per play and 31st in total attempts last season. Reggie Bush, however, recorded his first 1,000-yard rushing season, which helped the Dolphins improve their play-action passing game by 1.5 yards per play from 2010, the biggest growth in the AFC.
On defense, the Dolphins will change to a base 4-3 defense despite being strong on that side of the ball last year. Opponents ran 384 plays that resulted in no gain or a loss of yardage against Miami last season, tied with the Jets for sixth in the league. The Dolphins allowed just 3.7 yards per rush, third in the NFL.
-- ESPN Stats & Information
ESPN The Mag: Insider's View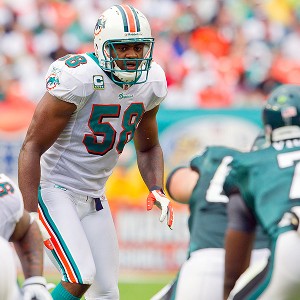 (Photo by Jeff Lewis/Icon SMI )
Karlos Dansby: Defensive anchor.
Best Unit: Linebackers The Dolphins are one of many teams switching from a 3-4 to a 4-3, but they will still show hybrid looks to take advantage of rush specialist Cameron Wake, who will be at DE in their base set. Veteran Karlos Dansby can anchor the middle, which should allow OLBs Koa Misi and Olivier Vernon (a rookie) to provide an improved blitz from the edge.
Worst Unit: Wide receivers It's hard to run a West Coast scheme that relies on yards after the catch when the personnel isn't explosive. Davone Bess is the top receiver -- and he's a slot guy. On the outside, Legedu Naanee can't stretch the field and will easily be handled in single coverage. To compensate, the Fins must use the pass-catching skills of TE Anthony Fasano and RB Reggie Bush.
-- Gary Horton
• AccuScore projects every team, every game