Tom Dahlin/Getty Images
JOHN CLAYTON QB RANKING (26)
: Christian Ponder showed flashes as a rookie, and he's looking to solidify himself as a legitimate NFL starter in Year 2.
Expert Picks (Consensus: fourth)
The Vikings finished fourth in the NFC North last season with a 3-13 record. For more coverage, visit: ESPN.com's NFC North blog … on Twitter | Clubhouse | More predictions
ANALYST
PREDICTION
Kevin
Seifert
ESPN.com

DIVISION FINISH: 4 Quarterback Christian Ponder gives the rebuilding Vikings an anchor, and tailback Adrian Peterson has made a quick recovery from major knee surgery. But this is a team that's probably a year or two away from competing for the playoffs.
John
Clayton
ESPN.com

DIVISION FINISH: 4 Expectations are low for the Vikings, who are in rebuilding mode. The key to the season is developing Christian Ponder into a solid NFL quarterback.

Adam
Schefter
ESPN.com

DIVISION FINISH: 4 Headed in the right direction, but doing it in the wrong division.
Jeffri
Chadiha
ESPN.com

DIVISION FINISH: 4 RB Adrian Peterson is trying to bounce back from a torn ACL, QB Christian Ponder is still growing and the defense is suspect at best. It's going to be a long year in Minnesota.
Ashley
Fox
ESPN.com

DIVISION FINISH: 4 The Vikings are in rebuilding mode, but they are pleased by the improvement Christian Ponder has already shown. Will want to see more.
Intelligence Report
Five things you need to know about the Vikings:
1. Ponder's improvement: After his first full professional offseason, quarterback Christian Ponder demonstrated notable improvement this summer. He was more accurate, released the ball quicker and had far better command of the offense during training camp and the preseason. Ponder has without question taken the necessary leap from the first to his second year in the NFL. The problem: Ponder almost certainly remains the fourth-best quarterback in the elite NFC North. He isn't likely to elevate above Aaron Rodgers, Jay Cutler or Matthew Stafford this season. It'll be tough for the Vikings to rise in the standings via quarterback play alone.
2. Middle defense: The Vikings initiated an overhaul of their middle defense and entered training camp looking for new starters at nose tackle, middle linebacker and both safety positions. Reviews were mixed during the preseason and the makeover could be a multiyear project. Nose tackle Letroy Guion was slowed by a knee sprain and middle linebacker Jasper Brinkley appeared tentative after missing 2011 because of a hip injury. There is some hope at safety, however, where first-round pick Harrison Smith quickly ascended to a starting role. Smith is smart and aggressive. Second-year safety Mistral Raymond also appeared to have taken a step from his rookie season.
3. Coaching protégé: As he entered his second full season as Vikings head coach, Leslie Frazier wanted to make sure the defense he once coordinated had his signature on it. So he demoted coordinator Fred Pagac back to linebackers coach and hired Alan Williams, who, like Frazier, once coached under Tony Dungy, to be the new coordinator. If all goes well, Williams' defense will look like the run-stopping, more-than-occasional-blitzing and Cover 2 scheme that Frazier successfully ran from 2007 to 2010.
4. Big-legged kicker: The Vikings parted ways with veteran place-kicker Ryan Longwell shortly after drafting Georgia's Blair Walsh, and we found out why this summer. Special-teams coordinator Mike Priefer addressed a technical glitch that might have contributed to a shaky season at Georgia, and Walsh had an impressive training camp and preseason. He has powerful leg and was routinely drilling 55-yard kicks in practice with room to spare. He also booted a few kickoffs between the uprights and should be counted on for regular touchbacks while playing indoors at the Metrodome this season.
5. Early depth problems: The Vikings won't have receiver Jerome Simpson for their first three games because of an NFL suspension. Tailback Adrian Peterson is on track to play in Week 1 after major knee surgery, but it wouldn't be surprising if he split more time than usual with backup Toby Gerhart in the early part of the season. A pessimist would say the Vikings won't have much offensive firepower early in the season. An optimist would say they'll build as the season progresses, getting a nice boost from Simpson in Week 4 and, they hope, the real Adrian Peterson back by midseason if not earlier.
-- Kevin Seifert, ESPN.com
Inside The Numbers
Christian Ponder faced five or more pass-rushers on 43.7 percent of his drop backs last season, the highest rate among 34 qualified quarterbacks. The constant barrage of added pressure led to mixed results.
Ponder completed only 39.8 percent of his passes against such pressure last season, besting only Tim Tebow (30.7) among qualified quarterbacks. The low completion percentage may have been due to the Vikings' struggle to block extra pass-rushers.
Ponder was sacked or under duress (forced to move or alter throw due to pressure) on 39 percent of his drop backs against five or more rushers last season, compared to 23 percent of his drop backs against four or fewer rushers.
The positive is that Ponder limited turnovers in those situations. He threw for eight touchdowns and four interceptions when facing five or more rushers last season. The plus-4 differential was bested by just 10 quarterbacks, and was equal to or better than the likes of Matt Ryan, Ben Roethlisberger, Matthew Stafford, Jay Cutler and Philip Rivers.
• Before the Vikings' Week 9 bye, Percy Harvin had played in 51.2 percent of the team's snaps. After the bye, Harvin played in 66.2 percent of the snaps.
• Jared Allen recorded all 22 of his sacks last season when lining up as the right defensive end. Jason Pierre-Paul had the second-most sacks as a right defensive end last season with 12.
-- ESPN Stats & Information
ESPN The Mag: Insider's View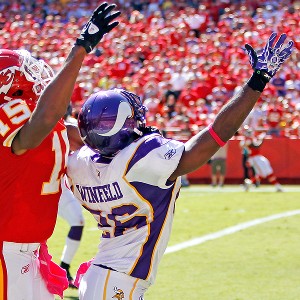 (Photo by AP Photo/Paul Spinelli )
Antoine Winfield: Leads young secondary.
Best Unit: Running backs
Adrian Peterson returns from ACL surgery, but even if he isn't quite himself to start the season, he's still an all-time great and in his prime. No one in the league is better. The Vikings also have strong depth behind him. Toby Gerhart has better feet and elusiveness than he is given credit for.
Worst Unit: Defensive backs
This might actually be the worst group at any position in the NFL. And that's a huge problem, since Minnesota plays six games a year against Aaron Rodgers, Matthew Stafford and Jay Cutler. Antoine Winfield is still a quality corner, but he's 35. Chris Cook could become a good CB in Minnesota's Cover 2, but there's a reason the Vikes took three DBs in the draft -- including two safeties -- who could start as rookies.
-- Gary Horton
• AccuScore projects every team, every game