Elsa/Getty Images
JOHN CLAYTON QB RANKING (2)
: Tom Brady had his first 5,000-yard passing season (5,235) in 2011, when he completed more than 65 percent of his passes for the third straight year.
Expert Picks (Consensus: first)
The Patriots finished first in the AFC East last season with a 13-3 record. For more coverage, visit: ESPN.com's AFC East blog … on Twitter | ESPN Boston | Clubhouse | More predictions
ANALYST
PREDICTION
James
Walker
ESPN.com

DIVISION FINISH: 1 A stacked roster and 32nd-ranked strength of schedule make the Patriots a virtual lock to win the AFC East. Only major injuries could derail New England within the division.
John
Clayton
ESPN.com

DIVISION FINISH: 1 Tom Brady, loaded with weapons, should breeze through the league's easiest schedule to be the No. 1 seed in the conference. What the Pats won't know until the playoffs is how good they are.

Adam
Schefter
ESPN.com

DIVISION FINISH: 1 They supplemented an explosive offense with two top picks, Chandler Jones and Dont'a Hightower, who will improve New England's defense.
Jeffri
Chadiha
ESPN.com

DIVISION FINISH: 1 A failed Hail Mary pass was the difference between their winning the Super Bowl last season. They're good enough to get back to that game in February.
Ashley
Fox
ESPN.com

DIVISION FINISH: 1 Bill Belichick and Tom Brady are going for their 10th division title together. With a rebuilt defense and plenty of offensive weapons, they should get it.
Intelligence Report
Five things you need to know about the Patriots:
1. The urgency is there: The Patriots know that future Hall of Fame quarterback Tom Brady, 35, won't play forever. Brady is down to his last few years in the NFL, and the Patriots are showing the urgency to make another Super Bowl run by surrounding Brady with a very strong supporting cast. Receivers Wes Welker and Brandon Lloyd and tight ends Rob Gronkowski and Aaron Hernandez provide tremendous flexibility in the passing game. New England and Brady will be able to attack underneath or deep.
2. Rookie impact: The Patriots drafted defense in every round of this year's draft except the seventh, and the decision is paying early dividends. First-round picks Chandler Jones and Dont'a Hightower look ready to make an impact right away in their rookie season. Jones, a defensive end, has added a much-needed pass rush off the edge, and Hightower has added toughness at linebacker. Second-rounder Tavon Wilson was a controversial pick who hasn't overwhelmed. He should add depth to the secondary and potentially help on special teams.
3. Running game in young hands: The Patriots put a lot of faith in their young running backs by letting veteran BenJarvus Green-Ellis walk in free agency. Green-Ellis was not spectacular, but he was a good fit for New England because he ran hard between the tackles and didn't fumble. The Patriots are trying to put the same level of trust this season in second-year tailbacks Stevan Ridley and Shane Vereen. Both players have potential but lack experience. New England will pass the ball a lot this year. Ridley and Vereen won't get a lot of carries, but they must take advantage of their opportunities.
4. Offensive line depth an issue: New England had to handle a lot of uncertainty on the offensive line this summer. Left tackle Matt Light and guard/tackle Robert Gallery retired. Pro Bowl guard Logan Mankins is recovering from a torn ACL, and right tackle Sebastian Vollmer missed virtually all of training camp with a back injury. It's been a mix-and-match group all offseason, but the Patriots hope to have things figured out by Week 1.
5. Corners need to step up: The Patriots had a lot of problems in pass coverage last year. New England was 31st against the pass and gave up chunks of yards. Cornerbacks such as Kyle Arrington, Devin McCourty and Sterling Moore were very inconsistent. Improvement from this group will go a long way for New England's defense.
-- James Walker, ESPN.com
Inside The Numbers
The Patriots had plenty of success on offense last season, but the defense struggled to create pressure on quarterbacks. Opponents attempted throws under duress (forced to move or alter throw due to pressure) or were hit while throwing against the Patriots on 14.1 percent of pass attempts, 30th in the league.
The Patriots struggled to attack the line of scrimmage, finishing 30th overall and 31st at linebacker in tackles for loss. The addition of defensive end Chandler Jones and linebacker Dont'a Hightower through the draft and free agent Bobby Carpenter could be the difference in that area.
On offense, the Patriots lined up with two or more tight ends on 79.5 percent of all plays last season.
The Patriots' reliance on multiple-tight-end formations has not affected their ability to throw the ball downfield. Tom Brady improved his performance on passes of 15-plus air yards from 2010 to 2011 (12-3 TD-to-INT ratio in 2011 compared to 9-4 in 2010).
Since 2008, Brandon Lloyd had the most targets (137) in the NFL without a drop on passes that traveled at least 15 air yards downfield. During the same time span, the Patriots ranked 28th in the NFL with 22 drops on passes of that length.
-- ESPN Stats & Information
ESPN The Mag: Insider's View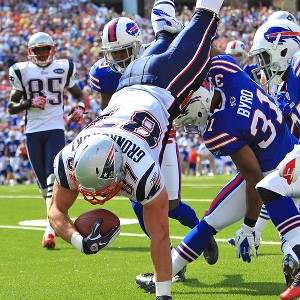 (Photo by Kevin Hoffman/US Presswire)
Rob Gronkowski: 18 total TDs in 2011.
Best Unit: Wide receivers/tight ends
No other team in the league can match this group for productivity. The Pats can spread the field with multi-receiver sets or show bunch looks that use motion. Either way, they excel at finding one-on-one situations for Wes Welker and TEs Rob Gronkowski and Aaron Hernandez, who are masters at adjusting routes on sight alone.
Worst Unit: Defensive backs
The secondary regressed in 2011, giving up too many big pass plays. Although the Pats prefer more man looks to allow for more blitzes, they have to mix in some zone to prevent those downfield strikes. Corners Devin McCourty and Ras-I Dowling and safeties Patrick Chung and Steve Gregory lack elite talent, so they'll have to stick to the schemes.
-- Gary Horton
• AccuScore projects every team, every game