AP Photo/Rusty Costanza
JOHN CLAYTON QB RANKING (3)
: Drew Brees was off the charts in 2011, setting single-season records for passing yards (5,476), completions (468), completion percentage (71.2) and 300-yard games (13).
Expert Picks (Consensus: second)
The Saints finished first in the NFC South last season with a 13-3 record. For more coverage, visit: ESPN.com's NFC South blog … on Twitter | Clubhouse | More predictions
ANALYST
PREDICTION
Pat
Yasinskas
ESPN.com

DIVISION FINISH: 1 Yeah, I know a lot people are looking at all of the offseason adversity and predicting a big drop-off for the Saints. I'm not one of them. This team is loaded on offense, and the defense should be better than it was the past two seasons.
John
Clayton
ESPN.com

DIVISION FINISH: 2 No team has had more problems than the Saints. They lost two key coaches and a general manager because of the bounty controversy, and now they enter the season with few healthy linebackers. So much is on Drew Brees.

Adam
Schefter
ESPN.com

DIVISION FINISH: 1 A real chance to become the first team to play a Super Bowl on its home field.
Jeffri
Chadiha
ESPN.com

DIVISION FINISH: 3 New Orleans still has plenty of talent on the field. That won't be enough to make up for the absence of coach Sean Payton.
Ashley
Fox
ESPN.com

DIVISION FINISH: 2 It is difficult to doubt Drew Brees, but it's going to be an adjustment with the coaching switches.
Intelligence Report
Five things you need to know about the Saints:
1. Who's missing? Coach Sean Payton is serving a season-long suspension. Assistant head coach Joe Vitt has a six-game suspension, and general manager Mickey Loomis has an eight-game suspension. But aside from the coaches and the administrator, the impacts of the punishments from the bounty program should be minimal. Middle linebacker Jonathan Vilma, who has a season-long suspension, was a great player a few years ago, but his age caught up to him last season. The Saints went out and upgraded when they signed Curtis Lofton. Defensive end Will Smith will be missed while he's out the first four games, but players such as Junior Galette and Martez Wilson can be decent temporary fill-ins.
2. Sproles will be better: The coaching staff only just began to figure out how to use Darren Sproles last season, so it's a safe assumption he'll continue to get better. Sproles can make things happen as a runner, receiver and return man. Offensive coordinator Pete Carmichael is going to unveil new ways to get the ball into Sproles' hands.
3. Coach on the field: Drew Brees always has been highly motivated and competitive. He signed a $100 million contract in the offseason, and that alone should have Brees motivated to prove he deserves to be the best-paid player in the league. Oh, and he can just grab onto the us-against-the-world mentality the rest of the Saints are embracing.
4. Defense will be better: The Saints parted ways with defensive coordinator Gregg Williams long before we started to hear about the bounty drama. That's because Williams' defense was no longer getting the job done. He produced enough turnovers to help the Saints win a Super Bowl in his first season. In the two seasons after that, his defense didn't produce much of anything. It's now Steve Spagnuolo's job to get the defense fixed, and that may not be an impossible task. There is some individual talent, and Spagnuolo should be able to at least slow opposing offenses with a more balanced approach. You'll see very little of the type of gambling that was common in Williams' scheme.
5. O-line change: If there's one on-field area of concern, it's the offensive line. The Saints lost Carl Nicks to Tampa Bay in free agency. They quickly replaced him with Ben Grubbs, who is only a notch or two less of a player than Nicks. But the parting of Nicks and Jahri Evans means the Saints no longer have the NFL's best guard tandem, and that's siginificant. I've always thought Nicks and Evans made center Brian De La Puente and tackles Jermon Bushrod and Zach Strief look better than they actually are. Grubbs is solid, but I don't know if he's one of those guys who can make people around him better.
-- Pat Yasinskas, ESPN.com
Inside The Numbers
Darren Sproles played a vital role in the Saints' high-octane offense last season, averaging 7.6 yards per touch, which was first among running backs with at least 50 touches.
Sproles averaged 6.9 yards per rush attempt, best among qualified running backs, and did not fumble. He averaged 7.5 yards per rush, and scored two of his four rushing touchdowns on runs outside the tackles.
Sproles was also effective in the passing game, leading all running backs with 86 receptions and seven touchdowns. He was one of the NFL's top receiving threats, despite all of his passes coming on throws of 10 air yards or fewer. Sproles finished with 707 yards after the catch, second in the league behind Wes Welker (712).
• The Saints had one of the top red zone offenses in 2011, averaging 3.7 yards per play, best in the NFL. Tight end Jimmy Graham had eight red zone touchdowns, tied for third in the league.
• Drew Brees completed 57.6 percent of his throws of 15 air yards or more downfield last season with 18 touchdowns. Both figures were best among qualified quarterbacks.
-- ESPN Stats & Information
ESPN The Mag: Insider's View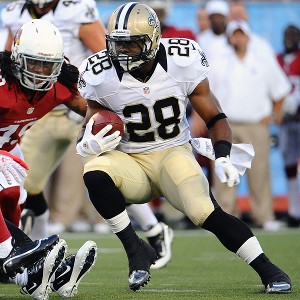 (Photo by Tim Fuller/US Presswire )
Mark Ingram: One of many options.
Best Unit: Running backs
We would have listed "offensive skill positions" if given the option, especially because TE Jimmy Graham is just starting to realize his potential. But the backs edge the receivers for top marks because the Saints lost Robert Meachem, and a healthy Mark Ingram still can be an elite feature back. Darren Sproles is the premier dual threat in the NFL, and Pierre Thomas offers a blend of Ingram's power and Sproles' versatility. When bruiser Chris Ivory is your fourth back, that means you're loaded.
Worst Unit: Defensive line
There's no glaringly weak group here, but the D-line does have questions. DE Will Smith is suspended for the first four games, and DT Sedrick Ellis has been an underwhelming pro.
-- Gary Horton
• AccuScore projects every team, every game