Mark J. Rebilas/US Presswire
JOHN CLAYTON QB RANKING (5)
: Eli Manning's 4,933-yard regular season was a prelude to an impressive postseason run that saw him throw for nine touchdowns against only one interception.
Expert Picks (Consensus: first)
The Giants finished first in the NFC East last season with a 9-7 record. For more coverage, visit: ESPN.com's NFC East blog … on Twitter | ESPN New York | Clubhouse | More predictions
ANALYST
PREDICTION
Dan
Graziano
ESPN.com

DIVISION FINISH: 1 The Giants are flawed, but they're strong where you need to be strong in this day and age -- the passing game. When the big games need to be won, the Giants will win them.
John
Clayton
ESPN.com

DIVISION FINISH: 2 A tough schedule, injuries at defensive tackle and questions at offensive tackle could hold the Giants back from repeating as Super Bowl champs, but they are good enough to make the playoffs.

Adam
Schefter
ESPN.com

DIVISION FINISH: 2 One of sports' top organizations faces many challenges in trying to win its third Super Bowl in six seasons.
Jeffri
Chadiha
ESPN.com

DIVISION FINISH: 1 They lost some key role players in free agency but their strengths haven't changed: clutch quarterback, game-changing receivers and a vicious pass rush. They'll be ready to defend their Super Bowl title.
Ashley
Fox
ESPN.com

DIVISION FINISH: 1 The Giants learned in 2008 how tough it is to repeat as Super Bowl champs. This is a veteran group with a quarterback clearly in his prime.
Intelligence Report
Five things you need to know about the Giants:
1. They're not getting cocky: The Giants are the defending Super Bowl champions, but they're not allowing the memory of their brilliant postseason run to trick them into thinking they have nothing to improve. The talk at training camp was of being better than 9-7 this regular season, of allowing fewer than the 400 points they gave up on defense last year and of not putting quarterback Eli Manning in a position to have to direct seven fourth-quarter comebacks this time. The Giants are proud of their title, but they head into the season with the goals of a team that knows it has to get better.
2. Ahmad Bradshaw's turn: One of the things the Giants need to improve is their run game, which ranked last in the league in rush yards in the 2011 regular season. With Brandon Jacobs off to San Francisco, Bradshaw is the clear No. 1 running back in New York. He must stay healthy -- specifically, he must avoid the foot problems that have been plaguing him for the past few seasons -- and show he can carry the load. His backup corps is made up of unproven players, including first-round pick David Wilson.
3. Eli Manning's blind side: The Giants drafted Will Beatty in the second round in 2009 thinking he could be their long-term answer at left tackle. He started their first 10 games there in 2011, with mixed results, and missed the rest of the season with an eye injury. This offseason, back problems have kept him off the field. If Beatty isn't the answer at left tackle -- or if he can't get on the field enough to show them whether he is or not -- the Giants need to find one. James Brewer, their fourth-round pick in 2011, is one option but again, unproven.
4. Still in a rush: The pass rush remains the Giants' organizational calling card, and with Osi Umenyiora now happily signed to a contract he likes, the Giants can use him as well as Justin Tuck and Jason Pierre-Paul as part of the most terrifying defensive end rotation in the league. There were few games in the 2011 regular season in which all three were healthy, but they all were in the playoffs, and it helped win the Giants the Lombardi Trophy.
5. Don't let them in: The Giants could win the division or miss the playoffs, and neither would be a huge surprise. They've just been too inconsistent over the past few years for anyone to know from week to week how they'll show up. But one thing we know for certain about this group of Giants is that they're as mentally tough as any team in the league. They know how to win games when they absolutely need to win them, and they know how to handle adversity as well as anyone. If they were to get into the NFC playoff field, there wouldn't be a scarier team in it.
-- Dan Graziano, ESPN.com
Inside The Numbers
Wide receiver Victor Cruz burst onto the scene last season and set the Giants' all-time receiving yardage record with 1,536 yards. Almost half of Cruz's receiving yards came when Eli Manning faced five or more pass-rushers. Cruz tied for first in receiving touchdowns (6) and was one of only three receivers with 40 or more targets versus five or more pass-rushers not to drop a single pass.
Cruz was great on third down as well. He led the league in receiving yards on third down (698), yards after catch (371) and 30-plus-yard plays (7). Cruz had 27 third-down receptions, 22 of which went for first downs and that despite being targeted only 36 times, 15th-most in the NFL.
• Eli Manning faced five or more pass-rushers on a league-leading 246 action plays, but he was able to overcome the added pressure. His 70.7 QBR against five or more pass-rushers tied Houston's Matt Schaub for fifth-best in the NFL. He also led the league in passing yards (2,022), touchdowns (18) and passing first downs (95) against added pressure.
• The Giants had the second-most sacks in the NFL when sending four or fewer pass-rushers (34), but despite the sacks, quarterbacks were still very successful. The Giants' defense allowed the fourth-most passing yards (2,982), and the 11th-highest QBR (68.8) in the NFL when they sent four or fewer pass-rushers. NFC East quarterbacks were even more successful when the Giants sent four or fewer pass-rushers with an 83.6 QBR, 9.4 yards per pass attempt and 72.9 completion percentage.
-- ESPN Stats & Information
ESPN The Mag: Insider's View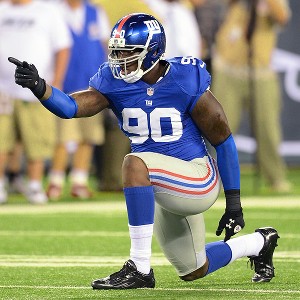 (Photo by AP Photo/Evan Pinkus )
Jason Pierre-Paul: Better than the rest?
Best Unit: Defensive line
We all know the DEs: Jason Pierre-Paul could soon be the NFL's best defender, and the résumés of Justin Tuck and Osi Umenyiora speak for themselves. But the Giants' DTs (Marvin Austin, Rocky Bernard, Chris Canty and Linval Joseph) don't get enough credit. Now with Shaun Rogers lost for the season, Austin and Joseph will be asked to dig deeper after just scratching the surface of their vast potential.
Worst Unit: Offensive line
Run blocking is the biggest issue; the Giants gained 89.2 yards on the ground in 2011, last in the NFL. RG Chris Snee is the only above-average OL, but he will get help as LT Will Beatty returns after missing six games with an eye injury. RT David Diehl has played every spot but center.
-- Gary Horton
• AccuScore projects every team, every game