AP Photo/Michael Perez
JOHN CLAYTON QB RANKING (23)
: Mark Sanchez threw for a career-high 26 TD passes in 2011, but his completion percentage of 56.7 topped the numbers of only six other quarterbacks.
Expert Picks (Consensus: third)
The Jets finished second in the AFC East last season with an 8-8 record. For more coverage, visit: ESPN.com's AFC East blog … on Twitter | ESPN New York | Clubhouse | More predictions
ANALYST
PREDICTION
James
Walker
ESPN.com

DIVISION FINISH: 3 The Jets are a hard team to read. But I don't have a lot of confidence in their quarterback situation.
John
Clayton
ESPN.com

DIVISION FINISH: 3 Rex Ryan's group has gotten better on defense, but the Jets will struggle on offense no matter who is playing behind center.

Adam
Schefter
ESPN.com

DIVISION FINISH: 3 Forget about holding off Tim Tebow; Mark Sanchez needs to prove he can stay with the teams in his division.
Jeffri
Chadiha
ESPN.com

DIVISION FINISH: 3 The Jets can ground and pound all they want. At some point, this team's fate will come back to Mark Sanchez's maturation.
Ashley
Fox
ESPN.com

DIVISION FINISH: 3 The pressure will be on Mark Sanchez. How he handles it will determine which way the Jets go.
Intelligence Report
Five things you need to know about the Jets:
1. Mark Sanchez is the starter: The Jets say they have no quarterback controversy. That is only partially true. New York doesn't have an open competition at quarterback. Therefore, Sanchez knows he is the starter in Week 1. However, if Sanchez doesn't perform and win games early, the pressure will be immense to switch to popular backup quarterback Tim Tebow. Sanchez has looked better in practice and in the preseason, but that buys Sanchez only a small window. The early portion of the schedule will be huge for New York's fourth-year quarterback.
2. Wildcat is huge: Several teams around the league use the Wildcat as a gimmick changeup on offense to throw opponents off balance. But the Jets plan to have an extensive package this year highlighting Tebow to improve the running game. New York has been so protective of its Wildcat package that the team refused to discuss it with the media during training camp. Former Dolphins head coach and current Jets offensive coordinator Tony Sparano used the Wildcat plenty in Miami and will bring it to New York.
3. Defense is dangerous: One thing the Jets do not have to worry about is their aggressive defense. New York finished fifth in total defense last year and made it a goal to be the top defensive team in the league in 2012. It's a reachable goal. The Jets have defensive talent at all three levels. They also have improved their pass rush, which was a major issue last season. If safeties LaRon Landry and Yeremiah Bell can stay healthy and productive, the Jets' defense will be dangerous and keep them in a lot of games.
4. Pass protection a concern: New York has talented players on the offensive line. Center Nick Mangold, left tackle D'Brickashaw Ferguson and guard Brandon Moore all made the Pro Bowl in 2011. However, this group has struggled as a unit to pass protect. Sanchez was sacked a career-high 39 times last season, and the wear and tear certainly had an impact on his performance down the stretch. Not much has changed in the preseason because New York again struggled to protect Sanchez. Guard Matt Slauson needs to improve, and newly acquired Jason Smith, who didn't play well in St. Louis, has to turn things around at right tackle.
5. Looking beyond Santonio Holmes: The Jets have one proven receiver on the roster. Holmes, a former Super Bowl MVP, is a good player when he's focused. But beyond Holmes, there is a big hole at receiver. The Jets are trying to rely on an unheralded group that includes Patrick Turner, Chaz Schilens, Jeremy Kerley and rookie Stephen Hill. But no one has really stepped forward in the preseason.
-- James Walker, ESPN.com
Inside The Numbers
Mark Sanchez and Tim Tebow both struggled to find targeted receivers last season as each quarterback had a high number of overthrown incompletions. Sanchez had the third-most overthrown passes in the league last season with 84; Tebow had 55 overthrown passes but in slightly fewer than half the passing attempts as Sanchez.
Tebow did excel in one critical area -- close games. Tebow was 7-2 with the Broncos last season when the Broncos were within eight points in the fourth quarter and overtime. Sanchez was 4-3 in such games last season.
Tebow's ability to make plays with his legs will make him a versatile option in any offensive package. Tebow rushed for 660 yards and six touchdowns last season, which was second to only Cam Newton among quarterbacks in both categories. Tebow gained 243 yards after contact and had five rushes of 20-plus yards last season. The Jets had only seven rushes of 20 or more yards as a team in 2011.
• The departure of Plaxico Burress left the Jets without their most effective red zone option. Last season, Burress was targeted a team-high 21 times in the red zone and led the team with seven touchdowns and no drops in that area.
• The Jets' defense allowed only 15 passing touchdowns last season, tied for second best in the NFL. The run defense, however, did not fare as well, as the Jets allowed 17 rushing touchdowns in 2011, tied for fourth worst in the league.
-- ESPN Stats & Information
ESPN The Mag: Insider's View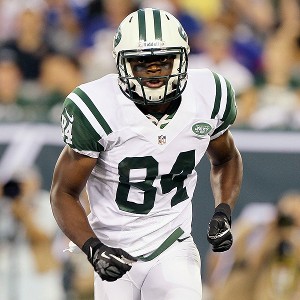 (Photo by Jim McIsaac/Getty Images)
Stephen Hill: Vertical threat?
Best Unit: Defensive backs This group should be special. The Jets feature an excellent nickel package of CBs Darrelle Revis, Antonio Cromartie and Kyle Wilson, who all love to take chances on big plays in aggressive man coverage with press technique. The key will be safeties Eric Smith, Yeremiah Bell and LaRon Landry, the last of whom has the tough task of replacing Jim Leonhard.
Worst Unit: Wide receivers/tight ends This group doesn't scare defenses. A banged-up Santonio Holmes is the one deep threat, though he has been a bigger threat to team chemistry of late. Chaz Schilens and Jeremy Kerley fill out the three-wide package, but the hope is that rookie Stephen Hill out of Georgia Tech develops quickly into a vertical target. Otherwise, TE Dustin Keller has to move the chains.
-- Gary Horton
• AccuScore projects every team, every game