AP Photo/Ben Margot
JOHN CLAYTON QB RANKING (21)
: Carson Palmer passed for 2,753 yards in 10 games with the Raiders last season, but the veteran also threw 16 interceptions.
Expert Picks (Consensus: fourth)
The Raiders finished third in the AFC West last season with an 8-8 record. For more coverage, visit: ESPN.com's AFC West blog … on Twitter | Clubhouse | More predictions
ANALYST
PREDICTION
Bill
Williamson
ESPN.com

DIVISION FINISH: 4 The Raiders could be a solid division champion choice for years after this season, but for now they are the thinnest of the four teams in the AFC West.
John
Clayton
ESPN.com

DIVISION FINISH: 4 The Raiders have issues on defense and may be forced to score more points to win games. That's fine for Palmer, but he can't take as many chances that lead to interceptions.

Adam
Schefter
ESPN.com

DIVISION FINISH: 4 Even though they're picked for last, the Raiders actually are good enough to surprise and win in the West, which shows how close this division is.
Jeffri
Chadiha
ESPN.com

DIVISION FINISH: 4 First-year head coach Dennis Allen and new general manager Reggie McKenzie might someday make the Raiders a consistent contender. There won't be many signs of progress this fall.
Ashley
Fox
ESPN.com

DIVISION FINISH: 4 The Raiders have a new head coach, a new general manager and a new hope to end the second-longest playoff drought in the NFL.
Intelligence Report
Five things you need to know about the Raiders:
1. It all starts with McFadden: Running back Darren McFadden is the key to Oakland's success this season. I would be hard-pressed to find five non-quarterbacks around the league who are more vital to their team's success than McFadden is in Oakland. The Raiders were 4-2 last year when McFadden suffered a season-ending foot injury. Oakland finished 8-8. The Raiders' entire offense changed without the firepower the explosive McFadden offered. McFadden has missed at least three games in each of his four NFL seasons. Durability must stop being an issue for McFadden.
2. Palmer hits restart button: Palmer is entering his first full season in Oakland. Former Raiders coach Hue Jackson tried to save last season by acquiring the disgruntled Palmer from the Bengals -- Jackson coached Palmer at USC and in Cincinnati -- after Jason Campbell broke his collarbone. Palmer was thrust into action and now admits he wasn't in great football shape. Palmer had his moments and he displayed his big arm plenty last season, but he had accuracy problems and threw 16 interceptions in 10 games with the Raiders. With a full offseason and training camp with his teammates and coaches, Palmer thinks he should have better success in 2012-13.
3. Defensive relief: There is a sense from Oakland's defenders that there will be much more freedom than there was last season. It was well-known that the late Al Davis was essentially the de facto defensive coordinator until his death last October. Now with defense-minded head coach Dennis Allen (the first such coach in Oakland since John Madden) and new defensive coordinator Jason Tarver calling the shots, the players are excited. It opens up the defense and Allen promises to use multiple sets. The Raiders need a new defensive outlook and they are getting it.
4. Health is a must: Yes, the Raiders' health starts with McFadden. But Oakland needs to have good health luck throughout the starting lineup. Because of a tough salary-cap situation and two small draft classes, the Raiders are not an overly deep team. They are very thin at some spots. Oakland is very top-heavy. It has a lot of talent. But if injuries pile up and a lot of replacements have to play, it probably will take a toll in Oakland.
5. Greg Knapp, Take II: Knapp is on his second tour of duty as Oakland's offensive coordinator. He ran the unit from 2007-08 before he had his duties stripped by then-interim head coach Tom Cable. Knapp's first tenure didn't go very well, and a big reason was former quarterback JaMarcus Russell. Yes, it's still OK to blame Oakland's problems on the Russell era. Knapp is bringing the West Coast offense and a zone-blocking scheme to the Raiders. This is Palmer's first experience with the West Coast system and he's totally on board. McFadden performed better in the post-Knapp power-blocking scheme. However, McFadden said he is comfortable in this scheme and he has looked good in training camp. The bottom line is Knapp has much more offensive talent in his second go-around in Oakland, so expect much more success.
-- Bill Williamson, ESPN.com
Inside The Numbers
After Campbell went down with a shoulder injury in Week 6 last season, the Raiders traded draft picks to the Bengals for Palmer. The Raiders were 4-2 with Campbell but finished 4-6 under Palmer and missed the playoffs.
Palmer struggled with turnovers, throwing 16 interceptions, including three in the red zone. Palmer's 9.3 attempts per red zone interception were the worst among qualified quarterbacks since 2009.
Injuries also hurt the Raiders. McFadden had only two rushing attempts after Week 6, and the Raiders' running game needs McFadden to stay healthy. After averaging 160 rushing yards from Week 1 through Week 6, Oakland averaged only 115 from Week 7 to 17.
• The Raiders' offense has big-play ability. The Raiders were second in the league with 21 rushes of 20-plus yards and sixth in the league with 26 pass plays of 30-plus yards last season. Darrius Heyward-Bey led Raiders receivers with 30 receptions and 696 yards on throws of 15 air yards or more downfield.
• Conversely, the Raiders struggled to contain big plays on defense. In 2011, they gave up 22 pass plays of 30-plus yards and 24 rushing plays of 20-plus yards, which was second-to-last in the NFL. The rush defense allowed a league-high 5.1 yards per rush and especially struggled on running plays outside the tackles. It allowed 5.7 yards per rush on such runs.
-- ESPN Stats & Information
ESPN The Mag: Insider's View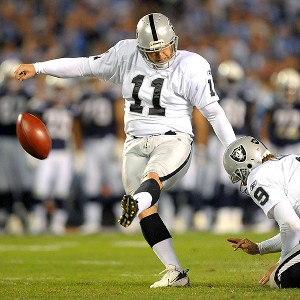 (Photo by Kirby Lee/Image of Sport/US Presswire )
Sebastian Janikowski: Consistent threat.
Best Unit: Special teams
Since 2010, Sebastian Janikowski has hit 84 percent of his field goals, and Shane Lechler was the only punter to rank in the top five in net yardage each of the past two seasons. But what makes this unit special is the speedy Jacoby Ford, who has become one of the NFL's top return men. With improved coverage, the Raiders could have one of the best special teams in the NFL.
Worst Unit: Linebackers
Since 2003, the Raiders have never ranked higher than 22nd in run defense -- and they were 29th or worse five times during that span. Even after drafting MLB Rolando McClain eighth overall in 2010, the run D remains an issue. But all the blame doesn't fall on him. At OLB, Aaron Curry has two bad knees, Philip Wheeler is ineffective and depth is a problem.
-- Gary Horton
• AccuScore projects every team, every game