Mike Ehrmann/Getty Images
JOHN CLAYTON QB RANKING (7)
: After a slow start, Philip Rivers turned it on late in 2011. He threw for 12 TD passes against only three interceptions in San Diego's last six games.
Expert Picks (Consensus: second)
The Chargers finished second in the AFC West last season with an 8-8 record. For more coverage, visit: ESPN.com's AFC West blog … on Twitter | Clubhouse | More predictions
ANALYST
PREDICTION
Bill
Williamson
ESPN.com

DIVISION FINISH: 3 I like the changes the Chargers have made, but they must show they are ready to be consistent after a two-year absence from the playoffs.
John
Clayton
ESPN.com

DIVISION FINISH: 1 In a tight three-way race against the Broncos and Chiefs, the Chargers might have the slight edge despite injuries to Ryan Mathews and Vincent Brown. The Chargers are better on defense, and Philip Rivers will cut down on his interceptions.

Adam
Schefter
ESPN.com

DIVISION FINISH: 1 Few teams added the amount of quality depth that San Diego did this offseason -- props to the Chargers.
Jeffri
Chadiha
ESPN.com

DIVISION FINISH: 3 Head coach Norv Turner and general manager A.J. Smith should be very concerned about their job security. This team will miss the playoffs for the third straight season.
Ashley
Fox
ESPN.com

DIVISION FINISH: 3 Starting slowly has been a problem for this team. The first six opponents this season: at Oakland, Tennessee, Atlanta, at Kansas City, at New Orleans and Denver. Not easy.
Intelligence Report
Five things you need to know about the Chargers:
1. New blood: The Chargers added more than a dozen veteran free agents to the roster. It was an interesting approach for a team that needed to bring in some new life after missing the playoffs the past two seasons. Under Smith, the Chargers haven't been big spenders in free agency. This year, they didn't add any huge names, but they added several good players in every facet. Several key San Diego players, such as Rivers and safety Eric Weddle, said seeing all the new faces has given the team a fresh approach.
2. Offensive line needs health: Rivers struggled for the first 10 games last season, and a big reason why was incredible flux on the offensive line created by injuries. San Diego played a whopping 13 offensive linemen last season and was pulling players off the street and onto the line. The unit settled down late last season and played better. If left tackle Jared Gaither has a solid season, it should go a long way toward ensuring improved play from this unit.
3. Antonio Gates, circa 2007? Future Hall of Fame tight end Antonio Gates has been the talk of Chargers camp. He is finally healthy after dealing with foot-related injuries for the past four years. Gates has lost five pounds and looks terrific. Teammates say it's the best Gates has looked in five years. Gates performed well despite his injuries even though he barely practiced. Now that Gates, 32, has totally regained his health, it will be interesting to see if he can dominate again.
4. Another rookie of the year? Last year, Broncos pass-rusher Von Miller won the NFL Defensive Rookie of the Year Award after the 2011 No. 2 overall pick recorded 11.5 sacks. Early in the offseason, Miller worked with South Carolina pass-rusher Melvin Ingram. Shortly afterward, Ingram was taken by the Chargers with the No. 18 pick. I wouldn't be shocked if Ingram follows in his friend's footsteps and wins the same award Miller did last season. The Chargers are going to unleash Ingram and let him use his immense skills. I expect an instant impact from Ingram.
5. It's Mathews' time: The Chargers are hoping for Mathews to hurry back from a shoulder injury that he suffered in the first preseason game. His could miss a game or two, but when he returns Mathews will be expected to carry a big load. This is the third NFL season for Mathews. He has progressively improved and made the Pro Bowl last season after he rushed for 1,091 yards and averaged an impressive 4.9 yards per carry. He is going to be given the opportunity to run the ball 25 times a game, catch several balls out of the backfield, play in short yardage and perhaps be the third-down back. Mathews is going to be busy.
-- Bill Williamson, ESPN.com
Inside The Numbers
Rivers had the highest Total QBR (94.4) of any quarterback in the NFL over the last five games of the season. After a tough start to the season, Rivers excelled throwing downfield the last five weeks (62.3 completion percentage, 8-2 TD-INT ratio).
• Rivers will be throwing to new targets this season, with Vincent Jackson and Mike Tolbert leaving in free agency. During the 2011-12 season, Rivers targeted Jackson on 113 throws and Tolbert on 73, which ranked first and third on the team. However, Jackson and Tolbert also accounted for 12 drops last year on their 186 targets. The rest of the team had six drops combined in 354 targets, with no individual receiver dropping more than a pass.
• Mathews found success running behind fullback Jacob Hester last season. Mathews had eight rushes of at least 20 yards out of multiple-back formations, tied with Ray Rice and Frank Gore for most in the NFL. With Tolbert leaving for Carolina, Mathews' workload is likely to increase. Mathews must take better care of the ball, as his five fumbles last season tied with Cedric Benson for most in the NFL.
• The Chargers will miss Tolbert in red zone situations. Tolbert had eight of San Diego's 15 rushing touchdowns in the red zone last season. Since 2008, Tolbert has 13 rushing touchdowns at or inside the 3-yard line, tied for eighth-most in the NFL over that span.
-- ESPN Stats & Information
ESPN The Mag: Insider's View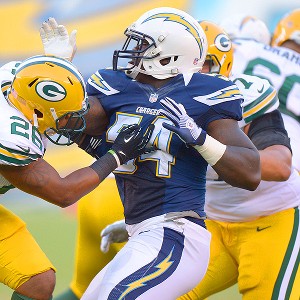 (Photo by Jake Roth/US Presswire )
Melvin Ingram: Muich-needed addition.
Best Unit: Linebackers
Lacking an edge rush, the Chargers tied for 23rd with 32 sacks and were last with only seven forced fumbles last season. So to give nine-year vet Shaun Phillips some help, the Bolts signed free agent Jarret Johnson from Baltimore and drafted Melvin Ingram out of South Carolina. Combine them with ILBs Takeo Spikes and fast-rising Donald Butler and the Chargers have a speedy blitzing corps.
Worst Unit: Offensive line
This is an athletically stale group that gets exposed by good pass-rushers. That's double trouble, as the Chargers will need to pass more while RB Ryan Mathews fully recovers from a broken clavicle, and the division is stacked with sackers (K.C.'s Tamba Hali and Denver's Elvis Dumervil and Von Miller).
-- Gary Horton
• AccuScore projects every team, every game