AP Photo/Ted S. Warren
JOHN CLAYTON QB RANKING (18)
: A high-ankle sprain, and a decimated Rams roster, hindered Sam Bradford (53.5 completion percentage, only six TDs) in 2011.
Expert Picks (Consensus: fourth)
The Rams finished fourth in the NFC West last season with a 2-14 record. For more coverage, visit: ESPN.com's NFC West blog … on Twitter | Clubhouse | More predictions
ANALYST
PREDICTION
Mike
Sando
ESPN.com

DIVISION FINISH: 4 The Rams were NFC West favorites just one year ago, and now they're probably a better team. Sam Bradford gives the Rams upward mobility. And with a veteran staff led by Jeff Fisher, we should expect the Rams to become more competitive.
John
Clayton
ESPN.com

DIVISION FINISH: 4 Thanks to Sam Bradford, the Rams may be better than people think. General manager Les Snead had a great draft and Jeff Fisher assembled a great coaching staff to develop young players.

Adam
Schefter
ESPN.com

DIVISION FINISH: 2 Jeff Fisher is going to put his fingerprints all over this team and this season.
Jeffri
Chadiha
ESPN.com

DIVISION FINISH: 4 They have a promising future with coach Jeff Fisher and GM Les Snead running the franchise. They'll need to remember that in what should be a painful 2012 season.
Ashley
Fox
ESPN.com

DIVISION FINISH: 4 The Rams are rebuilding under new coach Jeff Fisher. It will take time.
Intelligence Report
Five things you need to know about the Rams:
1. Fourth place not a given: One year ago, the Rams were riding a wave of positive feelings. They were a near-consensus choice to win the NFC West title. They finished 2-14 instead. Injuries and a tougher-than-expected schedule played a role in the Rams' demise. The team is clearly more talented at this time. Quarterback questions elsewhere in the division give the Rams a chance to surprise by finishing outside the cellar this year. For that to happen, however, the Rams will need to build some continuity on the offensive line. That has been a huge challenge to this point.
2. The offense has come full circle: The Rams were determined to lean on the ground game when Sam Bradford was a rookie in 2010. They wanted Bradford to carry the offense last season. Now, under new coordinator Brian Schottenheimer, the Rams hope to be more run-oriented again. This will be the most run-oriented scheme the Rams have run since Scott Linehan was head coach, and probably longer. Running back Steven Jackson feels a responsibility to "set the tempo" for the Rams' offense to a degree he hasn't had to do in the past. He's going to get his carries. Only an injury figures to prevent Jackson from topping 1,000 yards rushing for an eighth consecutive season.
3. MLB has a chance to grow: London Fletcher, Antonio Pierce, Jonathan Vilma and Mike Singletary are among the middle linebackers to play in the general defensive system Jeff Fisher has brought to the Rams. James Laurinaitis is next in line. Laurinaitis has been a good player already. The Rams have gotten bigger at defensive tackle. Their new defensive system should let Laurinaitis grow. Laurinaitis: "When the quarterback makes a check, the mike 'backer has to be able to counter. When the quarterback makes a check, the mike 'backer has to be able to make a countercheck and just get a feel for a football game. I relish that role, I relish that responsibility. I love the fact that the coach is going to say to me, 'If you see something on the field, you make the call. You're not going to be wrong, you're the one playing, you make the call.'"
4. Onward and upward: The Rams weren't the only team to whiff with their first-round choice in 2009, the year they made Jason Smith the second overall pick. Tyson Jackson, Aaron Curry and Andre Smith haven't exactly lit up the league as players drafted among the top six. The Rams' decision to trade Smith for Jets tackle Wayne Hunter shows that new offensive line coach Paul T. Boudreau was serious about playing the best five players, regardless of draft status. Boudreau never catered to early draft choices while with Atlanta, where Harvey Dahl and Tyson Clabo rose to prominence as undrafted players. The Rams are following a similar path.
5. Plenty of action for Jenkins: If the preseason is any indication, opposing quarterbacks will be firing quite a few passes Janoris Jenkins' way. The rookie cornerback has impressed during camp, but Tony Romo and others have had their moments against the second-round choice from North Alabama. Teams could be more willing to test Jenkins than veteran Cortland Finnegan on the other side. Jenkins has the talent to capitalize on the opportunities. He might need to be a little more patient, however.
-- Mike Sando, ESPN.com
Inside The Numbers
The Rams' pass defense struggled last season, but the front seven wasn't to blame. St. Louis registered a sack once every 14.3 dropbacks, eighth best in the NFL. Defensive end Chris Long finished seventh in the NFL last season with 13 sacks.
However, there was room for improvement in the secondary, particularly outside the numbers, where the Rams allowed a 59.1 completion percentage and 7.3 yards per attempt. They signed Cortland Finnegan and drafted two cornerbacks in the first three rounds in April's draft. Josh Gordy was the only Rams cornerback to record an interception on throws outside the field numbers.
• Sam Bradford was the only player to finish in the bottom five in Total QBR rankings each of the past two seasons. Bradford's Total QBR (35.2) ranks 39th among 45 qualified passers over the past two seasons. Bradford also finished last year as one of only two quarterbacks with a negative TD-interception differential (minus-1) on throws fewer than 10 yards downfield.
• The Rams' most consistent offensive line unit of Rodger Saffold, Jacob Bell, Jason Brown, Harvey Dahl and Jason Smith played together on only 25.9 percent of plays last season (29th in the NFL). The lack of continuity hurt St. Louis, which allowed a sack every 11.2 dropbacks, the second-worst rate in the league.
• The Rams drafted defensive tackle Michael Brockers in the first round to improve on last season's 31stranked rush defense. St. Louis allowed 5.7 yards per rush and 3.2 yards before contact up the middle, both NFL-worst averages.
-- ESPN Stats & Information
ESPN The Mag: Insider's View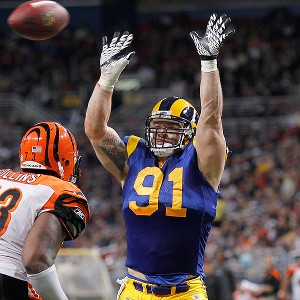 (Photo by Joe Robbins/Getty Images )
Chris Long: Worth the money.
Best Unit: Defensive line
Chris Long just signed a lucrative four-year extension for a reason: He's quickly becoming one of the best defensive ends in football. And Robert Quinn has the ability to be even more dangerous off the edge. That tells you all you need to know about this constantly improving group. William Hayes is an excellent third defensive end whose run-stopping ability complements Quinn well.
Worst Unit: Linebackers
Besides MLB James Laurinaitis, there isn't a single starting-caliber player in this corps -- and that's why the Rams had the second-worst rush D in the NFL (152.1 ypg). It's a shame, because Laurinaitis has developed into a solid all-around player and deserves better support. Jo-Lonn Dunbar is the best of the outside linebackers, but none of them has much of a ceiling.
-- Gary Horton
• AccuScore projects every team, every game