Cliff Welch/Icon SMI
JOHN CLAYTON QB RANKING (16)
: Is Josh Freeman the QB who showed so much promise and poise in 2010 or the one who threw 22 interceptions last season? The Bucs are hoping it's the former.
Expert Picks (Consensus: fourth)
The Buccaneers finished fourth in the NFC South last season with a 4-12 record. For more coverage, visit: ESPN.com's NFC South blog … on Twitter | Clubhouse | More predictions
ANALYST
PREDICTION
Pat
Yasinskas
ESPN.com

DIVISION FINISH: 4 This team almost certainly will be better than last year. But the Bucs were way behind the rest of the division in 2011 and it's difficult to imagine them suddenly leaping over the Saints, Falcons or Panthers.
John
Clayton
ESPN.com

DIVISION FINISH: 4 New coach Greg Schiano has brought a more disciplined approach to the Bucs. That should help Josh Freeman run a better offense, but it might take time to rework the defense.

Adam
Schefter
ESPN.com

DIVISION FINISH: 4 Landed the right coach to get this team back to its glory years.
Jeffri
Chadiha
ESPN.com

DIVISION FINISH: 4 Don't expect Schiano to make the same seamless transition from college to pro coach that Jim Harbaugh made in San Francisco. The Bucs have too much youth and too many questions.
Ashley
Fox
ESPN.com

DIVISION FINISH: 4 This team isn't as bad as it looked last season, when it quit. It will be interesting to see what Schiano has brought with him from Rutgers.
Intelligence Report
Five things you need to know about the Buccaneers:
1. The real Josh? Quarterback Josh Freeman has to get back to playing like he did in 2010 for this team to have a chance. Freeman can't have another season in which he is anywhere near the league lead in interceptions. He took a lot of blame for last season, when everything was breaking down around him. But there are no excuses this time around. The Bucs acquired Vincent Jackson to be a true No. 1 receiver and guard Carl Nicks to help protect Freeman, and they drafted an all-purpose back in Doug Martin. There's a decent supporting cast in place, and the Bucs believe that will get Freeman back on track.
2. The rookie will get the ball: Although LeGarrette Blount has done everything right through the offseason, I still think Martin gets the bulk of the playing time. When he was at Rutgers, the best running back Greg Schiano ever coached was Ray Rice. Schiano has compared Martin to Rice several times and raves about his ability as an all-around back. There will be a role for Blount, likely as a power runner, but I'm guessing Martin will be on the field the bulk of the time.
3. Clark ready to bounce back: The Bucs unloaded tight end Kellen Winslow, who already was clashing with Schiano. They replaced him by signing veteran Dallas Clark, who has had injury problems in recent seasons. But Clark appears to be healthy and in great shape. The Bucs are hoping he can give them about 70 catches. They also think he'll bring a positive influence to the locker room. Clark played for a lot of good teams in Indianapolis and might be able to show the younger players how to win.
4. McCoy's health: Aside from Freeman, the player with the most pressure on him is third-year defensive tackle Gerald McCoy. He's suffered significant injuries in each of his first two seasons. When he has been healthy, it's obvious McCoy can be an impact player. But this front four, and really the entire defense, needs a 16-game season out of McCoy if it's going to be any good.
5. Problem spot? I'll wait until the regular season to decide for sure, but I'm not sold on Tampa Bay's linebackers. I think second-round pick Lavonte David is going to be very good. But I can't say the same about middle linebacker Mason Foster and outside linebacker Quincy Black. Foster struggled in the middle last season, and maybe he'll get better with experience. But Black has been around longer and never has been anything but ordinary.
-- Pat Yasinskas, ESPN.com
Inside The Numbers
Josh Freeman was much less effective when defenses sent five or more pass-rushers last season than he was in 2010. Last year, he threw four touchdowns and nine interceptions (tied for most in the league) against such pressure. In 2010, he passed for 14 touchdowns and only five interceptions; his plus-9 TD-interception ratio tied for sixth-best in the NFL.
By signing free agent Vincent Jackson this offseason, the Buccaneers improved their passing attack, especially on throws downfield. They scored only four touchdowns on passes that traveled at least 15 air yards last year, tied with four other teams for fewest in the NFL. Jackson scored five touchdowns on throws of that distance, tied for fifth-most in the league.
• The Buccaneers' rush defense struggled last season, especially between the tackles. On rushes between the tackles, they allowed the third-most yards per rush (4.8) and five more rushing touchdowns than the next-closest team, Buffalo (18).
• LeGarrette Blount had most of his success rushing up the middle or to the right last season. On rushes in those directions, he averaged 4.7 yards per rush and scored all five of his touchdowns. He was held to just 2.9 yards per rush to the left side.
-- ESPN Stats & Information
ESPN The Mag: Insider's View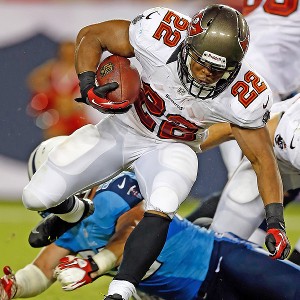 (Photo by J. Meric/Getty Images )
Doug Martin: Set up to succeed.
Best Unit: Offensive line
Only the Eagles threw more often on first and 10 than the Bucs. That will change this season, largely because of the O-line. Greg Schiano believes in a physical, run-first approach, and the Bucs didn't invest huge money in Carl Nicks and draft RB Doug Martin to air it out. Adding Nicks, maybe the NFL's best guard, from the Saints, allows Jeremy Zuttah to slide to center, a better spot for him. Right tackle remains the line's only weakness.
Worst Unit: Linebackers
The Bucs' linebackers could be a disaster again. Mason Foster and Quincy Black are carryovers from a unit that had the NFL's worst run defense in 2011. Foster struggled to fill Barrett Ruud's MLB role, and if he doesn't contribute more in run support in his second season, Tampa Bay will have another long year on D.
-- Gary Horton
• AccuScore projects every team, every game