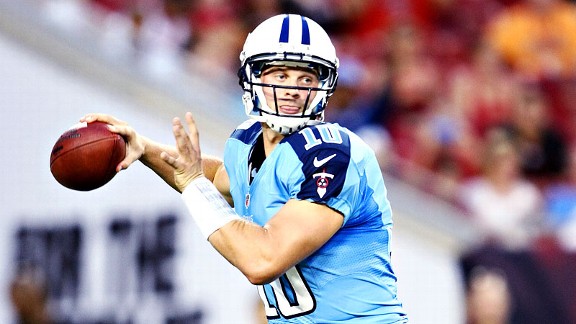 Douglas Jones/US Presswire
JOHN CLAYTON QB RANKING (29)
: Jake Locker beat out veteran Matt Hasselbeck for the Titans' starting job. Locker's mobility is expected to give Tennessee's offense an added dimension.
Expert Picks (Consensus: second)
The Titans finished second in the AFC South last season with a 9-7 record. For more coverage, visit: ESPN.com's AFC South blog … on Twitter | Clubhouse | More predictions
ANALYST
PREDICTION
Paul
Kuharsky
ESPN.com

DIVISION FINISH: 2 There will be some great moments with Jake Locker at quarterback but some big bumps, too. Uncertainty regarding Kenny Britt, a lack of defensive playmakers and an inconsistent pass rush are too much to overcome.
John
Clayton
ESPN.com

DIVISION FINISH: 2 The Titans might have challenged the Texans for the division had they gone with Matt Hasselbeck as the starting quarterback. Going to Jake Locker against a tough opening schedule could leave them a couple games short in the division race.

Adam
Schefter
ESPN.com

DIVISION FINISH: 3 Chris Johnson is likely to be more like Chris Johnson, but it will not be enough to overtake the Texans.
Jeffri
Chadiha
ESPN.com

DIVISION FINISH: 2 Step 1 is figuring out whether Jake Locker can succeed at quarterback. Step 2 is getting RB Chris Johnson back to Pro Bowl form.
Ashley
Fox
ESPN.com

DIVISION FINISH: 2 Jake Locker is the guy. His season will start like this: New England, at San Diego, Detroit and at Houston. Yikes.
Intelligence Report
Five things you need to know about the Titans:
1. They're turning the page: Jake Locker was the eighth overall pick in the 2011 draft, but he didn't start a game his rookie season. After a year of Matt Hasselbeck, the Titans have deemed Locker ready and are turning the keys to the offense over to him. Chris Palmer will be far more creative in his second year as offensive coordinator -- his first with a full offseason to install his offense. Look for run-and-shoot concepts put into play with more conventional personnel. Locker's running ability and speed give the Titans additional options on boots and rollouts and make him tougher to defend.
2. Life after Finnegan: Feisty cornerback Cortland Finnegan left for St. Louis as a free agent. Jason McCourty and Alterraun Verner are plenty capable as starters, and Verner is an instinctive nickelback. The question is about No. 3 corner Tommie Campbell and the safeties, Michael Griffin and, presumably, Jordan Babineaux. Upgrading the pass rush has been a priority and can do a lot for the secondary, but did the Titans upgrade it enough?
3. Seeking sacks: In the first year with Jerry Gray as defensive coordinator, the emphasis was on getting bigger and getting back to stopping the run. The pass rush didn't stick to standards, and now it's the big theme. The biggest alterations were the addition of end Kamerion Wimbley and the hiring of Keith Millard, who's working as a pass-rushing coach who stretches across positions. The team also has plans to use second-year strongside linebacker Akeem Ayers as an end on some rush situations. Is all of that enough to spur more than the 28 sacks they managed last year?
4. Chris Johnson's form: He's admitted he underestimated the impact his holdout had on his season last year, when he had inconsistent blocking from the interior line but also didn't always put forth maximum effort or take his share of the blame. He spent the offseason with the team for the first time. Reviewing last season in great detail and being part of the install should help him rebound. He also should benefit from Locker being in place as the quarterback, because a second threat from the backfield takes away some of the focus.
5. The interior line: Center Eugene Amano was under fire after a poor 2011, but the Titans didn't bring in a replacement. He tore a triceps in an early camp practice and was lost for the year. That elevated Fernando Velasco into the starting lineup. The team's big veteran addition on offense was left guard Steve Hutchinson. He should help Velasco plenty, and although he's not the dominant presence of his younger days, Hutchinson is a crafty veteran who can help spread the messages and set the tone that Hall of Fame linemen Mike Munchak and Bruce Matthews want.
-- Paul Kuharsky, ESPN.com
Inside The Numbers
Chris Johnson posted career lows last season with 1,047 rushing yards and four touchdowns after holding out for most of training camp.
Johnson's 4.0 yards per rush ranked tied for 41st out of 56 qualified running backs, as he struggled to gain yards after first contact. Only Thomas Jones gained fewer yards after contact per rush than Johnson's 1.4 average among qualified running backs.
In 2011, Johnson averaged 4.4 yards outside of the tackles and failed to score a touchdown. Johnson averaged 6.0 yards per rush in his first three seasons outside the tackles, most of any running back with at least 150 rushes. Johnson scored more than twice as many touchdowns (16) as any other running back during that span.
Johnson did improve as the 2011 season progressed. He ranked in the top four in the NFL in yards (681) and 15-yard rushes (12) in the second half of the season.
• Kendall Wright should boost the Titans' deep passing game. Last season, Nate Washington and Kenny Britt combined to catch 12 of 30 targets, including three touchdowns, on passes thrown at least 21 air yards downfield. At Baylor in 2011, Wright caught 13 of 24 targets and scored seven touchdowns on those deep passes.
• The Titans registered just 23 sacks in 2011, second fewest in the league. Tennessee rushed four or fewer defenders on 75 percent of dropbacks last season, but could muster a sack only once every 26.6 times its opponents dropped back, 28th in the NFL.
-- ESPN Stats & Information
ESPN The Mag: Insider's View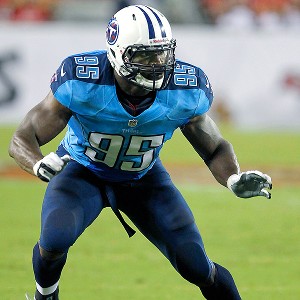 (Photo by AP Photo/Tom DiPace )
Kamerion Wimbley: Pressure provider.
Best Unit: Offensive line
This is a physical man-blocking group that throws in zone looks to accommodate the backs. Michael Roos and RT David Stewart are the anchors; the inside guys aren't as polished but are consistent. The Titans will add more two-TE sets this season and use FB Quinn Johnson to free RB Chris Johnson, who should bounce back from a down year.
Worst Unit: Defensive line
The depth is OK, but the unit just isn't explosive. The defense had 28 sacks in 2011, fewer than every team but the Bucs. With only eight of those sacks coming from the ends, the Titans added Kamerion Wimbley in free agency. In a 4-3 front, they want the pressure to come from the front four to protect the back seven, but that might be too much to ask of a young line.
-- Gary Horton
• AccuScore projects every team, every game