Now
Drew Brees
@drewbrees

#PurdueDayOfGiving is here! Start off your day right by donating to help @PurdueSports student-athletes now! bit.ly/2oRH9eq
Alden Gonzalez
ESPN Staff Writer
Rams coach Sean McVay told reporters from Thousand Oaks that basically everyone was present for the start of the voluntary minicamp on Tuesday. Linebacker Mark Barron (shoulder) and safety Maurice Alexander (hip) did not participate, but McVay called it precautionary. This was McVay's first time on the field with his new team. "You're quickly reminded why you love coaching so much."
Mike Triplett
ESPN Staff Writer
Sean Payton said he thinks this is deepest defensive draft he's seen as Saints head coach – which is good, since he said it's "no secret" that the Saints' top goal this year is to improve their defense. … As for the possible Malcolm Butler trade, Payton said, "It's nothing new. Look, he's with New England, and I don't think anything's changed. I don't see anything being imminent."
David Newton
ESPN Staff Writer
It's official. I selected Stanford running back Christian McCaffrey with the No. 8 pick of the NFL Nation mock draft. Gives the Panthers a dynamic young player that will take the pressure off Cam Newton to run.
Mike Triplett
ESPN Staff Writer
Drew Brees on New Orleans' WWL Radio: "That was big news today with Adrian Peterson becoming a Saint. Obviously, I've had a ton of a respect for this guy for a long time as has just about everybody in our league and our locker room. I know he's going to come in with a chip on his shoulder, ready to show what he can do and I'm sure he'll embrace the opportunity."
Dave Tuley
@ViewFromVegas
ICYMI: My NFL draft betting guide was posted this a.m. (hope readers grabbed SEC -4.5 vs. Big Ten w/ me) es.pn/2oGXejA @ESPN_Chalk
Mike Triplett
ESPN Staff Writer
Get used to this look -- Adrian Peterson in a black-and-gold No. 28. Peterson changed his profile pic on Twitter to show himself in a Saints jersey.
Todd McShay
@McShay13
5th overall, #MalikHooker (#DS) from #OhioState is a good fit for @49ers, @ChicagoBears, or @Chargers. See full… twitter.com/i/web/status/8…
NFL on ESPN
@ESPNNFL
LB Daryl Washington has been reinstated on a conditional basis by the NFL. Washington has been suspended since 2014… twitter.com/i/web/status/8…
Mike Triplett
ESPN Staff Writer
Saints RB Mark Ingram on the arrival of Adrian Peterson: "I'm all about winning, man. So if that's what helps us win I'm all for it." Ingram said on a conference call with New Orleans media that sharing the backfield is "nothing new" for him and, "I'm never gonna shy away from competition." He has followed Peterson since his freshman year at Oklahoma and said the opportunity to play with him and pick his brain is "special."
NFL on ESPN
@ESPNNFL
The fans are back. Two new episodes of "We The Fans" start now on ESPN and here: es.pn/2pj78vC pic.twitter.com/9u8MOHPjG3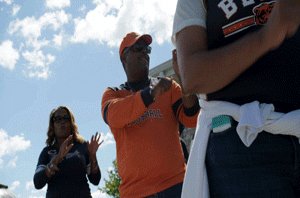 ESPN Fantasy Sports
@ESPNFantasy
Mike Clay breaks down the fantasy impact of Adrian Peterson signing with the New Orleans Saints: es.pn/2qb1dWS
Josh Weinfuss
ESPN Staff Writer
According to the NFL, reinstated linebacker Daryl Washington will be allowed to rejoin the team at its practice facility, and participate in meetings, conditioning and other team activities. He won't be permitted to participate in preseason activities until his "clinical resources" in Phoenix have been arranged. "Prior to the start of the regular season, the NFL will review Washington's progress," read the NFL's statement. "Based on his compliance and engagement with his program and resources, he will be permitted to participate in all regular season activities beginning in Week 1. He will be evaluated later in the season for full reinstatement."
Drew Brees
@drewbrees

Hangin out w the fans on Westbank @jimmyjohns 1625 Barataria Blvd til 8 pm. Come see us!!! pic.twitter.com/6uuYfnmRkg