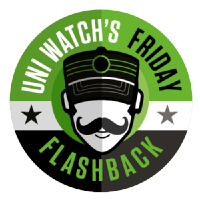 As you may have heard, there was a bit of a kerfuffle last weekend when someone noticed that New England Patriots quarterback Tom Brady hadn't been wearing the NFL logo on his helmet during the preseason, which led some observers to wonder if this might have been a silent protest regarding his season-opening suspension. (Brady, for his part, has reportedly said he wasn't aware that the logo was missing.)
That raises an interesting question: When did the NFL logo get added to players' helmets anyway? And what's the logo's history?
Let's start with that last question. The NFL adopted a shield-based logo in 1940. No designer has ever been credited. The original version featured pinstripes, which were removed in 1970. The current version, adopted in 2008, features eight stars -- one for each NFL division -- and a football rendering based on the ball used on the Lombardi Trophy.
With NFL season about to start, let's look at the NFL logo. Here's how it's evolved over the years. pic.twitter.com/PUuPfvi9sU

— Paul Lukas (@UniWatch) September 6, 2016
A variation of the logo was created to celebrate the league's 50th anniversary in 1969. All NFL teams wore the anniversary logo as a jersey patch on their left sleeves or shoulders that season. It marked the first appearance of the league's logo -- or something very much like it -- on team uniforms, although that didn't start a trend. It would be more than two decades before players once again wore the shield.
NFL 50th-anniversary logo, based on league logo, worn by all teams in 1969. First use of league logo on NFL unis. pic.twitter.com/yDAD4LS6ur

— Paul Lukas (@UniWatch) September 6, 2016
The league logo didn't reappear on NFL uniforms until the start of the 1991 season, when it was added to the base of the jersey collar, the upper-left pant leg, and the back-left base of the helmet. This means, among other things, that the last NFL game without the league logo on the uniforms was Super Bowl XXV, and that the last play without the league logo on the uniforms was Scott Norwood's infamous missed field goal attempt:
Fun fact: Last NFL game w/ out league logo on unis was Super Bowl XXV. Logo was added to jersey/pants/helmet in '91. pic.twitter.com/8E3QtC3dbS

— Paul Lukas (@UniWatch) September 6, 2016
NFL logo was added to jersey collar, left pant leg, and back of helmet in 1991. All 3 visible in this shot. pic.twitter.com/CjvJMTpfCy

— Paul Lukas (@UniWatch) September 6, 2016
The jersey collar logo has stayed in place for 25 years now, but it has undergone some format changes. It began as a small patch, which was worn from 1991 through 2001. Then it morphed into a slightly larger patch with a white background and the word "Equipment" above the shield, which was worn from 2002 through 2011 (with the shield itself being updated in 2008, reflecting the logo revision described earlier). And then in 2012, when Nike took over from Reebok as the league's uniform outfitter, the patch was replaced by a small plastic chip, and the white background and "Equipment" were eliminated.
Evolution of NFL logo on collar: small patch (1991-2001), larger "Equipment" patch (2002-11), plastic chip (2012 - ) pic.twitter.com/i151cdRkMj

— Paul Lukas (@UniWatch) September 6, 2016
The logo on the pants has undergone the same changes as the one on the jersey, with one additional development: When the patch was replaced by the chip in 2012, the logo also moved from the left pant leg to the right.
When Nike took over for Reebok in 2012, NFL moved from left pant leg to right (and maker's mark went right to left). pic.twitter.com/uRaU4jHR29

— Paul Lukas (@UniWatch) September 6, 2016
That brings us to the logo on the helmet, which may or may not have been Tom Brady's recent bête noir. The helmet logo decal always has been in roughly the same spot since its 1991 debut, but it has been modified many times over the years -- sometimes on a league-wide basis and sometimes by individual teams. For example:
• When Pittsburgh Steelers owner Art Rooney Sr. died in 1988, two Steelers opponents -- the Dallas Cowboys and the Philadelphia Eagles -- honored him by wearing memorial decals based on the NFL logo. The Eagles even upped the ante by wearing the memorial on the front of their helmets, which appears to be the only time the NFL shield (or something clearly based on it) has appeared on a helmet front.
9/4/88: Cowboys wore Art Rooney memorial decal, based on NFL logo, when facing Steelers (who wore patch all season). pic.twitter.com/4MjnHxDoJG

— Paul Lukas (@UniWatch) September 6, 2016
Eagles wore Art Rooney memorial decal, based on NFL logo, on FRONT of helmet when playing Steelers on Nov. 13, 1988. pic.twitter.com/1pfYJTKQz5

— Paul Lukas (@UniWatch) September 6, 2016
• When NFL commissioner Pete Rozelle died in December 1996, about a month and a half before Super Bowl XXXI, it was decided that the two Super Bowl teams -- the Green Bay Packers and the Patriots, as it turned out -- would memorialize him with a decal based on the NFL logo instead of the standard shield.
Packers and Patriots wore Pete Rozelle memorial decal, instead of standard NFL logo, in Super Bowl XXXI. pic.twitter.com/zUZxUbkXwB

— Paul Lukas (@UniWatch) September 6, 2016
• In recent years the helmet logo has been accessorized with ribbons during the league's two annual promotional pushes: pink for breast cancer awareness in October, and camouflage to salute the armed forces in November.
NFL logo decal now annually adorned w/ pink ribbon in Oct (for breast cancer awareness), camo in Nov (for military). pic.twitter.com/teSBXZYfAC

— Paul Lukas (@UniWatch) September 6, 2016
• When the NFL playoffs began last January, the teams that made the postseason began wearing a gold version of the shield on their helmets, part of the league's celebration of Super Bowl 50:
Last season's playoff teams wore a gold version of NFL logo decal - part of league's "50th Super Bowl" celebration. pic.twitter.com/3wSNXdtuPZ

— Paul Lukas (@UniWatch) September 6, 2016
It's worth noting, incidentally, that the Patriots made the playoffs last season, eventually losing to the Denver Broncos in the AFC Championship Game. Brady was wearing the gold logo in that game, as were all the other New England players. If he's still using the same helmet shell from last season, that means the gold logo had to be removed and a new one in the standard NFL colors had to be added. Is it possible that it simply got lost in the shuffle? We'll likely never know for sure. But you can bet that your friendly uniform columnist will have his eye trained on the back of Brady's helmet when he completes his suspension and returns to action in Week 5.
If Brady really did remove the logo from his uniform, he wouldn't be the first NFL player to do so. The great Washington wide receiver Art Monk routinely had the shield removed from his jersey in the early 1990s (including in Super Bowl XXVI, and while setting the all-time receptions record in 1992), supposedly because he felt he represented the team, not the league.
Washington WR Art Monk removed NFL logo from jersey in early '90s, because he felt he represented team, not league. pic.twitter.com/fRhfMtfKYE

— Paul Lukas (@UniWatch) September 8, 2016
Art Monk not wearing NFL logo on jersey while breaking all-time NFL receptions record in 1992. pic.twitter.com/7uoVVsSQBX

— Paul Lukas (@UniWatch) September 8, 2016
More early-'90s shots of NFL logo missing from Art Monk's jersey while present on opponents'/teammates' jerseys. pic.twitter.com/3E9jcf5fcE

— Paul Lukas (@UniWatch) September 8, 2016
Would Monk get away with that today? No way. But uniform scrutiny was much lower in those days -- a simpler, more innocent time.
---
Would you like to nominate a uniform or uni element to be showcased in a future Friday Flashback installment? Send your suggestions here.
Paul Lukas thinks it's weird that Roger Goodell always talks about "protecting the shield," because a shield is supposed to provide protection, not need protection, right? If you liked this column, you'll probably like his Uni Watch Blog, plus you can follow him on Twitter and Facebook. Want to learn about his Uni Watch Membership Program, be added to his mailing list so you'll always know when a new column has been posted or just ask him a question? Contact him here.