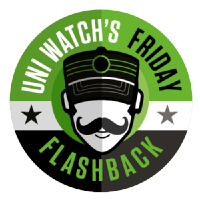 We're now in the second week of the second season of the NFL's Thursday-night Color Rush program, which features teams wearing solid-colored uniforms. The program has been promoted as an innovative approach to NFL uniform design, but here's the thing: NFL teams were wearing solid-colored unis long before the NFL and Nike dreamed up Color Rush -- in some cases more than 80 years before.
Charting the NFL's early uniform history is tricky, because color photographs are rare and uniform fabrics often reacted differently to color dyes, so jerseys and pants often didn't match even if they were supposed to match. But according to the Gridiron Uniform Database, the definitive guide to pro football uniform history, one of the first NFL teams to wear a mono-colored uniform was the 1933 Cincinnati Reds, an early franchise that only lasted one and a half seasons before being suspended for failure to pay league dues.
Long before Color Rush: 1933 Cincinnati Reds were early mono-colored NFL team. (photo h/t @GuitaristRobDog) pic.twitter.com/dMYGf1xR7y

— Paul Lukas (@UniWatch) September 19, 2016
Since then, a surprising number of NFL teams have gone mono-colored at least once. Some, like the Reds, are now-forgotten teams from the league's early ragtag era. But others are franchises that are still with us today. Here's a selective timeline of some key dates in solid-colored-uniform history. It doesn't show every single mono-colored uni in NFL history, but it gives a good sense of how the phenomenon has evolved over the years:
1935: The Brooklyn Dodgers (yes, that was the name of an NFL franchise from 1930 through 1943) and Green Bay Packers (yes, those same Green Bay Packers) wear solid-green uniforms. The Dodgers wear them again the following year, while the Packers' mono-green look turns out to be a one-season thing -- for now.
Long before Color Rush: 1935-36 Brooklyn Dodgers (yes, that was an NFL team) wore solid-green uniforms. pic.twitter.com/Gew6CGOfVo

— Paul Lukas (@UniWatch) September 19, 2016
Long before Color Rush: Packers went mono-green for the first (but not last) time in 1935. pic.twitter.com/IthlwUaehb

— Paul Lukas (@UniWatch) September 19, 2016
1940-42: The Steelers include solid-yellow uniforms as part of their wardrobe for three seasons.
Long before Color Rush: Steelers wore solid-yellow in 1940-42 (visible at left in photo from 1940 game vs. Packers). pic.twitter.com/MaG5bUg8z8

— Paul Lukas (@UniWatch) September 19, 2016
1946: The Boston Yanks -- another short-lived team, with a now-unthinkable name -- wear solid-yellow uniforms for one season.
Long before Color Rush: 1946 Boston Yanks (yes, that was an NFL team!) wore mono-yellow. pic.twitter.com/BQpgmzuPim

— Paul Lukas (@UniWatch) September 19, 2016
1950: With new Packers coach Gene Ronzani declaring, "We are the Green Bay Packers," the team dons solid-green uniforms for the first time since 1935. The greens are worn for one season, then retired, then revived in 1953, and then mothballed yet again. (Meanwhile, the Browns, who have been folded into the NFL after playing for four seasons in the rival All-America Football Conference, wear something no NFL team has previously tried: a solid-white uniform.)
Long before Color Rush: The Packers wore solid-green in 1950 and again in 1953, when this team portrait was taken. pic.twitter.com/N4ipl7Z25o

— Paul Lukas (@UniWatch) September 19, 2016
Long before Color Rush: Solid-white unis brought to NFL in 1950 by Browns (who'd previously worn all-white in AAFC). pic.twitter.com/gZt67mBu64

— Paul Lukas (@UniWatch) September 19, 2016
1964: Due to a miscommunication prior to a 1964 Lions-Vikings game, both teams take the field wearing white jerseys, which creates problems. So the Vikings, who are the home team, send an employee to fetch the team's purple jerseys. The game is briefly stopped while the players change jerseys on the sidelines, creating the NFL's first solid-purple uniform.
Pre-Color Rush: Due to mix-up, Vikes/Lions both wore white for '64 game. Minn changed jerseys midgame = mono-purple! pic.twitter.com/ZDHsxytz5Q

— Paul Lukas (@UniWatch) September 19, 2016
1965-1996: The mono-colored look, which was always on the fringes of NFL popularity, falls out of favor completely, as the league settles into the protocol of wearing non-matching jerseys and pants (the occasional solid-white uniform notwithstanding).
1997: After an absence of more than three decades, mono-colored uniforms return to the NFL, as the Broncos wear mono-blue twice during the preseason and then the Eagles go with solid green for a regular-season game against the 49ers. The Earth wobbles slightly on its axis, then recovers and continues spinning.
Pre-Color Rush: Broncos wore mono-blue twice in 1997 preseason, vs. Pats, Niners (but not in reg season until 2003). pic.twitter.com/P4NVQlTSIC

— Paul Lukas (@UniWatch) September 19, 2016
Before Color Rush: Eagles were first team in Super Bowl era to wear mono-colored uni, for a 1997 game vs. 49ers. pic.twitter.com/AbZqiYzGbu

— Paul Lukas (@UniWatch) September 19, 2016
2001: After three seasons with no solid-colored uniforms, another crack in the dam appears, as the Saints wear mono-black for two games, becoming the first team in the Super Bowl era to wear a monochromatic uniform more than once in the same season. It is a hint of things to come.
Before Color Rush: Saints wore mono-black twice in 2001, vs. Carolina & Washington. 1st Super Bowl-era team to go mono twice in one season. pic.twitter.com/XazeOJKFfw

— Paul Lukas (@UniWatch) September 19, 2016
2002: The floodgates open, as nine teams wear solid-colored uniforms. Some, like the Seahawks and Bills, adopt the mono-color style as their primary look; others, like the Bears and Dolphins, just dabble with it as a onetime experiment. Collectively, though, the message is clear: The solid-colored NFL uniform has arrived.
Before Color Rush: Cards, Bears, Bills, Eagles, Pats, Seahawks, Jets, Dolphins all went mono at least once in 2002. (Also Jags, not shown.) pic.twitter.com/zeusbG7PhS

— Paul Lukas (@UniWatch) September 19, 2016
In the 13 seasons since then, an additional 13 NFL teams have dipped their toes in the solid-colored pool for the first time. So by the time the Color Rush program debuted last fall, mono-colored uniforms weren't exactly a new concept. By Uni Watch's count, 26 of the 32 NFL teams had already gone mono at least once by that time, and 24 had done so in the Super Bowl era. When viewed in that context, the Color Rush program isn't really so innovative -- it's just the latest spin on an established trend.
(Special thanks to Phil Hecken, Chance Michaels, and the Gridiron Uniform Database for their research assistance.)
---
Would you like to nominate a uniform or uni element to be showcased in a future Friday Flashback installment? Send your suggestions here.
Paul Lukas, a lifelong fan of the color green, wouldn't mind seeing the Packers live up to their city name again. If you like how it turned out, you'll probably like his Uni Watch Blog, plus you can follow him on Twitter and Facebook. Want to learn about his Uni Watch Membership Program, be added to his mailing list so you'll always know when a new column has been posted or just ask him a question? Contact him here.