The Atlanta Falcons' first trip to the Super Bowl in 18 years has come on the back of their offense, which has been the class of the NFL all season. Matt Ryan has had an MVP season, but the Falcons' success goes well beyond their resurgent quarterback. Here's a look at what makes Atlanta's offense the best in the NFL.
The best QB-WR combo in the NFL this season
The Falcons might have the most diverse offense in the NFL, but it all starts with their top two stars, Ryan and receiver Julio Jones. Ryan, who slumped to 21 touchdowns and 16 interceptions in 2015, is trying to become only the third QB in NFL history to toss at least 38 regular-season touchdowns in a Super Bowl-winning season. Central to his success is cutting down on turnovers. He threw just seven interceptions during the regular season, and by Sunday it will have been two full months since he threw his last pick, a span of 212 attempts. Meanwhile, Jones had another stellar regular season, including a franchise-record 300-yard game in Week 4 against the Panthers.
Falcons' dynamic duo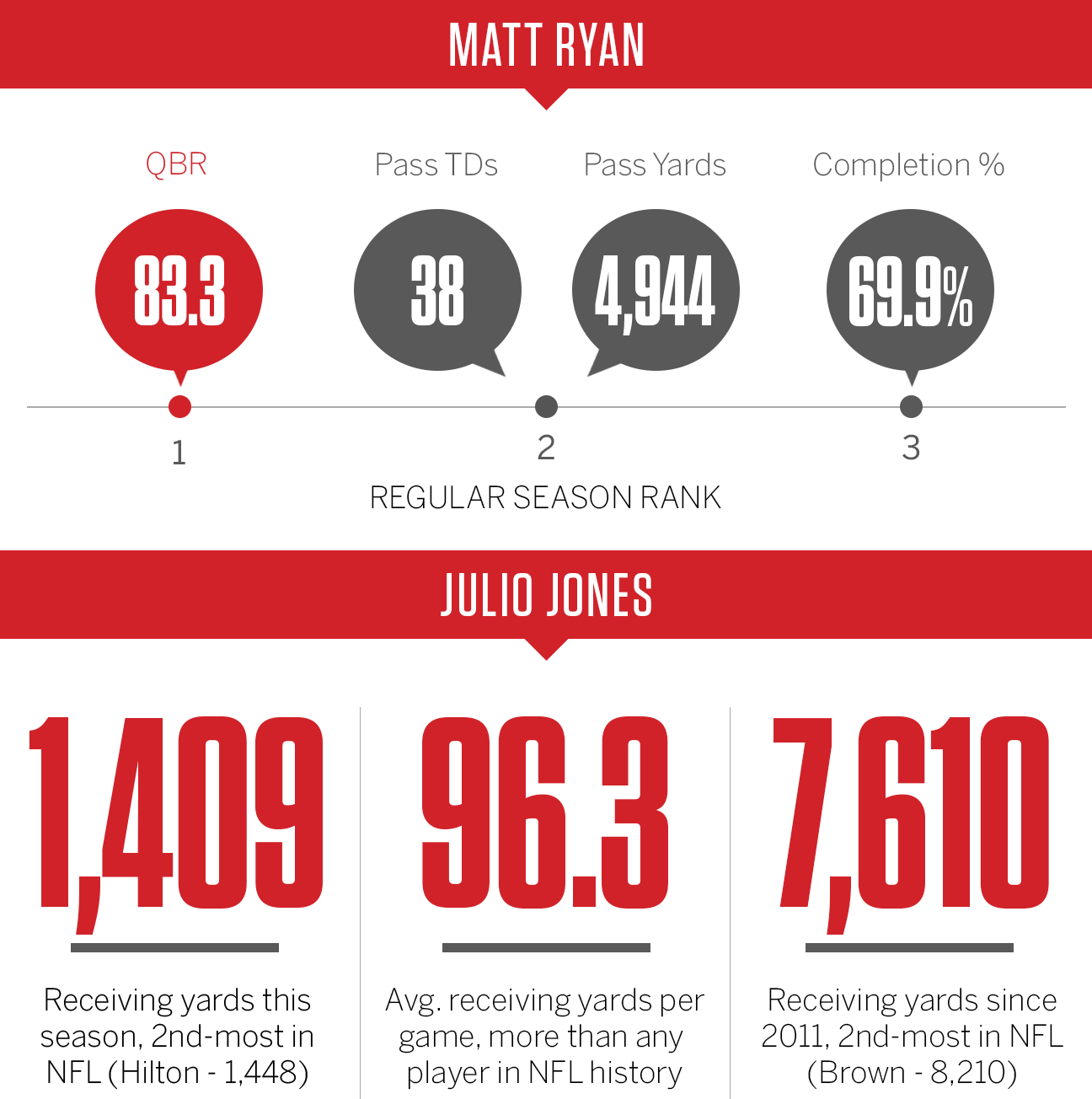 Passing game about more than just Julio
As brilliant as Jones is, the Falcons have fared just fine if their star receiver is held in check. Atlanta is 7-1 in games in which Jones has been held under 100 yards and 5-0 when he records 60 yards or fewer. That's because Ryan has a deep roster of weapons to choose from. Thirteen Atlanta receivers caught a touchdown pass this season, an NFL record.
Touchdown receptions by receiver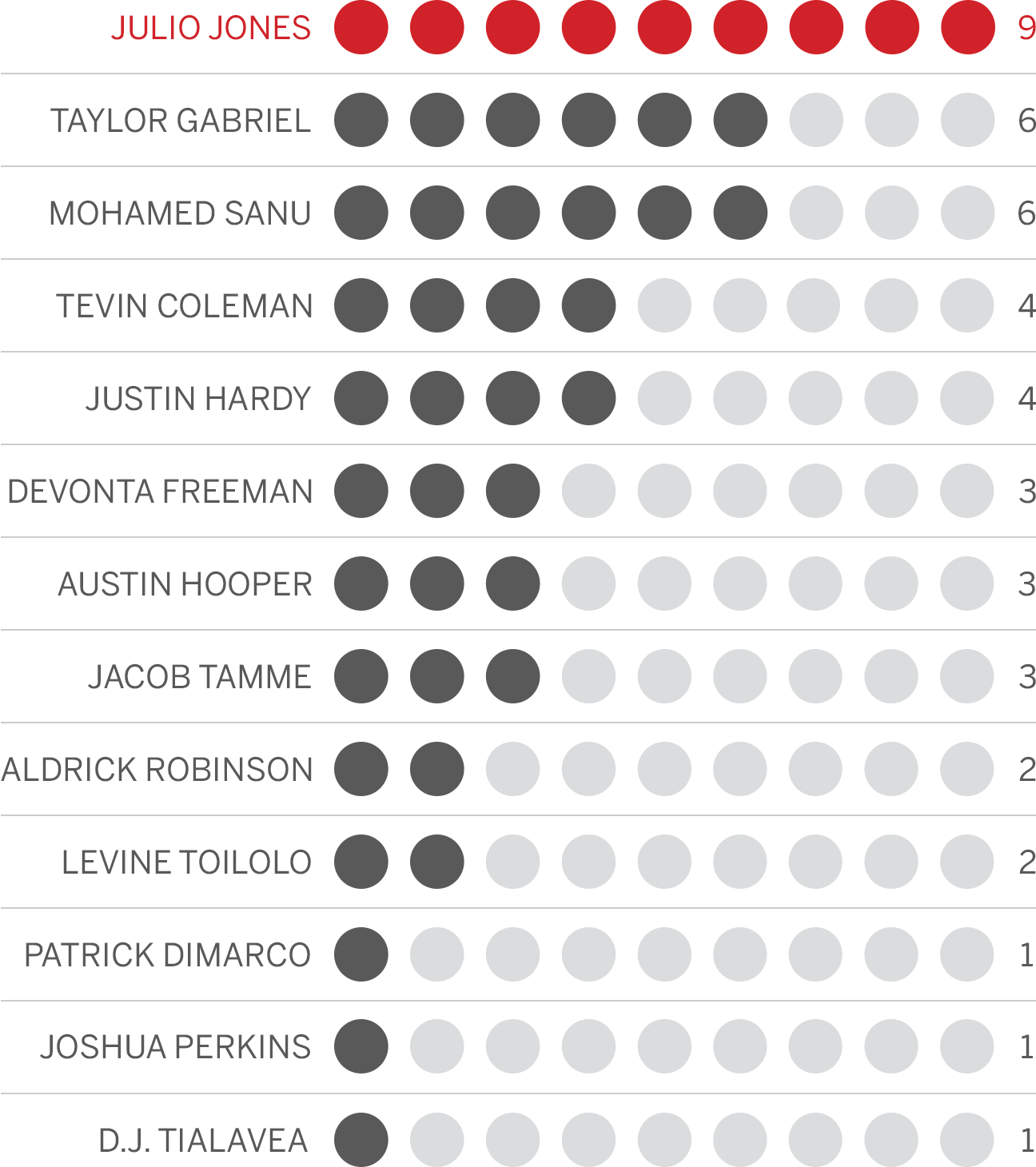 A dynamic one-two punch in backfield
Their passing attack is lethal, but the Falcons' ground game is one of the most dynamic in the NFL this season. Lead back Devonta Freeman might want to be paid like an "elite back," but the Falcons have benefited from a time-share backfield with Tevin Coleman. The running back duo is dangerous catching the ball as well as running with it.
Top RB duos in total yards from scrimmage, 2016 season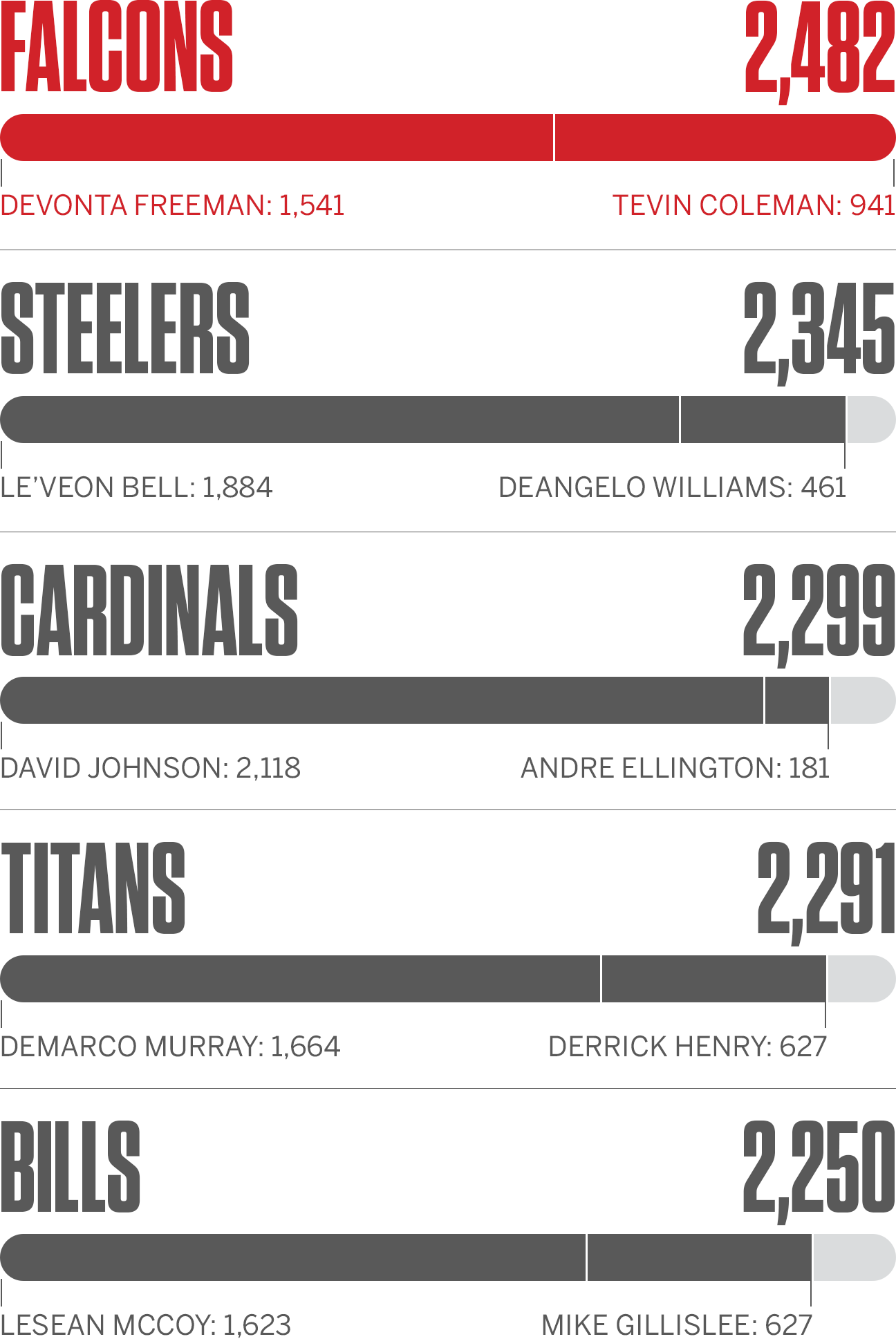 Continuity up front
The Falcons made center Alex Mack their priority in free agency last offseason and landed the former Brown with a $45 million deal. His talent and leadership has made him worth every bit of that deal, but there is something else in play behind the success of the offensive line. The Falcons started the same five linemen in every regular-season game this season. No other team in the NFL can say the same. And the same five have started in Atlanta's two playoff games too. Over the past 15 seasons, 31 teams have started the same five offensive linemen in all 16 regular-season games, according to ESPN Stats & Information. Those who did typically were successful. Their average win total was 10, and only two of 31 finished under .500. "Having five guys stay healthy all year and start every game together is something that really goes to show how close we are and how tight-knit of a group we are," right tackle Ryan Schraeder said.

Better in the playoffs
Atlanta enters the Super Bowl on a six-game winning streak, with Ryan leading the way. He has completed 72.8 percent of his passes during this streak, with 18 touchdowns and no interceptions. As good as the offense was in the regular season, the Falcons have picked up the pace in the playoffs.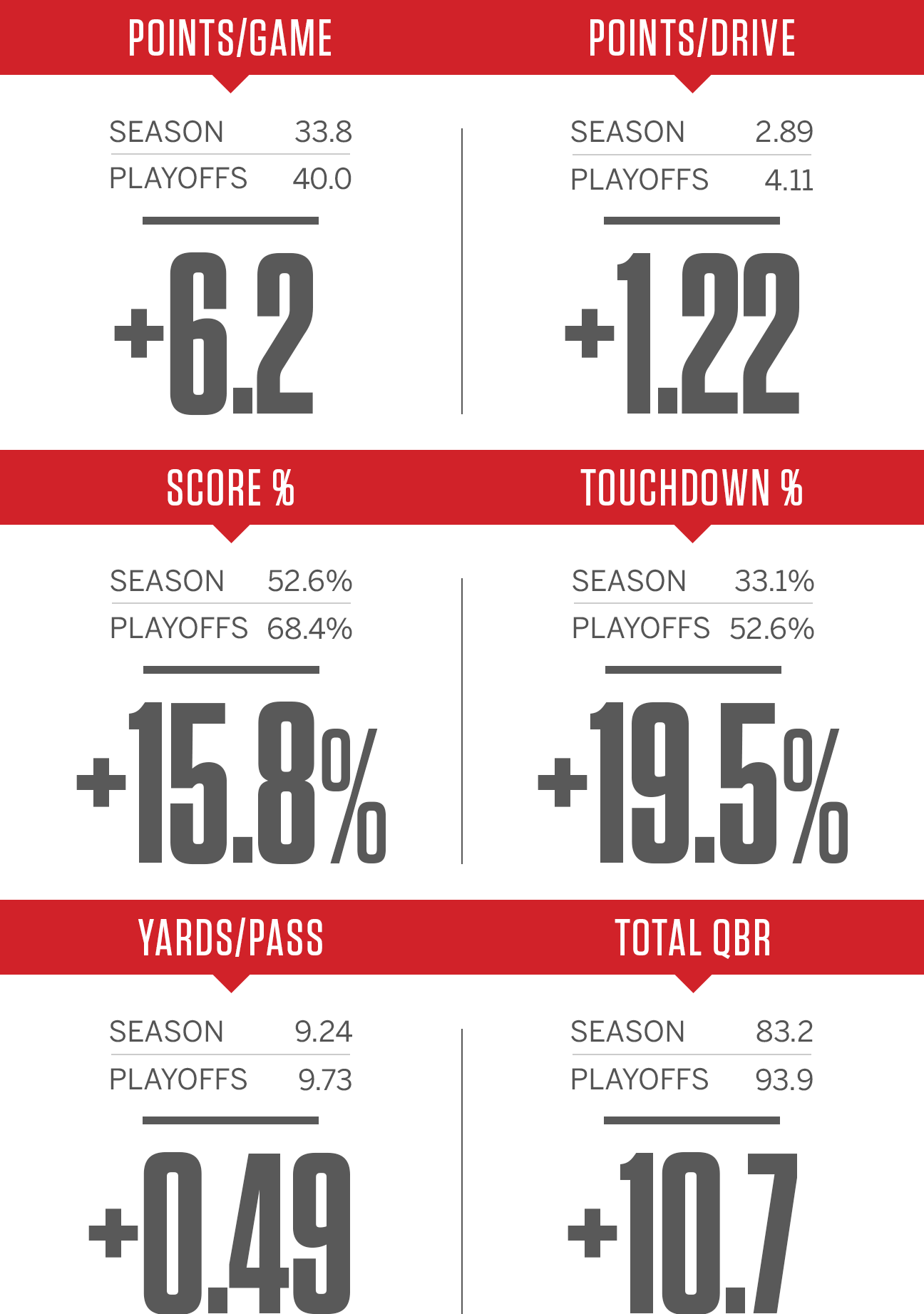 Will it be enough to win the Super Bowl?
The Falcons led the NFL this season in scoring -- a first in franchise history. They scored 540 points, the eighth most in NFL history. But no team that has scored that many points has won the Super Bowl.