Now that the picks have been made in the NFL draft, what can a player's school tell us about how he will perform as a pro? In this piece before the draft, we compared each school's weighted draft value and its players' overall performance in the NFL over the previous 15 drafts, factoring in 3,831 picks, to figure out which schools are churning out the best and worst NFL talent. Schools with a higher share of overall NFL production (meaning they have a positive differential below) are "overperformers," and those with more draft value than production (negative differential) are "underperformers." Here's how things stacked up following the conclusion of the draft in Philadelphia:
By school
Of the 282 schools to produce draftees from 2002-16, 90 of them were overperformers, 24 broke even and 168 were underperformers. So it's not easy to be a dependable source for NFL starters. Breaking down this year's selections by school, Michigan had the most total selections. However, the Wolverines' draft value/pro performance differential is a net negative (-0.02 percent). Conversely, it's no surprise that Miami players were in demand (8 picks). The Hurricanes' differential of +1.69 percent was the best of any school. Clemson (-0.98) and Ohio State (-0.80) were the two worst underperformers relative to draft position ... but they also combined for 13 picks. Here are the differentials for all schools with more than two selections:
Overperforming schools in red.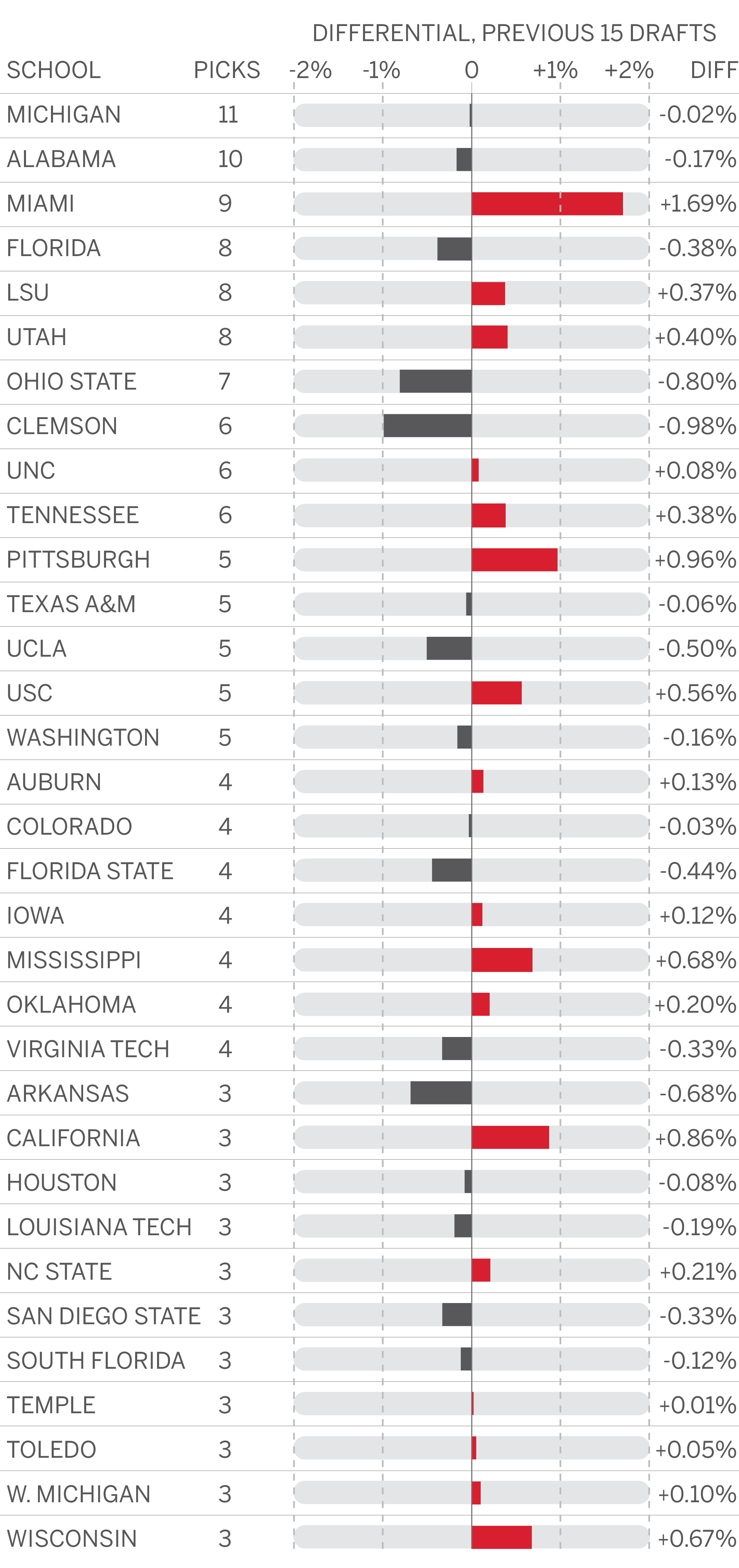 First-round picks
Six of the first 10 selections this year came from schools that have underperformed at the next level. The four top-10 picks from overperforming schools were UNC's Mitchell Trubisky, Leonard Fournette and Jamal Adams from LSU, and Corey Davis from Western Michigan. That's it. In fact, just 13 of the 32 picks in Round 1 came from overperforming programs (40.6 percent). Here are the school differentials for all first-rounders:
Players from overperforming schools in red.
Worth watching
Bear in mind, players can always defy their school's trend. Look no further than last season's top offensive rookie, Ezekiel Elliott, who rushed for 1,631 yards with an Approximate Value of 16 despite coming from a nonproductive NFL factory, Ohio State. Here are a handful of rookies to keep an eye on. Some have the data on their side in terms of NFL success, and some do not.
---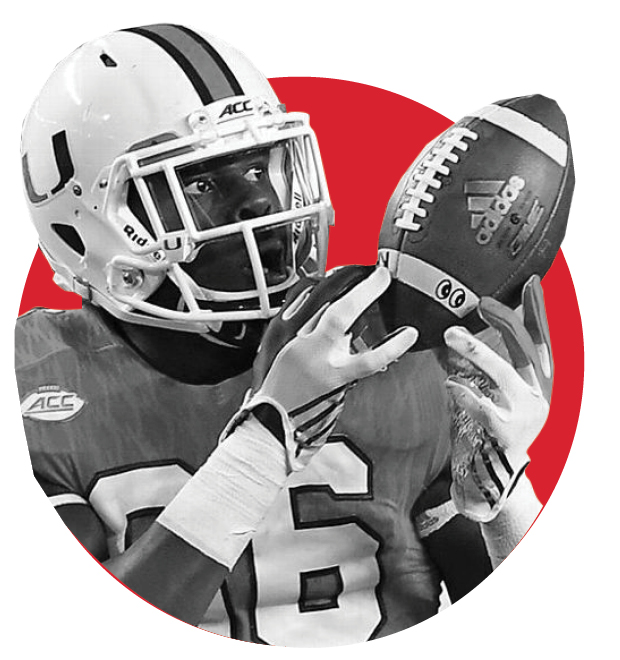 TE David Njoku, Miami
Drafted 29th overall by Browns
Although Njoku appeared in only 22 college games, recent history indicates the athletic tight end could pan out as a strong contributor for Cleveland. The Hurricanes produce the best tight ends of any program in our study (+10.06 percent differential) from the past 15 drafts. The school has produced big time in the NFL -- of the eight TEs selected, half of them became Pro Bowlers (Jeremy Shockey, Kellen Winslow, Greg Olsen and Jimmy Graham). If Njoku needs time to develop before busting out, he wouldn't be the first Miami TE end to do so. Olsen was in his eighth season when he earned his first Pro Bowl appearance.
---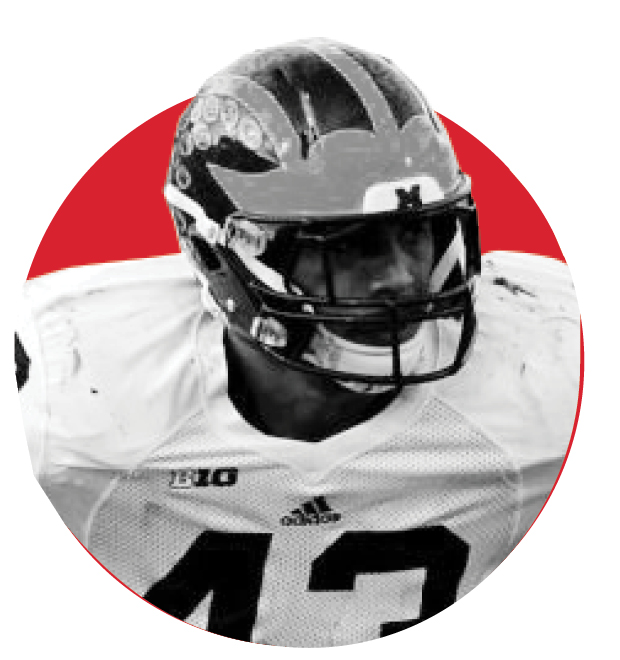 DE Chris Wormley (pictured), CB Jourdan Lewis, S Delano Hill, WR Amara Darboh, LB Ben Gedeon, DT Ryan Glasgow and WR Jehu Chesson, Michigan
Drafted in Rounds 2-4 by various teams
In each draft, there are midround sleeper picks who surprise in the NFL. Recent history suggests one of those could come out of this group of Michigan players, all drafted between Round 2 and Round 4. Among all schools in those rounds, the Wolverines rank sixth overall in average Approximate Value (19.4).
---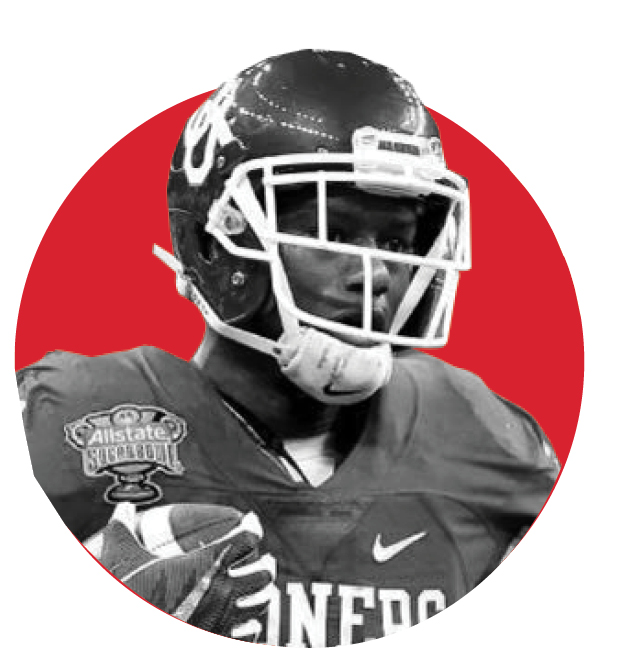 RB Joe Mixon (pictured) and RB Samaje Perine, Oklahoma
Drafted 48th overall by Bengals and 114th by Redskins
The Sooners ranked as the ultimate running back factory in our study, on the strength of rushing champs Adrian Peterson and DeMarco Murray. Not that either of these rookies will necessarily lead the NFL in yards, but it will be interesting to see if they can continue Oklahoma's trend of quality running backs.
---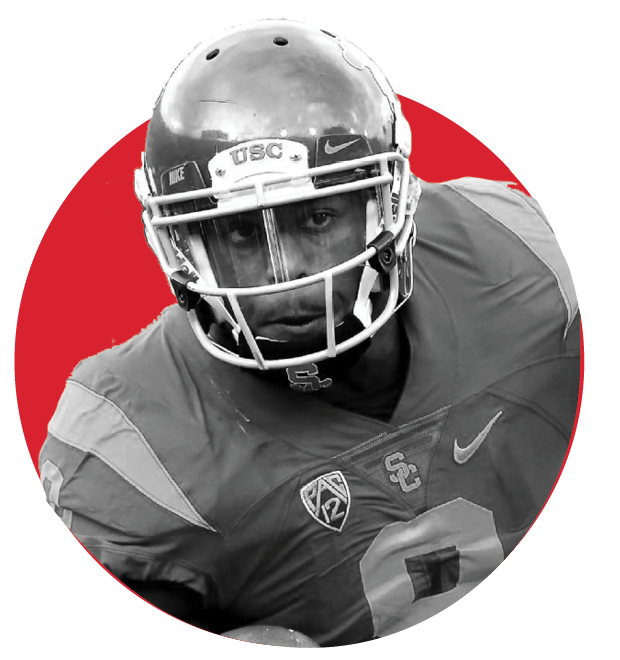 WR JuJu Smith-Schuster, USC
Drafted 62nd overall by Steelers
The Trojans have been very good at getting receivers drafted, but the NFL numbers haven't been great. USC has had 12 WRs selected, including nine in the first three rounds, but only one became Pro Bowler (Steve Smith). In fact, that group has a combined 49 seasons and only one 1,000-yard season among them. On the other hand, Smith-Schuster piled up 20 receiving touchdowns over the past two seasons while playing in a power conference and joins a dynamic offense helmed by Ben Roethlisberger -- so he might be just the wideout to reverse this trend.
Data from Pro-Football-Reference.com.