HOUSTON -- Texans head coach Bill O'Brien said he expects wide receiver Will Fuller to play Sunday against the Tennessee Titans, eight weeks after he broke his collarbone during training camp.
"I would see him being ready to go on Sunday," O'Brien said.
Earlier in the day, Fuller said he feels like he's ready to play and he hoped his performance at practice would show O'Brien he is ready. Fuller had surgery on his collarbone after he broke it in three places and was originally given a timeline to return in six to eight weeks. Wednesday marked eight weeks since he was injured.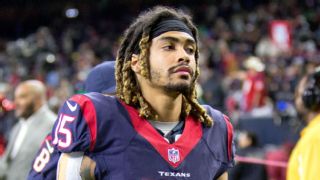 "It was tough [missing time]," Fuller said. "I was really bored. I didn't know what to do. I was in the treatment room every day trying to get better. It was really boring, though. So I'm happy I'm back out there practicing."
When Fuller got injured, Tom Savage was still the Texans' starting quarterback, and Fuller said that some things on the offense have changed in the eight weeks since he's been out.
"It's been great [working with starting quarterback Deshaun Watson]," Fuller said. "I like playing with him. He's a great guy, but I just can't wait to get on the field with him on Sunday."
Wide receiver DeAndre Hopkins noted that Fuller can help the Texans stretch the field in ways he cannot, and having the young wide receiver back on the field "opens up [the] playbook a little more."
"It gives us a guy on the outside who runs good routes, who's got good speed, can stretch the field," quarterbacks coach Sean Ryan said. "It's another weapon, and you always want your full complement of guys out there, so it certainly does a good job of distributing the coverage, and they're going to have to be aware of it if he's out there."